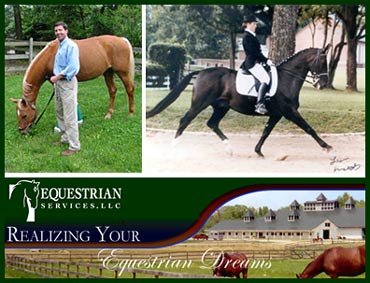 "Equestrian Facility Design" by Equestrian Services, LLC.
The experts at Equestrian Services LLC want to help you with your next equestrian project!

Is Your Horse Property All It Can Be?
Whether you are looking to start from the beginning, or work with a design layout that already exists on the property, the knowledgeable professionals at Equestrian LLC can help you make the most of your property, no matter what the size- large or small. Knowing that your horses have the best environment for stabling or training will give you peace of mind and the expert guidance you receive towards a design of 'timeless quality' will ensure that your property holds its value for many years to come.

About Equestrian Services LLC
Equestrian Services, LLC, a company based in Annapolis, Maryland that caters to the various needs of the equestrian community is the brain child of Michael M. Donovan, a former award winning landscape designer and contractor, and his wife Jennifer Donovan, a life-long horse owner and competitive dressage rider. Although the company was officially launched in the year 2000, it has been evolving since the couple met in California over a decade ago.
Michael's first "horse project", the Albert Court Ltd. Linda Allen Grand Prix course (completed prior to the 2992 Volvo World Cup in Del Mar, California), was connected to the complete landscaping of the farm he did while Vice-President of RBM Enterprises in San Diego. He realized, while working on the Grand Prix course that many of the same landscaping principals applied: the grading, compaction and stabilization of soils, working with the site specific drainage considerations, and achieving a balance between the aesthetics and functionality of the elements in a project.
A Master's Degree in Chemistry and his training as a scientist has proven helpful time and again for problem solving. All of his expertise: as a scientist, a landscape designer and contractor, and his marriage to Jennifer, have pulled him exclusively into equestrian projects.
Jennifer Donovan has owned and cared for horses for over 30 years. Professionally she has a Project Management background and has also served as Barn Manager for various farms. Jennifer has earned her USDF Bronze Medal and is half way to earning her Silver Medal on Renard, her Dutch Warmblood imported from Holland.
What Do Customers Say About Equestrian LLC?

"The University of Maryland had a complex ring renovation project that required the assistance of an expert. Michael Donovan of Equestrian Services was the perfect choice. He was great at balancing our needs, expectations, and budget with his knowledge of what had to be done to produce a functional ring that could be used for many years to come. I would not hesitate to work with him again on another equine facility project."
Amy Burk , University of Maryland
"The masterpiece is finished. I couldn't be more pleased, both with the end result and with the process of arena building itself. At our very first meeting I appreciated your candor and frank concern about my choice of location. And ultimately I really appreciate your making my location happen. If I were asked to sum up my overall impression of Equestrian Services in one word, the word would be 'professional '. Building the arena was a huge interruption in our daily life and having such a great group of people here every day made that interruption down right entertaining. The entire crew starting with you as general contractor, to Mike as excavator, to the soil engineer, to Jose, the 'guy with the rake' was friendly and helpful. That meant a lot to me as I rode my horses every day while the work was going on. More than once an equipment operator backed off and waited for me to get on and out of his way. Many, many thanks for the beautiful arena."
B. Krieder, Sykesville, MD
Equestrian LLC Can Also Design Your Arena!
Equestrian LLC takes pride in our ability to create resilient multi-season riding arenas to precise specifications and offer a variety of designs to meet the specific needs of all types of riders. The vast majority of what makes up a riding ring cannot be seen. But here, what you can't see can hurt you, or your horse. We compact and accurately grade the sub-base to promote efficient water drainage from your ring.
We design the base materials and extend the base area beyond the riding area to ensure the strength and longevity of your riding surface. Ring location, elevation, and surrounding-area water management also are key elements of a successful ring installation.
Call Equestrian LLC Today
Jennifer Donovan is happy to assist you with an appointment or answer your equine property design questions. She is happy to answer all calls or emails and looks forward to working with many of you personally.
---
Contact: Jennifer K. Donovan
233 Douglas Ave
Charlottesville, Virginia 22902
Phone: 877-467-7307 (Toll free)
Email:
Website: Click Here To Connect

---