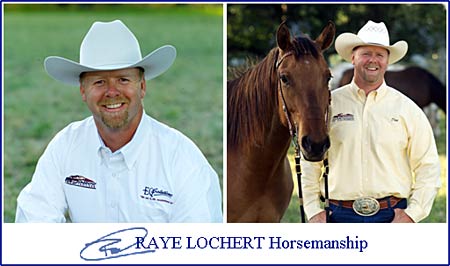 Raye Lochert Horsemanship
Raye Lochert is the ONLY past John Lyons Certified "Select" Trainer in all of California. Raye is shown with wife Sharon, and Andrew and Erica at their California Critter Creek Ranch.

About Raye…
I was born and raised in Mill Valley, California and I have loved horses forever. Because of my mother's fear of horses my involvement with them was limited to summers at my uncle's farm in Connecticut where my cousins competed in 3-day eventing. I loved to attend the competitions just to groom and be around the horses. At home I would find any opportunity to be around animals including volunteer work at a riding club for handicapped children. In later years I worked at local ranches caring for the property and the animals.
As I grew older I continued to find creative ways to be around horses and was exposed to many different methods of training. Though I had been taught to show the horse who is boss, I always felt there had to be a better way. I watched videos, read books, and listened to the tapes of many trainers. When I used their methods the results were better without abuse.
In 2001, with the persistent nudging of my wife and the incredible support of my entire family, I made the decision to attend the John Lyons Certification Program and change my profession. In working closely with Josh and John Lyons I learned how to break down problems into attainable goals and use what a horse already knows to teach it something new.
In addition, I practiced communicating these techniques to others. I worked very hard to graduate at the top of my class. At the graduation address Josh Lyons said that I stood out because of my willingness, skill and drive to help others. This was the greatest compliment I could have received.
Now that I am a John Lyons/Wrangler Certified Horse Trainer, I am even more committed to continue my life-long quest for greater knowledge and understanding of the horse. Thanks to my training with Josh and John, I am better equipped to find safer and easier ways to enhance the human–horse relationship.
What Type Of Training Does Raye Do?
Condition-response training. You will be taught to set up a condition (a cue) and get a certain response. This type of training works with all horses in all disciplines. What Raye teaches is positive communication with your horse to get the result you want.
How Old Does My Horse Have To Be Before I Can Start Training?
You can start working with a horse as soon as it is weaned. The training will be spread out over two to three years. Training a young horse is similar to training an older horse. You just have to modify the lesson to the physical abilities of a young horse. Obviously, you don't ride the horse at three months. But Raye can teach you to how to get them used to the saddle pad and even a light saddle. Today we have found teaching young children to speak a foreign language is easier than waiting until they reach high school. The same thing applies to horses. Teach them as much as you can while they are young and they learn it better and faster. Just keep in mind their physical limitations.
Does Raye Give Private Lessons?
Yes. Raye prefers groups because more questions come out allowing more opportunities for learning, but private lessons are welcome and available for you and your horse.
Does Raye Take Horses In For Training?
Yes, but he really prefers that the owner attend a clinic or take private lessons. Raye can teach the horse many things and then send it home, but if the owner hasn't done the work then she won't know how to ask the horse to do the things that Raye has taught him. It makes so much more sense, both financially and practically, if the owner learns along with her horse. Sometimes it's just not possible to attend a clinic. Therefore, if a horse is here for training Raye requires the owner to come by once a week for an hour or two so that he can teach the owner to work with their horse. This is included in the cost of training.
How Many Horses Does He Take In At One Time?
Raye does not take any more than four horses at one time. In this way he is assured that he can comfortably give the horses what they need. Raye does all the feeding, grooming and training. This ensures that they are getting trained consistently. Consistency is the key. Four is an ideal situation for Raye.
What Does Raye Teach In His Clinics?
It varies with the subject of the clinic. It all boils down to communicating to your horse through a set of cues that are simple to learn and easy for your horse to understand. In all clinics he teaches how to break a goal down into a lesson plan that is easy and simple. This allows for happier riders and their horses.
If I Am New To Riding Will I Be Able To Do Everything In Raye's Clinic?
Raye's clinics are geared to ALL levels and disciplines of riders. Some have been riding for years and others have just started. Everyone receives individual attention and works at their own comfort level. Each lesson is adapted to each person and their horse. The number one rule in all his clinics is "HAVE FUN!"
Call Raye For An Appointment Today !
Whether you are having problems with your horse, or just want to improve the performance and your relationship, you need to call Raye! Call him today and he can help you decide on whether to work privately, in a group, by phone or visits to his ranch. Whatever your situation is, Raye can find a way to help you, but you have to be the one to make the call! Please call today; he is looking forward to meeting you!
---
Contact: Sharon Lochert
4275 Arcadia Lane
Santa Rosa, California
Phone: 888-570-2470 (toll free)
Email:
Website: Click Here To Connect

---