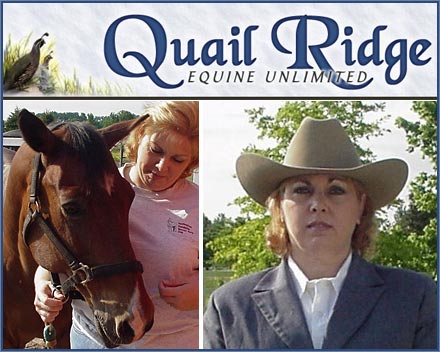 Quail Ridge Equine Unlimited
Looking for an Equine Appraiser or Horse Massage Therapist? Lynette Partridge-Schneider is qualified to help you!


About Lynette Partridge-Schneider
For Lynette Partridge -Schneider, animals have been more than just a lifetime adventure, her love of animals is a passion. Since her first horse, Lynette has remained involved in the equine industry. As a teenager, her first apprenticeship was with a Morgan horse trainer learning the English, Western and driving disciplines. The curiosity and willingness to understand other disciplines led her to learn about eventing, reining. hunter under saddle, hunters/ jumpers, western pleasure racing etc. involving the different breeds. Lynette's knowledge of breeds includes Quarter Horses, Arabians, Morgans, Saddlebreds, Standardbreds, Thoroughbreds, Warmbloods and many others. This continued curiosity and researching of horses and disciplines makes the foundation for a good appraiser, as well as a horse show judge.



Lynette has gained her judging certification through Purdue Multi-State Judging clinic certified for 4-H, and open all-breed horse shows, Illinois Judging Clinic certified for 4-H and open all-breed horse shows, North Carolina certified for 4-H and open all-breed horse shows. Lynette has been certified for the following states below:
* Illinois
* Indiana
* Iowa
* Missouri
* Kansas
* Kentucky and the south east.

After being in the human medical field for 20 years, Lynette decided to turn her full attention to animal, although having been involved with animals, especially horses and dogs for over 30 years, she became certified as a equine/ livestock appraiser, equine sports massage therapist, (graduate of Equissage), equine and canine body worker -plus numerous modalities including, but not limited to Reiki, Acupressure, Trigger Point and behavior problems. She continues to become versed in modalities in order to better serve serve animals in their healing process. It is to be stressed that alternative methods are not necessarily intended to take the place of standard veterinary medicine. These modalities are intended to compliment standard methods. Lynette is available for seminars, and clinics on massage therapy, stretching, and show judging as well as other topics.


Call Lynette Today!
Contact Lynette Partridge-Schneider for all your valuation needs on your livestock. Appraisal fees are determined by the type of report needed and case circumstances. Lynette works Nationwide- so don't hesitate to call!



---
Contact: Lynette Partridge-Schneider
P.O. Box 24367
Belleville, Illinois 62223-9367
Phone: 618-979-3192
Email:
Website: Click Here To Connect

---