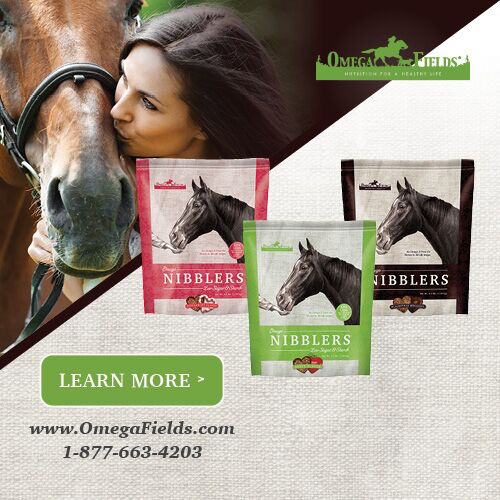 Omega NIBBLERS® by Omega Fields
Omega Nibblers® are a fun and easy way to balance your horses' nutritional needs.


About Omega Fields®: (A Word From The Owners)
My name is Sean Moriarty and I have the privilege, along with my wife Brenda, of owning and operating Omega Fields. Maybe your experience in today's business world has been something like ours: sales people with little or no knowledge of their products, disinterested service providers, business owners telling you anything to get the sale and then disappearing when you need additional service or, God forbid, a refund!

We are confident you'll love our products and we are determined to make your experience with Omega Fields a pleasant one. Whether you use our online ordering process, call our toll free order line or find our products at your local retailer, we want you to be able to enthusiastically recommend Omega Fields to your friends. As the manufacturer, product quality is our number one priority, as a product retailer, YOU are our number one priority. We promise to do everything possible to make your experience with Omega Fields positively memorable. Thank you for your business.
Blessings, Sean & Brenda Moriarty



About Omega Nibblers®
Omega Nibblers® are a tasty and nutritious Omega-3 supplement for horses in all life stages! Functional treat containing best ratios of the full spectrum of natural Omega EFAs – higher in 3 & 9, and lower in Omega 6.
GREAT AS AN OMEGA-3 SUPPLEMENT for your "Picky Eaters".

Feed Omega Nibblers® as desired for training, trail riding or as a nutritious anytime treat. Feed 15 Omega Nibblers® treats per day as a tasty alternative to 1/2 cup Omega Horseshine® for a 1,200 pound horse. Manufacturing quality is inspected through the American Institute of Baking (AIB). This program establishes a standard for consistency in food plant operations and food industry safety.

Lynn Palm recommends and uses Omega Nibblers® and Horseshine® for all of her horses!
Rafael Valle (Owner of Ivory Pal – Omega Horseshine® ambassador) loves Omega Nibblers® and Omega Horseshine®

Alli Kellogg (Owner of EZ Charger Man – Omega Nibblers® ambassador) loves that Omega Nibblers® are so affordable and really convenient.

Available in 3.5 lb. re-sealable pouch (approximately 215 treats) and 15 lb. box (approximately 1,125 treats).

Ingredients:
Ground Flaxseed, Ground Grain Sorghum, Hulled Barley, Rolled Oats, Black Strap Molasses, Yeast Culture, Salt, Mixed Tocopherals (natural preservative), Zinc Sulfate, Pyridoxine Hydrochloride (Vitamin B-6)

Feeding Directions:
Feed as desired while training, trail riding, or as a nutritious anytime treat.
OR Feed 15 treats per day when using as an Omega-3 supplement for a 1200 pound horse. Start gradually the first week, and then increase to full amount.

Storage:
The stabilized, ground, fortified flax seed used in Omega Nibblers® utilizes proprietary stabilization technology developed by ENRECO®, INC. (Omega Fields' parent company). The powerful nutrients in Omega Nibblers® are locked in and guaranteed stable for at least 12 months with no signs of rancidity or loss of nutritional value. Best if stored in a cool, dry place.

Is It True That Omega Nibblers Has A Low Starch Treat For Insulin Resistant Horses?
Yes! Omega Fields® NEW Omega Nibblers® Low Sugar & Starch heart shaped apple flavored Omega-3 treat. Made from NON-GMO, human-grade stabilized ground whole flaxseed for all horses including those suffering from metabolic disorders. Natural without artificial preservatives.

65% less sugar & starch than original Omega Nibblers®.
Low in Non Structural Carbohydrates – Sugar 6.7% and Starch 7.4%.
Functional treat containing best ratios of the full spectrum of natural Omega essential fatty acids – higher in Omega-3 & 9 and lower in Omega-6.
Product benefits may help to:

Restore crack, brittle hooves
Eliminate sweet itch and bug bit sores
Promote shiny, healthy coat,
Alleviate stiff, immobile joints
Soothe aching muscles
Decrease inflammation
Benefit pregnant mares
Quicken shedding out in spring
Available product sizes:

3.5 lb re sealable pouch (approximately 215 treats)
15 lb box (approximately 925 treats)
What If I Have Questions?
The friendly and knowledgeable people at Omega Fields® are always happy to receive calls and emails. For your convenience, many frequently asked questions are available on our website so that you can get even faster answers to commonly asked questions!

What About Omega-3 Rich Flax For Me?
At Omega Fields®, we offer two great options to receive the benefits of Omega-3 your body needs! If you want just the flax, you can try our Simply Omega-3. It is loaded with fiber, antioxidants, and Omega-3 fatty acids to keep you living a simply healthy lifestyle! Or you can try our Mega Omega® a balanced nutritional supplement with stabilized flaxseed base, plus oat bran -- fortified with a vitamin and mineral formula containing excellent levels of Vitamins D-3, C & E, and Choline – for people seeking a healthier lifestyle!

What About Other Omega-3 Rich Flax Products For My Horses?
Our all-natural, ground, stabilized flaxseed works at the cellular level to help your horses maintain a shiny healthy coat, strong solid hooves, and top performance - for horses in all life stages! Our ground flaxseed is found in our premium, award-winning, Omega Horseshine®, an Omega-3 supplement for horses; Omega GRANDE®, our COMPLETE equine supplement; and Omega Antioxidant, an Omega-3 supplement PLUS antioxidants!

What About Omega-3 Rich Flax For My Dogs?
Our all-natural, ground, stabilized flaxseed, rich in Omega-3, works at the cellular level to help your dogs maintain healthy skin and coat, and top performance in all life stages! We offer Omega Canine Shine®, our Omega-3 supplement made with ground flax and fish oil or Omega Nuggets, an Omega-3 healthy TREAT supplement made with flax and fish oil your canine companions will love! Omega Canine Shine™ and Omega Nuggets both work to help reduce shedding, eliminate hot spots, support digestive and urinary tract health, boost the immune system, sustain proper growth and development of the nervous system, strengthen bones and teeth, relieve arthritis pain and promote joint mobility, increase energy levels and is vital in the structure of cell membranes. Try our premium products for your canine companions today!

How Can I Order?
Ordering is easy! You have several options to order Omega Fields® premium products! You are welcome to call our toll free line (877-663-4203), or go to your local store, now carrying our products! We have dealers throughout the country! And for your convenience, Omega Fields® products can be found at SmartPakEquine, ValleyVet and other fine retailers.

---
Contact: Our Friendly Staff
1641 North 5th Street
Sheboygan, Wisconsin 53081
Phone: 1-877-663-4203
Email:
Website: Click Here To Connect

---