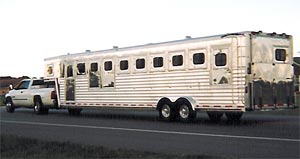 AAA Quality Horse Transfer
Your horse(s) condition upon arrival at his destination will reflect the continual care he receives with Quality Horse Transfer.

Whether you have had numerous experiences hiring a professional equine transporter or this is your first experience, we hope the following will answer many questions you have regarding our service.
Equipment
We are very proud of our most recent acquisition – a custom designed 11-horse van which includes numerous features for the optimum comfort and care of the horses we transport.
Care During Transport
We keep water in each stall so that your horses will have every opportunity to drink during transportation.  We use only canvas hay bags with one hole (never dangerous hay nets) and prefer to get hay upon pick up for the benefit of the horse, but we will provide hay in the event none is available.  We make stops several times a day to change water, fill hay bags and allow those horses that are tied during transportation to get their heads down repeatedly, which will greatly reduce the risk of development of any respiratory difficulties.
Requirements for Shipment
Every horse is required to have a health certificate which has been written within 30 days of transport and a negative coggins test less than one year from the time of transport. 
Making Reservations for Transportation
We do not have a formal policy for reserving stall space.  It is helpful to have at least a couple of weeks notice in most situations.  Van charters are available, but generally require a little more notice due to the resulting need to schedule around commitments to other customers.
Questions?
Please call Quality Horse Transfer 800-962-2730.  Our office is staffed from 8:00 a.m. to  5:00 p.m. central standard time.  If you reach our recording, your call will be returned the following day.  We are available to our customers at our 800 number and/or by cell phone at all times when your horse is being transported.
---
Contact: Rene or Todd
9674 FM 365
Beaumont, Texas 77705
Phone: 800-962-2730
Email:
Website: Click Here To Connect

---