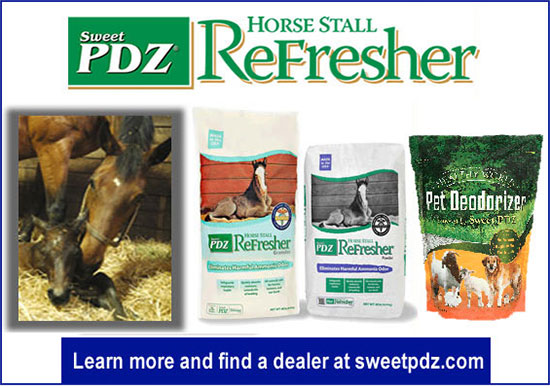 Sweet PDZ by PDZ Company, LLC.
Sweet PDZ is an all-natural, non-toxic, granular mineral that is a superior alternative to lime for ammonia removal and moisture absorption in horse stalls.


Who Is Steelhead Specialty Minerals and the PDZ Company, LLC?
STEELHEAD SPECIALTY MINERALS owns major reserves of natural Zeolites and mineral deposits in the western United States, and produces and markets these natural Zeolite minerals to a broad spectrum of industries. Steelhead has been in business since 1982 during which time it has developed markets for natural Zeolites in a number of fields, including odor control. In 2008 Steehead spun off the Sweet PDZ animal care business and formed a separate company known as, PDZ Company, LLC. All Sweet PDZ branded products are sold through the PDZ Company, LLC. Both companies are located in Spokane, WA.

What Is Sweet PDZ?
Sweet PDZ Horse Stall Refresher is an all-natural, non-toxic and non-hazardous granular volcanic mineral (clinoptilolite, zeolite) that is a superior alternative to hydrated lime & barn lime for ammonia removal and moisture absorption in horse stalls, livestock barns and pet habitats. There is no masking scent or perfume cover-up added to Sweet PDZ. It neutralizes and locks up ammonia and odors naturally, through mineral functions known as Cation Exchange and ADsorption.



How Does Zeolite Help In My Barn?
Well, we're glad you asked! Zeolites have special properties, namely, they absorb moisture (soak up like a sponge) and they adsorb gases (attract and keep gas molecules stuck to them). This means that ammonia, as well as other bad smelling gases, are trapped inside the Sweet PDZ to be harmlessly removed and placed on the compost pile. The qualities make Zeolites useful not only in the barn, but the litter box, the garage and in industry as well!

How Do I Apply Sweet PDZ?
Applying Sweet PDZ in a stall environment is simple, AND, it saves you cleaning time and a savings in shavings consumption. All you do is cover the floor of a stripped stall with a visible covering of Sweet PDZ (~5-6 cups), and then sprinkling a visible layer (~1-2 cups) of it on the wet spots (after removing the wet, soiled bedding) as part of daily stall maintenance routine.

Sweet PDZ is efficient, economical and effective to apply to all bedding materials (shavings, straw, wood pellets, sawdust, etc.) and floors (wood, concrete, dirt, asphalt, rubber mats, etc.). It is also great to use in horse/livestock trailers.

Is Sweet PDZ Safe For My Horses Or Other Animals?
Yes, Sweet PDZ is entirely safe, all-natural, non-hazardous and non-toxic. It's highly effective to use in dog runs, litter boxes, small animal habitats, bird cages, barn equipment and stall mats. It can be eaten and, in fact, the mineral is used as a feed supplement for cattle and swine to improve metabolism, lessen bloating and overcome scours. It is also safe for use with foals and in birthing areas.

Is Sweet PDZ Expensive?
No, Sweet PDZ is actually less expensive than lime or other products on a cost benefit ratio. You would only need to use about one third as much Sweet PDZ as you would lime to control odors and ammonia. Sweet PDZ is also more effective than lime and not harmful to your animals.

How Long Will A Bag Of Sweet PDZ Last?
A bag of Sweet PDZ will last 3 to 4 weeks in most horse stalls. Usage will depend on time in the stall and the habits of the horse.

Does Sweet PDZ Help With Flies?
Yes, Sweet PDZ reduces fly population by reducing wetness and odor. Sweet PDZ is a desiccant and flies will not light on it or lay their eggs on it.

What Do Horse Owners Say About Sweet PDZ?
Testimonials come in almost daily. Horse owners across America are reporting fresher, cleaner smelling barns! Once you try Sweet PDZ, you'll be sold yourself.

How Can I Buy Sweet PDZ?
Sweet PDZ is retailed in thousands of Feed and Farm Supply stores across the United States and in Eastern Canada. Please call their toll free number 800-367-1534 and they will be happy to refer you to a retailer near you. You may also email them using contact information below to request the name of a retailer near you. Simply provide them with your town name and zip code, and they'll direct you to a retailer(s) near you.
---
Contact: our Friendly Staff
1212 North Washington Suite 107
Spokane, Washington 99201
Phone: 800-367-1534 or 509-328-5685
Email:
Website: Click Here To Connect

---