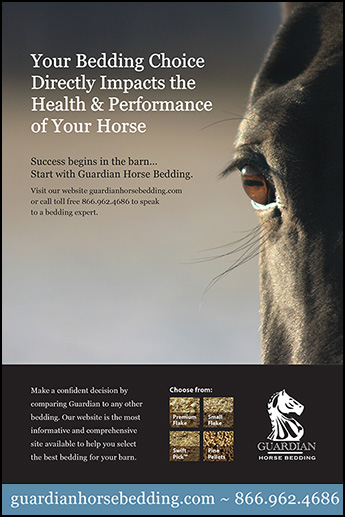 "Guardian Horse Bedding" by Equustock, LLC.
4 Superior Horse Bedding choices : Premium Pine Shavings, Mini Swift Pick Pine Shavings (both multi-screened for dust control) Small Flake Pine Shavings Guardian Gold Standard,and Premium Pine Pellets!

Guardian Horse Bedding-The Best Choice In Horse Bedding
We at Guardian Horse Bedding are horse owners with 8 U.S. manufacturing plants. We use our horse bedding products everyday. We are confident you will find our Swift Pick pine shavings, Premium Flake Shavings and our Condensed Pine Pellet horse bedding will outperform your current horse bedding choice.
With eight regional plants, the mix of softwoods can vary from plant to plant. The balance of pine, spruce and fir depending on the region will vary. These woods are all softwoods. The same high quality, closely monitored manufacturing process is used at every Guardian plant. This provides the texture, low dust levels and longevity that our product is known for.
Guardian Horse Bedding
Dust laden with molds and bacteria as well as phenols and oils from green (bulk type) shavings are catalysts to equine respiratory disease. Controlled moisture content, high heat treatment to remove allergens and multiple screening for dust control are critical elements of the Guardian Horse Bedding manufacturing process. The science behind the production of the Guardian Horse Bedding product line specifically targets the health of the equine respiratory system as well as the general barn environment. All horse bedding is not created equal. Through the use of high quality bedding like our Guardian Horse Bedding product line, it is possible to avoid or manage symptoms of COPD and other ERD's.
4 Superior Bedding Products For Concerned Horse Owners
Guardian understands that horse owners have different needs and tastes when it comes to horse bedding, so they have provided THREE outstanding choices to produce superior bedding for horse owners concerned for the welfare of their horses.
Swift Pick Pine Shavings™ in our exclusive "Easy Balance Bag"!
(The Easy Balance Bag packaging is not available in all regions. Please ask for package type.)
This high quality pine fiber will out perform any shavings product on the market today! Swift Pick Pine Shavings are specifically textured to be easy to sift, easy to pick , and substantially more absorbent than traditional shavings. The wet spot will actually clump. The fine particle is screened and aspirated to remove airborne dusts . This is a small particle wood shavings bedding that is very low dust, but still so easy to pick, you will not waste bedding. This means you will use less and dispose of less bedding.
NOTE: Consistency is critical. You will receive the same high quality bedding every time! Particle size and dust levels
are controlled on every bag.
Small Flake Pine Shavings Guardian Gold Standard™- Small Flake Pine Shavings Guardian Gold Standard™ is a multi screened small flake that is easy to sift & highly absorbent. The shavings are long lasting, high quality and are a great value! The smaller the flake, the heavier the bag but we still triple screen to remove heavy dust & package in our space saving ultra compressed bag. High Heat Dried to a very low moisture content to guard against molds. These shavings are perfect for all large and small animal applications. Gold is perfect for every day barn use.
Premium Flake Shavings -Our Premium pine shaving flake is multi screened to remove all dust and fines as well as any larger pieces not appropriate for the stall. Premium Flake is the perfect blend of some mini flake along with our soft, high volume medium flake. We monitor and control the moisture content so there is no worry about molds or contaminants. This provides large volumes of our beautiful light pine and absorbency for ammonia control. We use our high densification equipment to pack 8.5* cubic feet in our ultra compressed 2.5 cubic foot bag. These bags are easy to handle and store well. Just an incredible shaving.
Condensed PINE Wood Pellet Bedding -In our "Space Saving" forty pound bag This high quality wood is precision milled to achieve a specific size and quality.
Low Dust
Low dust levels are achieved through our dust screening process as well as our particle size and moisture content specification.
Guardian Horse Bedding closely monitors production to ensure that our product maintains the high quality standards we are known for.
Allergens Removed
The wood is then heated to extreme temperatures to remove tars, oils and other potential allergens.
The Power of the Pellet
Finally, this premium softwood is compressed into a pellet that expands to 5 times its size when exposed to moisture.
Highly Absorbent
The wet spot actually clumps for easy and complete removal. You won't leave soiled bedding in the stall. This provides a much healthier environment. You will be amazed at how quickly you'll pick through a stall!
More Room for Hay!
The Guardian condensed soft wood pellet is packaged in a space saving 40-pound bag. This bag requires less than 1/2 the space of traditional shavings bales.
Call Guardian Horse Bedding Today!
Guardian Bedding has manufacturers of their superior horse bedding products throughout the nation! This ensures that you can find a local Guardian Bedding dealer near you or can get fast delivery. Claire and Jon are happy to answer your questions and welcome your calls today!
---
Contact: Claire & Jon Brant
8179-1 Starwood Drive
Loves Park, Illinois 61111
Phone: 1-866-962-4686
Email:
Website: Click Here To Connect

---