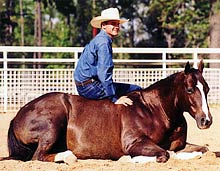 Clinton Anderson's "Down Under Horsemanship" TM
Equine Clinics And Signature Horses By Clinton Anderson

About Clinton Anderson
Born and raised in Australia, Clinton's family recognized his natural ability to train horses at a young age and cultivated his interest by buying him his first horse at age 9 and sending him to his first horsemanship clinic at 12. At 15, Clinton began a full-time apprenticeship with nationally acclaimed clinician and horse trainer Gordon McKinlay of Rockhampton, Queensland, Australia. He then went on to work with trainer Ian Francis before starting his own training school a year later.

In 1996, Clinton came to the United States for an apprenticeship with Al Dunning, winner of multiple American Quarter Horse Association World Championships.Upon returning to Australia in 1997, Clinton placed third at the Australian National Reining Futurity. That same year, Clinton moved permanently to the United States where he began training, touring, and conducting clinics. He launched a weekly made-for satellite- TV training program covering common training problems faced by horse owners. Clinton has also produced a series of training videos and products designed specifically for his method. Anderson's easy-to-understand, easy-to-use training method focuses on "real-life solutions for real-life horses" and their owners.

Based on a foundation of understanding horse psychology and "why they do what they do," Anderson introduces horse owners to safe and effective ways to approach and correct behavioral problems and training challenges. Then, he works on basic groundwork and under-saddle exercises to improve confidence and mutual respect. Above all, this two-time winner of the Road to the Horse Competition strives to educate horse owners on how to get the results they desire while staying safe and having fun at the same time.

Clinton Anderson 3-Day Horsemanship Clinic
Clinton Anderson's 3-day horsemanship clinics cover all of the curriculum in his Gaining Respect and Control on the Ground Series I and Riding With Confidence Series I DVDs, but your learning is greatly amplified because you receive immediate feedback directly from Clinton on what is being done correctly, incorrectly and what variations will help owners get better results with a certain horse personalities. If you've never had the opportunity to be a spectator or participant at a Clinton Anderson clinic, you've got no idea the depth of knowledge, humor and fun you are missing! It's a 3-day learning workshop, but school was never this fun or entertaining before! See Clinton's methods in action and watch riders just like yourself accelerate their horsemanship in just three short days. You'll be amazed at the results! Plus, you can shop and save with clinic-only bargains on Clinton's DVDs and equipment!

Clinton Anderson Signature Horses
Whether you're looking to build your confidence with a safe, dependable and exceptionally well-trained horse that knows Clinton's Method from Groundwork through Advanced maneuvers; enjoy a greater level of communication and fun with your horse; or achieve an in-depth understanding of the Downunder Horsemanship Method that you can take with you to excel in any discipline and with any type of horse, Clinton provides you with a once-in-a-lifetime opportunity to find that horse of your dreams.

Clinton knows how important it is for you to have the very best experience possible with your horse. That's why he is personally involved in the selection, training, and sale of each and every Signature horse. Making sure that you and your horse are the perfect match for each other is just another part of what puts Clinton's personal stamp of approval on every Signature horse sale.
Contact Clinton Anderson Today!
---
Contact: Equi-Management Group
RR 4 Box 1775
Marble Hill,
Phone: 888-371-6744 or 573-238-4005
Email:
Website: Click Here To Connect

---