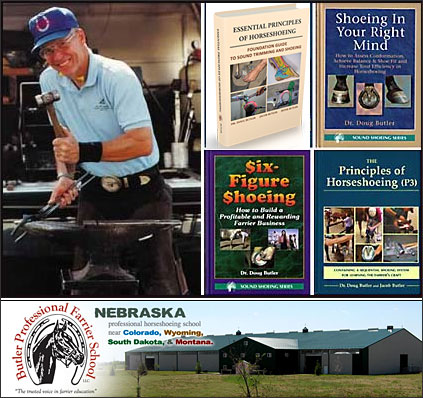 Farrier Books by Doug Butler Enterprises, Inc.
Helping to end horse foot care problems by producing high quality, easy-to-understand books



Don't YOU Deserve To Have The Knowledge You Need For A Successful Horseshoeing Career?
Your most comprehensive resources on the subject of horse foot care available today! Books, dvds, online videos about anatomy of the horse foot, balance, trimming, shoeing for specific lameness problems, and iron and forge work you'll find proven, reliable resources for raising the standard of horse foot care available from Doug Butler Enterprises, Inc.

Whether you are a horse owner who wants to provide humane foot care to keep your horse healthy and performing well, or a farrier who wants to increase your skills and your income, or a veterinarian who wants to refresh or supplement your horse foot care education, you will find solid solutions for equine soundness in our Horse Foot Care Library:



Essential Principles of Horseshoeing
by Doug Butler, PhD, CJF, FWCF & Jacob Butler, CJF, AWCF, & Peter Butler,CJF
Described as a recipe for success, the new Essential Principles of Horseshoeing (P3) illustrates in color detailed anatomy, farrier skills and the most important aspects of horse foot care. This easy-to-understand guide helps you expand understanding & increase confidence in learning what individual horses need!Over 500 color photos, illustrations and even scanable QR codes that take you to videos of demonstrations with live horses give you an experience that transcends the classroom!304 pages; 557 illustrations; hard cover; $97.

Who Will Benefit from "Essential Principles of Horseshoeing"?
Whether you are a beginner or experienced farrier seeking to perfect your craft, this book equips individuals of all backgrounds with the best techniques to accurately trim and shoe horses.With its many photos, drawings and ease of finding the right information for the situation, Essential Principles also enhances a veterinarian's ability to communicate with owners and farriers, while allowing horse owners to become better educated about veterinary and farrier services and advice. The big winner, of course, is the horse!

Farrier Foundation Home Study Online Course
Get a smart start to understand the "why" and "how" of horse foot care from the experienced instructors at Butler Professional Farrier School, LLC. Through six video modules, you will experience the essential skills needed to develop a financially-rewarding career as you help horses perform at their best. As a horse owner, you will gain essential knowledge needed to provide excellent horse foot care for your individual horses and what you should expect from a professional farrier. Prospective students will learn what it takes to become a self-employed, successful farrier before going away to school. As an extra bonus, the price of the course is deducted from the total tuition cost of the onsite course when you attend our school. ONLY $950.00



The Principles of Horseshoeing (P3) by Doug Butler, PhD, CJF, FWCF and Jacob Butler, AWCF, CJF
The most complete collection of horse foot care knowledge available today. Written by two experienced teachers, this book is recommended and used by leading horseshoeing schools in America. The Principles of Horseshoeing (P3) is a must for the library of every farrier, veterinarian and horse owner. 1,000 pages; 2,350 illustrations; hard cover; $167.

Shoeing in Your Right Mind by Doug Butler. By learning how to access the power of the right side of your brain (the visual side) to "see" better, you can become more proficient in assessing conformation, achieving balance and shoe fit, and increasing your efficiency in horseshoeing. 160 pages; illustrated; hard cover; $49.95.

$ix-Figure $hoeing by Doug Butler. Valuable keys to a profitable and rewarding business that will bring in $100,000+ a year. Includes ways to increase business knowledge, organization skills and systems, market strategies, financial planning and keys to staying balanced in career and life. 300 pages; illustrated; hard cover; $59.95.

How Do I Order?
You can order directly on our website or just call us at 800-728-3826 . We are happy to help you if you have questions, but our website has all ordering information you will need. We are also happy to talk to you about a career with horse shoeing and how we can help you with your career goals!

---
Contact: Butler Professional Farrier School
495 Table Road
Crawford, Nebraska 69339
Phone: 800-728-3826 or 308-665-1510
Email:
Website: Click Here To Connect

---