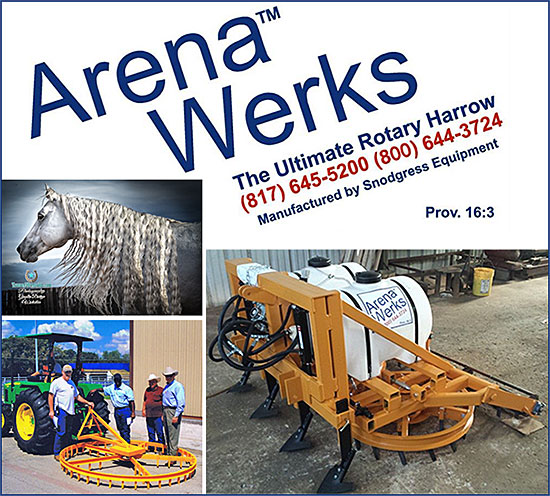 The Original Arena Werks™ by Snodgress Equipment
The Original Arena Werks™ Drags, are a collection of rotary harrows designed to guarantee your horse sure footing in your arena.

About Our Company
The Arena Werks Drags came to owner Randy 18 years ago. He purchased and customized a drag for his arena and the next thing he knew, all of his friends wanted one too! Randy used to train horses so he knew how important good footing was in an arena for horses. Five different models and four different sizes were created to accommodate all arena types as well as orchards, baseball diamonds and landscaping. Since his companies origination, Arena Werks Drags are now industry standard endorsed by the likes of Ty Murray and Terry Bradshaw!
The Original Arena Werks™
The Original Arena Werks ™ comes in many different sizes, from 5' to 9', is available with welded or replaceable teeth, and is designed to be pulled behind a tractor. The circular motion takes the high spots of dirt and deposits them to the low spots in your arena. This motion will allow for a smooth level finish for your entire arena.

Arena Werks Buggy™ (Harrow Sold Separately)
Don't have a tractor to pull your arena conditioner? No problem. The Arena Werks Buggy™ is for you! It has a three-point hookup just like a tractor. It can be pulled behind a pickup truck, gator, mule, or 4-wheeler. Harrow sold separately.

The Original Arena Werks II™
The Arena Werks II™ comes in three sizes: 6', 7' and 8'. The AWII requires a tractor and hydraulic remotes. In addition to the teeth on the harrow itself, the AWII has a row of blades in front, which help break up hard-packed soil.
The Arena Werks H20 Pro
The Arena Werks H20 Pro is the newest model and comes in three sizes: 6', 7' and 8'. The H20 requires a tractor and hydraulic remotes. All of these models come with 1" teeth.
Options on the H20 Pro are:
Rippers, Rollers, and Water
Rippers and Rollers, No Water
Rollers and Water, No Rippers
Lite: Rollers only, No Water or Rippers
What Are Horse Owners Saying About Arena Werks Drags?
The endorsement list for Arena Werks is filled with celebrities in the equine industry! One of those celebrities, Matt Tyler, has said the following about Arena Werks Drags: "Arena Werks provides the right footing for my horses to perform at the level I ask of them. One pass over my arena and it is ready!"
These Arena Drags Sound Great! How Do I Order?
Your calls are welcome or you can visit our website where you can order directly from our secure website.
Order Your Arena Werks Drag Today!
Purchasing a horse is a major investment, so you should protect that investment by ensuring that your horse has a safe arena with proper footing to train in. Arena Werks Drags will work with any type of arena as well as for your landscaping! So what are you waiting for, order today!
---
Contact: Snodgress Equipment
2200 CR 705
Joshua, Texas 76058
Phone: 800-644-3724
Email:
Website: Click Here To Connect

---