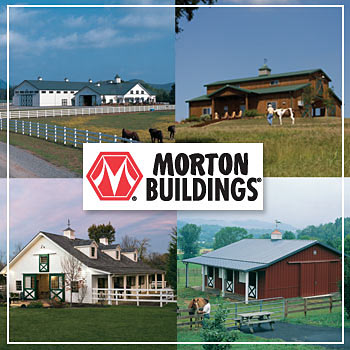 Morton Buildings, Inc.
Morton Buildings Barn Structures offer high quality and beautiful buildings, which are customized to meet your needs. Morton will be there to help you every step of the way.


About Morton Buildings
With over 120 construction centers, six manufacturing plants, sales offices in 35 states and over 6,000 buildings constructed annually, Morton Buildings is North America's largest builder of steel, covered wood-frame buildings. Morton Buildings also has longevity; we've been in business for over 100 years. Founded in 1903 as the Interlocking Fence Company, our core function was to sell fencing by mail order to farmers. As the agricultural industry thrived, so did Interlocking Fence Company. In 1949, the company created its first machine storage building for farm use; by 1964 Interlocking Fence Company had become known as Morton Buildings, Inc. At Morton Buildings, we're here to work with you from concept to completion. For you, this means that you work cooperatively with Morton Buildings' personnel throughout the construction project. Your Morton Buildings team includes a sales consultant, project manager, truck drivers to deliver your building, and a company-trained construction crew to construct your building.




Morton Building's Barn Structure
Morton Buildings has a reputation for planning and constructing attractive, safe, functional and efficient equine facilities. Whether you're planning to construct a two-stall horse barn, a six-stall horse barn with living quarters, a riding arena or an elaborate boarding and training facility, Morton Buildings has the flexibility and expertise to meet your building needs. At Morton, we know that the safety and comfort of your horses are primary concerns when planning and building your dream equine facility. To meet your needs, we offer features to ensure that your animals are both safe and comfortable. Every horse barn, riding arena or other equestrian facility that Morton Buildings constructs, no matter how elaborate or simple the style, is a high-quality, attractive, sturdy and functional building.
Beyond the "basics," Morton Buildings understands that with your dream for the perfect equine building, you have unique requirements. In order to make your dreams come true, we offer you a wide spectrum of options to make your horse barn or riding arena exceptionally safe, attractive, functional and efficient. Among our optional features, we offer the timesaving capabilities of automatic waterers in the stalls. To increase your safety and efficiency, we offer our exclusive champagne bronze aluminum stalls with swing-out hay and grain feeders. The options are endless!
What If I Want A Structure That Is Truly Unique?
Morton Buildings can accommodate you! Just view our gallery to get some ideas for your barn and we will work with you to make your structure unique! Our only goal is to make your dream into a reality you and your horses can enjoy!
Do You Offer A Warranty On Your Barn Structures?
Absolutely! Here's what we offer:
50-year* protection against snowload to the structure with no weight limit
50-year* protection against fungal decay or insect attack on preservative-treated columns and preservative-treated lumber
Up to 35 years* protection on paint from flaking, peeling, chalking, and corrosion
Up to 20-year* protection against red rust, including damage from atmospheric pollutants.
5-year* protection against wind load damage to Aluma Steel sliding doors, with no wind velocity limit.
A 5 year* protection against direct windload damage to exterior building framework, exterior metal and siding panels and trims, windows, walkdoors (if purchased through Morton), cupolas and sliding doors, with no wind velocity limit.
What Are Customers Saying About Morton's Barn Structures?
Here's just one example of our many positive customer comments:
"I'd been looking to build a building for approximately a year and had done considerable research, as I do when I get into these types of projects...It became a question of quality and workmanship that really drove me towards that Morton building... Well, I found in my research, many of the people that are building buildings or barns were not true barn builders. They were doing it as a sideline, where I found with Morton, that was their business. Being in business myself, I found out very quickly that's part of the things you rely on are people who specialize." John Wilson: Atlanta, GA
Order Your Morton Buildings Barn Today!
Morton Buildings is pleased to offer you a quality, affordable barn structure customized to your needs! Don't let fear keep your from the barn of your dreams, we will be with you every step of the way to make this as simple as possible as well as affordable. So what are you waiting for? Call us today!
---
Contact: Morton Buildings
P.O. Box 399
Morton, Illinois 61550-0399
Phone: 1-800-447-7436
Email:
Website: Click Here To Connect

---