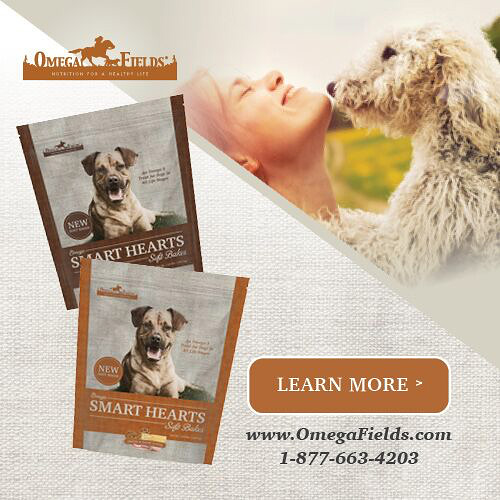 Smart Hearts™ by Omega Fields™
Omega Smart Hearts are treats you'll love to give your best friend. Made from NON-GMO, human grade stabilized ground whole flaxseed and fish oil.


About Omega Fields®: (A Word From The Owners)
My name is Sean Moriarty and I have the privilege, along with my wife Brenda, of owning and operating Omega Fields. Maybe your experience in today's business world has been something like ours: sales people with little or no knowledge of their products, disinterested service providers, business owners telling you anything to get the sale and then disappearing when you need additional service or, God forbid, a refund!

We are confident you'll love our products and we are determined to make your experience with Omega Fields a pleasant one. Whether you use our online ordering process, call our toll free order line or find our products at your local retailer, we want you to be able to enthusiastically recommend Omega Fields to your friends. As the manufacturer, product quality is our number one priority, as a product retailer, YOU are our number one priority. We promise to do everything possible to make your experience with Omega Fields positively memorable. Thank you for your business.
Blessings, Sean & Brenda Moriarty

About Omega Smart Hearts™
Omega Fields® NEW Omega Smart Hearts™ formulated as a healthy balanced Omega-3-6-9 soft baked, heart shaped treat for all dogs. Made from NON-GMO, human grade stabilized ground whole flaxseed and fish oil.
Flaxseed is the #1 ingredient and include synergistic plant and vitamin based antioxidants and cranberry fiber. Contains no Soy or Corn.

Product Benefits Support...

MAINTAIN healthy skin & coat and reduce shedding
ELIMINATE hot spots
SUPPORT digestive and urinary tract health
BOOST immune system
SUSTAIN proper growth and development of
the nervous system
STRENGTHEN bones and teeth
RELIEVE arthritis pain and promote joint mobility
INCREASE energy levels
VITAL in the structure of cell membranes
What Flavors Are Available With Omega Smart Hearts™
Omega Fields knows dogs! That is why we have selected 4 FLAVOR OPTIONS:

Cheese & Bacon
Roasted Turkey
Prime Rib
Roasted Chicken
AVAILABLE SIZES:
1.25 lb pouch and variety pack of all 4 flavors

How Can I Order?
Ordering is easy! You have several options to order Omega Fields® premium products! You are welcome to call toll free (877-663-4203), or go to your local store, now carrying our products! We have numerous dealers including PBS Animal Health, HorseHealthUSA, Hubba, and more!

---
Contact: Our Friendly Staff
1641 North 5th Street
Sheboygan, Wisconsin 53081
Phone: 1-877-663-4203
Email:
Website: Click Here To Connect

---