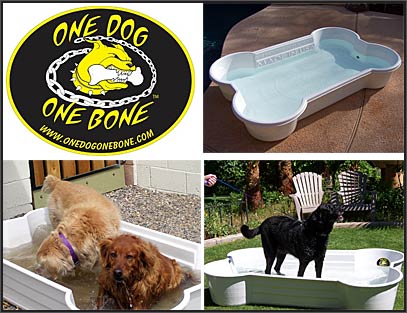 Bone Pools by One Dog One Bone Enterprises, Inc.
Dogs love them so much, you'll want to climb in too and join the fun!


Don't Settle For Just Any Pool When Our Bone Pool Has It All!
Our quality Bone Pool just can't be beat. The material is chew resistant and has a special additive, which makes them UV resistant. With Dimensions of 11"x44"x66", the Bone Pool is great for all size dogs. We conducted a side-by-side test using a black pool and a white pool. The water in the white pool stays an average of 10º F cooler. Made in the U.S.A under U.S. Patent Number D541427, the Bone Pool is well on its way to becoming a necessary staple in the fabric of the American dogs life. Proof of this is our recent "Readers Favorite" Pinnacle Award for 2006 in Pet Age Magazine. With Pools at Pet resorts and Kennels all across the U.S. and Canada, It's just a matter of time before every dog has their own Bone Pool in their Back Yard.
Bone Pool
Our bone pools are unique not only in their appearance, but in the quality of the pool it self. Specifications
11" x 44" x 66" @ 20.5 lbs
Made with Heavy Duty HMWPE
Garden Hose Thread Drain For Easy Draining
Easy to Clean
Stays cool in the Summertime
Chew and UV Resistant
What Do Customers Say About Our Dog Pools?

"The One Dog One Bone Pool is the most fabulous pool ever! So much better than any other plastic pool and all my dog friends want one! My husband and I recently purchased a Golden Retriever puppy in the middle of summer in Texas! We were so worried that our puppy Chase would be too hot to go outside, until we received our Bone Pool. The puppy took to it immediately and swims in this pool at least 5 times a day! Thank You One Dog One Bone Pool for making it a cool summer for Chase!"
Nancy Swider -Keller, TX
"I just wanted to thank you for my wonderful pools! They arrived today and are the perfect size for my kennel "guests"! And the weight is great too--I actually carried both myself! Awesome design too! And another big thank you for my cool T-shirts and stickers! What a wonderful surprise that was! Very, very nice of you."
Megan Hollinger -owner/Little Farm Kennel St. Leonard, MD
Order Your Dog Bone Pool Today!
Don't let your dog suffer needlessly, add some joy with a cool Bone Pool! These pools are lightweight, durable and will add joy to your pet's life. So what are you waiting for? Order Today!
---
Contact: Ray Palmer -President
2764 Lake Sahara Drive Suite 111
Las Vegas, Nevada 89117
Phone: 702-940-4796
Email:
Website: Click Here To Connect

---