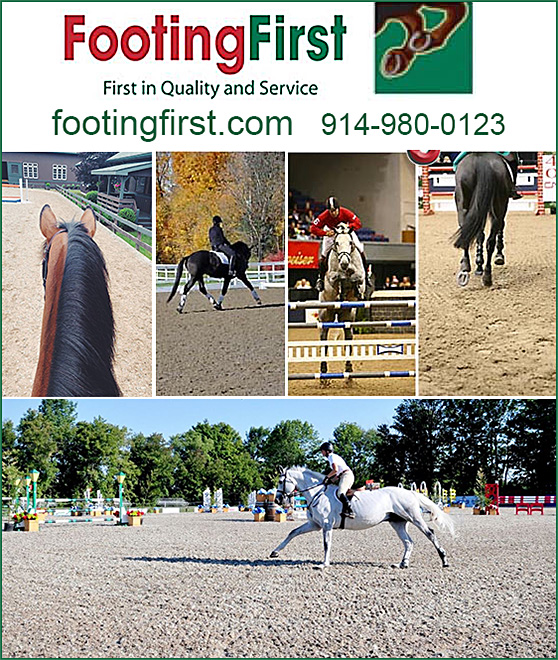 Footing First
Footing First brings you the best in selections of quality Footings and Arena Design!


About Footing First
Footing First is our newest and
 most exciting venture in the horse footing business After years of hands-on experience, we were determined to create a superior dust-free footing product... hours of research later, we have done just that.
Our Superior Riding Surface blends address issues that, in the past, have been problematic:

• It is NOT temperature-sensitive
• It provides tremendous stability
• Allows adequate movement
• It is a consistently forgiving surface
• Offers a dust free riding environment

TravelRight Footing
TravelRight is our premier footing. High-grade rubber, the finest silica sand, fibers and wax are combined in precise proportions to create footing that is similar to natural turf, with distinct advantages over natural footing. TravelRight is dust-free; both horse and rider will benefit from the clean air surrounding TravelRight, and your arena and connecting areas will also remain cleaner. No dust also means less maintenance and no irrigation.

Travelite Footing
Travelite Footing is a new budget friendly no dust footing-and has received rave reviews. Travelite consists of silica sand, fiber and wax making it a consistent and dust free footing. This footing is characteristic of traditional footing, it will move and give in similar ways. However, Travelite still provides good traction and better support for your horse than most footing at this price on the market today.
TravelBright
TravelBright is our newest arena footing, a unique blend of high-quality silica sand, 100% clean rubber, Geo textile fiber and the highly-effective dust control product, Stay Put. TravelBright is lighter in color than other footing, less adhesive, and tolerates climate changes very well. Its lighter color makes this footing ideal for indoor rings, and the superior quality of the sand in this blend promotes excellent drainage for outdoor rings.
TravelBright provides excellent traction and stability and just the right amount of cushion to enhance your horses' natural movements. It has been installed in arenas from New York to California, with great reviews.
TravelBright is:
Resilient and durable
Brighter in color
Environmentally friendly
Requires less maintenance and no irrigation

TravelBright is also less temperature-sensitive than other footing products, making it ideal for indoor and outdoor arenas. TravelBright also offers remarkable stability and excellent value.

How Does Installation Take Place?
Footing First will be happy to make the installation process easy and hassle free using our state-of-the-art equipment. We can also address all drainage needs and options. Footing First has a wide variety of aggregates to be used for base material on both indoor and outdoor arenas.

What Do Customers Say Footing First?
Second to none, there is no comparison!
Hyde Moffat,
Canadian Show Jumper

Fantastic from start to finish. TravelRight was a pleasure to work with; the footing is outstanding, everything they said it would be.
Cheryl Dorricott,
Barn Owner

Horses ride through the corners much better; excellent traction. I haven't found a horse yet that doesn't like it!
Jimmy Doyle,
Irish Show Jumping Trainer

Call Footing First Today!
Quality footing is important for the comfort and health of your horse. With our many quality and affordable options at Footing First you can be assured of only the best footing products. Don't wait call today!
---
Contact: Karen Leeming

, New York
Phone: 914-980-0123
Email:
Website: Click Here To Connect

---