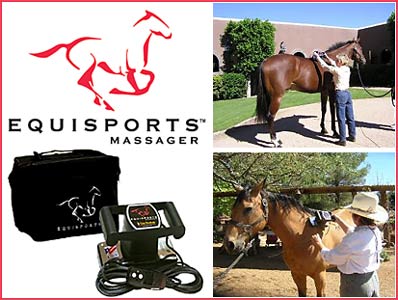 The EQUISPORTS MASSAGER by Bent H Ranch Products, LLC.
The EQUISPORTS MASSAGER is a small investment in your horse's health. Alleviation of muscle tension and spasms can naturally increase the horse's efficiency!

About The Company
Bent H Ranch Products, LLC is located in Mayer, Arizona. They are the exclusive distributor for Equisports™Massager, manufactured by Core Products International, Inc. Says Richard Huntzinger, President, " We are extremely impressed with this massager. Its solid construction, warranty and safety features only help to make a believer out of our customers and myself. There is a need for specialized high quality products tailored specifically to the horse industry. Our goal is to supply multiple high end products for the benefit of the horse and rider. The Equisports Massager is a great product for horse people."
Is Your Horse's Performance Less Than What It Could Be?
Horse trainers now depend on Equisports Massager in their training program. Does your horse wring its tail when riden? Do you notice a higher head set than normal? When you put the saddle on, does your horse's back seem to sink in discomfort? Does your horse seem less than willing to "move out" or "stretch out" when riding? Any of these symptoms, even including head shyness, can be a direct result of sore muscles. If you have ever experienced a stiff neck, or back pain, you will empathize what your horse may be going through but is unable to tell you.
Equisports Massager Can Make A World Of Difference To Your Horse!
Equisports Massager is a safe, non-invasive and easy to use massage therapy solution. From poll to hoof, it helps your horse recover from sore muscles. As an investment in prevention, the Equisports Massager will bring your horse years of beneficial massage. In disciplines ranging from thoroughbred racing to Olympic level, three-day eventing, massage is the modality that many trainers are finding greatly improves problems in the sporting horse. Massage programs for muscle preparation and recovery are just as important as their nutrition and training. The Equisports Massager is the device more and more trainers are relying on to improve competition and performance.
What Is It Made Of?
Equisports Massager is made of all die-cast aluminum components with a powder-coated finish. This 7.2-pound unit has a unique four point, orbital, oscillating massage therapy action, premium cushioned vinyl pad, and a 25-foot power cord supply with an automatic GFCI safety device. Each unit is individually hand-built and tested in the United States and manufactured to CSA standards. A one-year warranty is included with its purchase.
Why Should I Use A Horse Massager?
As an owner or a trainer, we know you are constantly re-evaluating your training program. Veterinary medicine is continuing to evolve; feeding programs and horseshoeing are becoming more scientific and state-of-the-art. One needs to ask why so many horses suffer from fatigue or come up lame when it's time to perform.

The equine athlete is expected to perform its best, even when suffering from pain, strain, or tight sore muscles that are heavy with toxic lactic acid build-up. Trainers do what they can by employing ice/heat therapy and/or limited massage techniques, but still they complain when the horse has a "cold back".

Using the Equisports Massager fills the horse's muscles with rich, oxygenated blood by increasing circulation and hastening the elimination of wastes and toxic build-up from the muscles. The Equisports Massager uses its unique, deep penetrating oscillation massage therapy action to accomplish what a horse needs to perform his best. WHEN PERFORMANCE COUNTS you can count on Equisports Massager for a consistent massage therapy regime to improve your horse's performance and overall quality of life.
Is The Equisports Massager Difficult To Use?
Not at all! Men and women can use our Equisports Massager! Usage instructions are easy—you'll wonder how you ever got along without one—and your horse will want to make sure you have one handy before and after workouts!

What Do Horse Owners Say About The Equisports Massager?
"We use this massager unit post treatment for back injuries and see real benefits from it." Gary Kaufman DVM, Scottsdale, Arizona

"I am not one to get excited about allot of new things in the Horse Market but I am totally convinced that this product not only performs to the standard that is claimed but surpasses any of my expectations!"
Rocco J. Wachman, Senior Instructor, Arizona Cowboy College
Order Your Equisports Massager Today!
At only $349 and made for years of dependable use, it is too affordable for any horse owner to be without! Stop treating muscle aches with unnecessary pain medication—or expensive medical treatments! Instead, use Equisports Massage Technology, which naturally clears up muscle aches and pain without the side effects of drugs. What are you waiting for? Order Today!
---
Contact: EQUISPORTS MASSAGER
PO Box 1094
Mayer, Arizona 86333
Phone: 928-632-9654
Email:
Website: Click Here To Connect

---