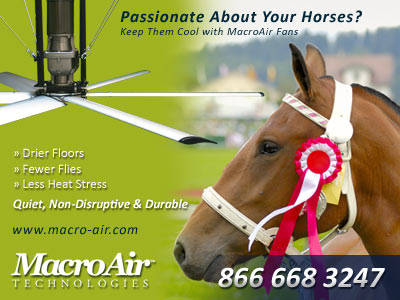 Air Circulating Fans By MacroAir Technologies Inc.
MacroAir Technologies provides comfort for your horses with the most functional, durable high volume fan in the industry. Keeps barns, stalls and indoor arenas cool!

About MacroAir Technologies
MacroAir Technologies provides comfort for your horses with the most functional, durable high volume fan in the industry. A family-owned company since its inception in 1995, MacroAir combines technology with a unique application of the laws of physics to produce air-circulating fans for use in large industrial, commercial, and agricultural/farm buildings.

How Can MacroAir Help Your Horses?
Horses are extremely sensitive animals. Drafts and poor air quality can lead to respiratory infections, as well as create an uncomfortable environment for horses and handlers alike! MacroAir high volume low speed fans are able to circulate and distribute air without creating drafts while keeping flying insects and birds away from your horses. The large moving air mass created by MacroAir fans won't create or stir up dust and their remarkably quiet operation won't create unnecessary distraction for you or your animals.

How Does MacroAir And HVLS Fan Technology Work?
MacroAir's high volume low speed (HVLS) air-circulating machines generate a large column of air that flows down to the ground and outward 360 degrees. The large, slow moving air mass moves throughout the space, mixing and circulating air more efficiently than any other type of industrial fan. In fact, high speed fans of equivalent displacement are incapable of producing the same efficient airflow from corner to corner of your building. Because they focus on using speed to increase fan displacement, a commercial fan delivering air at 20 mph requires about 64 times as much power as one of the same size delivering air at 5 mph. Additionally, higher speed fans generate noise and dust that is not created by MacroAir's high volume machines. If utilizing air movement to create a more comfortable environment is your objective, MacroAir's very large, low speed commercial fans are more efficient and effective than small high speed fans.

What Are The Benefits Of Using A MacroAir Fan?
MacroAir fans are designed to provide year-round comfort in your barn or equine facility. Ranging in size from 8 to 24 feet in diameter, they create a cool, gentle breeze in summer. This moving of the air breaks up the moisture-saturated boundary layer surrounding the body, accelerating evaporation and producing a cooling effect.

During winter months, heat rising to the top of your building can create a temperature differential in excess of 15 degrees from your ceiling to your floor. To address this variance in temperatures, MacroAir fans are designed to run in reverse, effectively combining elevated heat with cool air at the floor level. This de-stratification of the uneven temperatures at varying levels in your building provides a more comfortable, uniform temperature while saving you money on heating costs.

How Is MacroAir Different Than The Competition?
MacroAir was founded by Walter Boyd, the inventor of High Volume Low Speed (HVLS) commercial fan technology. For more than ten years, MacroAir has developed HVLS air-circulating fan products with quality, equipment life, and service in mind. While diligently seeking to build the world's most dependable and functional air movement equipment, MacroAir continues to look for new and cutting edge solutions and offers a variety of fans to meet the individual needs of each client. In fact, a number of customized fans have been engineered to meet the needs of unique spaces and individualized specifications.

Weighing half as much as any competing air movement systems, MacroAir fans are the lightest on the market. That means that other fans have to work twice as hard to create similar air movement, and yet the lightweight MacroAir fans dispel the most volume of air at the lowest torque. This combination of power and efficiency results in the most functional and durable fan in the industry. HVLS barn fans are very quiet, easy to clean, and easy to maintain. With a 12-year warranty and a commitment to service after the sale, MacroAir simply offers the best air movement system available!

Can I Save On Energy Costs By Using A MacroAir Fan?
MacroAir HVLS fans move more air per watt of energy expended. This makes them not only a "green" product, but one that can significantly save you in energy costs. One of MacroAir's Airvolution fans consumes about the same amount of electricity as one high speed alley fan and yet it moves over 12 times the amount of air and only costs about a nickel per hour to operate.

In environments where air conditioning is not feasible or possible, MaxAir HVLS fans provide an efficient and cost-effective alternative. When used in conjunction with air conditioning systems, MaxAir HVLS fans can significantly reduce cooling costs. Under moderate heat conditions, the industrial fans can be run without any air conditioning, cutting operating costs as much as 90% versus air conditioning and producing a pleasant open air environment. On hot days, the industrial fans can be run with the air conditioning thermostat set 10 to 15 degrees warmer while still achieving an equivalent cooling effect.

HVLS commercial fans from MacroAir Technologies can also produce a more pleasant environment and substantially cut operating costs during winter months by mixing air to eliminate varying temperatures at different levels in your building. MacroAir fans also offer efficient ventilation and by minimizing the volume of air needed for proper ventilation, they minimize the loss of warm or cool air, reducing on-going heating and air conditioning costs. No other commercial fan, system, or ventilation technology does this better.

Does MacroAir Offer Service After The Sale?
MacroAir strives to provide products that offer functionality, simplicity, and durability that will provide you with value for many years to come. We offer a 12-year service life warranty on our six-blade fan series – the most extensive warranty in the industry! Additionally, MacroAir industrial fans use standard components that are available over the counter. This guarantees that parts are always going to be easy to obtain and install and that customers are not bound to high pricing associated with any custom components.

MacroAir Technologies prides itself on being a company that is just as interested in what happens after you purchase an HVLS air circulating fan as we are before the sale. Your long-term satisfaction is of the utmost importance.

Where Can I Find More Information About MacroAir Technologies?
Let a MacroAir representative help you find the HVLS air circulating solution right for you! A proposal will be customized to your needs and based on your particular specifications, assuring your satisfaction with the result. Call us at (866) 668-3247 or visit us online.
---
Contact: Our Friendly Staff
794 S Allen Street
San Bernardino, California 92408
Phone: 866-668-3247
Email:
Website: Click Here To Connect

---