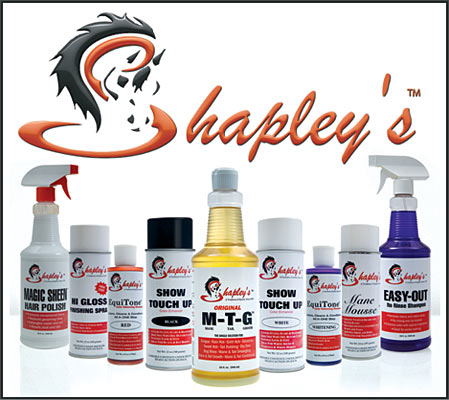 Original M-T-G By Shapleys
Original M-T-G is the most effective and affordable treatment for any horse suffering from many types of skin ailments.

About Our Company
It began in 1938 with a barber named Henry E. Shapley in Waterloo, Iowa who formulated a product for dandruff and psoriasis. An avid horse lover, he soon discovered the same great results on his horses as he did with his customers. This became Shapley's first product, known then and now as Original M-T-G (Mane-Tail-Groom). From these humble beginnings, Shapley's has grown into an organization providing an extensive line of award winning equine grooming products. Passed down through the generations, Shapley's has now become a staple in barns world wide! Our philosophy at Shapley's is the Customer comes first...both human and equine! In maintaining the tradition of innovation driven by customer need, we encourage and solicit all comments and suggestions.

Original M-T-G
Original M-T-G has been providing quick and effective relief from numerous skin ailments since 1938! Originally formulated for humans, this safe and easy to use product is the only one needed for quick and complete relief from a variety of bacterial and fungal skin problems, such as : • Rain Rot • Scratches • Girth Itch • Sweet Itch • Dry Skin • Tail/Mane Rubbing. Original M-T-G provides results after just one application! Formulated to eliminate the causative agent creating the skin problem, it conditions the skin and hair around the damaged area, promoting both healthy skin and maximum hair growth. In fact, Original M-T-G has proven to work exceptionally well promoting hair growth. Users report up to 3 inches of new growth on manes and tails in a single month. Original M-T-G creates a healthy environment for the hair follicle, resulting in maximum growth while keeping the length of the hair shaft soft and pliable for minimum breakage. Original M-T-G is a time-tested, user-supported solution to both skin healing and hair growth in a single bottle. An oil-based product that does not require washing or water for application, it is not only easy to use, but great for cold weather. Original M-T-G is also safe and effective on dogs and other animals' skin problems, such as hot spots, itching and dry skin.

What Do Customers Say About Original M-T-G?
I am just writing to thank you for producing MTG! It really, really, really does work! I couldn't believe when I saw my Arab gelding's rain rot disappear and his hair growing back in just four days after application! The stuff smells a little funky, but the conditioning properties are amazing. After I saw results on his rain rot, I put some on his tail and where the mane grows out of his crest. The hair is thicker feeling and it's growing even longer! He looks like a new horse! Thank you so much.
Christy

Our ranch raises Quarter Horses in the rugged terrain of Western Montana and I have never used a product that has worked as well as Shapley's MTG. We have used it on our forty plus horses from broodmares to saddle horses. We had an epidemic of scratches, ringworm, and cinch rash this summer due to our drought and some poor hygiene at a trainers. Even on the babies that had not been handled; we put MTG in a sprayer and doctored their feet and in a week they were cured. I have never used a better, more efficient product. I have found it even works well on abrasions and rope burns. It is an incredible product. I would recommend it highly.
MW

Order Original M-T-G Today!
Original M-T-G is the most effective and affordable treatment for any horse suffering from many types of skin aliments. So why waste your money on a variety of products when Original M-T-G is more effective? Stop wasting your money with the rest, get the best and order Original M-T-G today!
---
Contact: Our Friendly Staff
11650 Chitwood Drive
Fort Myers, Florida 33908
Phone: 800-982-2017
Email:
Website: Click Here To Connect

---