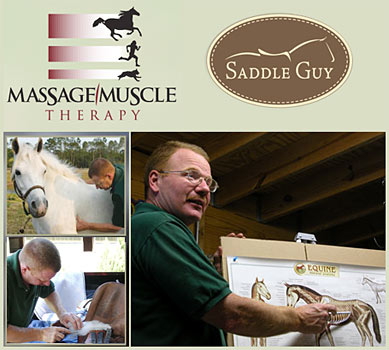 Equine Massage and Saddlefit School By Equine MMT
The Equine Massage Therapy & Saddle Fit School offers a stable and rewarding career for those who are passionate about horses and to work in the equine industry.

About Mike Scott
Mike Scott became certified in human massage therapy in 1986. For the next several years he enjoyed a very successful practice that brought him around the world working with professional athletes as well as patients referred by MD's and Chiropractors.

Shortly after his completion of studies at Bancroft School of Massage Therapy in Worcester MA in human massage he started to pursue his love and interest in therapy for the horse. After establishing a clientele and gaining much experience, he started teaching the Equine Massage/Muscle Therapy training courses. He also authored The Basic Principles of Equine Massage/Muscle Therapy (book and video) and The Equine Training Log and Health Care Diary.

In working with the horse on a daily basis, he noticed the recurring back problems in horses due to improper saddle fit. After going around with a number of saddle fitters, Mike wanted a more formal and structured class type setting to understand the basics and then build on experience. In 2001 he obtained certification form the Cumbria School of Saddlery in Penrith UK in bridlemaking and intermediate repairs. Complete saddle flocking was also addressed during this schooling.

In 2002, he applied to, attended and completed the Master Saddlers Association Saddle Fitters Certification Program here in the US. He continues to apprentice with as many saddlers as time allows and to take courses in advanced repairs. Mike's knowledge in the horses body, movement and how to treat problems assures you the very best in saddle fitting and massage possible.

About Joyce False
Joyce Falese received her education in human massage therapy at the Massage Institute of New England, receiving a diploma in 1997. She was certified in Equine Massage in the first EM / MT class and apprenticed with Mike Scott for several years before and after that class. She is the head instructor of EM / MT, teaching courses in basic and advanced techniques and assisting Mike in video and writing projects. She previously taught high school, and holds a Masters Degree in secondary education. Joyce has recently relocated to Camden, SC but continues to practice in New England and in Wellington, FL. She is a Nationally Certified human therapist and is licensed in Florida, SC, and MA.

Equine Massage Therapy Programs
Equine Massage/Muscle Therapy offers courses ranging from an introduction for horse owners or aspiring therapists, an equine massage certification course designed for beginners, to post graduate advanced classes. In our courses we cover the following:

• Anatomy
• Kinesiology
• Myofascial Release
• Trigger Point Therapy
• Sportsmassage
• Energy Work
• Business Practices
• Handling Skills
• Building a referral network

What Are The Benefits Of Being An Equine Massage Therapist?
Many of the benefits can include: being your own boss, making your own hours, the possibility of travel, working in conjuction with veterinarians and with some of the finest athletes in the world and making a good living doing it. As an Equine Massage Therapist, you get the satisfaction of helping improve the lives of equine athletes and leaving your clients satisfied.

Will Veterinarians Accept My Work?
It is necessary to check the local laws where you reside or will work. However, many graduates and instructors in the school have enjoyed positive working and referral relationships with veterinarians across the country. Our instructors have also presented the benefits of massage and saddle fitting to Veterinary schools across the country.

Do Equine Massage Therapists Diagnose Horses?
Absolutely Not! Equine massage is not a substitute for veterinary care. It is an adjunct. If the two specialties are use in conjunction, we can better achieve our goal – to address the horse's best interest. If a horse appears ill or lame, students are taught to have the client contact the vet immediately.

Saddle Fitting Certification
Anatomy, Physiology, Kinesiology and Saddle Fit and Flocking Techniques are taught at every class meeting and are emphasized throughout all hands on work. Innovative methods are used to help the student learn these topics, simulating a real world experience. It is STRONGLY recommended that all applicants have attended an introductory seminar such as our "Introduction to Saddle Fitting" or another intro class elsewhere or has had previous training from a saddle company in product/fitting.

Basic understanding of the horses anatomy is a must for the massage and saddle fitting courses. Before the first day of class, the student should be able to name and locate the general superficial muscles, deep muscles, joints and bony landmarks. Required readings and 1st months preparation material will be sent with confirmation and receipt of application and deposit. Experience around horses is required. The student should feel comfortable palpating, grooming, picking up feet, leading and trotting the horse on the line etc.

Please visit our website for more information!

Get Started With Equine Massage Therapy And Saddle Fitting Today!
Turn your passion for horses into a successful career with Equine Massage Therapy Courses! Mike Scott, Joyce Falese and the other instructors will work with all levels to turn your dream into a reality. Proper Saddle Fitting is also vital to understand for both yourself and your future clients, so contact Mike Scott today to get started in the right course for you!
---
Contact: Our Friendly Staff
809 Kirkwood Circle
Camden, South Carolina 29020
Phone: 803-422-5894
Email:
Website: Click Here To Connect

---