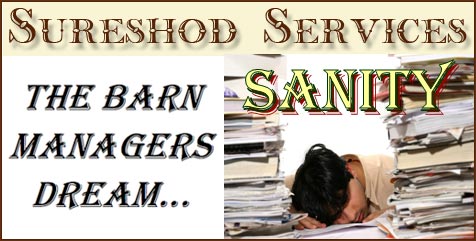 Sureshod Stable Management Systems
The Sureshod Services Stable Management system brings organization into both the marketing and management sides of your business

Why Should I Have A Management System That Resides Off My Computer?
There are several reasons! One, it's a luxury to be able to access your system from another computer or PDA. With this system you're not limited to a set number of computers that can use the service. For example, you could set up a computer at the barn for your staff to use to access and input horse information and have one in the office to use for billing and communication. Two, you don't have to worry about hosting, firewalls, viruses, losing data, computer crashes or remembering to backup files at the end of the day. The Sureshod System does all those things for you automatically and is the closest thing to actually having an office manager run your horse business!

Will The Sureshod System Work With My Existing Website?
Yes it will, by adding a link into your current website you can then add all the managerial features of the Sureshod system without having to redo your current website. It's really easy. Just contact us for more details and we can explain further how to add this feature to your existing website.

How Is Sureshod Different From Other Management Systems?
Sureshod is the only system that brings organization to both the marketing and management sides of a business. This system is one-of-a-kind, offering you the following distinguishable features: customizable website, Google Maps, client login, credit card processing through PayPal, communication archive, automatic data backup and 10 minute invoicing.

Can't I Do This Myself?
Good question. It can be done, but here are a few things to consider:

Data storage can continue to be done as it always has, but the time it takes to access specific information is slow and limited to just your office.
Invoicing in QuickBooks is time consuming. We consulted a QuickBooks Pro Advisor to assist in designing our invoicing system so that it can now be done in 10 minutes.
Outlook will send out e-mails but it won't automatically organize your communications or store them by subject for easy reference.
You can purchase a gateway account to accept credit cards, but you will pay a monthly fee. The PayPal system is pay-as-you-go so you only pay for the individual transactions you use.
You could build your own website but you'll pay a monthly hosting fee for that service while the Sureshod system includes that fee for no additional charge. It also includes free upgrades and tech support giving you access to great new ideas that come available.
What if your computer crashes and you lose all your data? With Sureshod, it stays where you put it!
When you consider all the benefits this service offers, Sureshod is by far the most affordable "office manager" out there. It does not go on vacation, get sick, or lose your data!

Will My Information Stay Safe, Even If I Lose My Hard Drive or Get A Virus Attack?
Yes! We offer a state-of-the-art data retention and storage system that eliminates the possibility of data loss through redundancy. The first layer of protection is a mirrored data storage system that consistently backs up your data on a moment-by-moment basis. To explain further, one server watches and records the other; in the event of an emergency, the other server is brought online and service is uninterrupted. To further protect your data from potential loss, those servers are backed-up daily.

Will I Be Able To Invoice Clients and Keep Track Of Payments Through The Sureshod System?
Yes! Invoices are created on the Billing Page where they can be viewed or printed before being sent. They are then placed in the Invoice Archive where they can be accessed for future reference. The most recent invoice can be viewed on the Client Information page. It is colored red if it hasn't been paid and marked black when payments are received. The client can log into their private account to see their current invoice or their invoice history. Invoices can be responded to by the client or manager; those communications are tracked in the communication section which is also accessible through the Client Information page.

Can My Boarders Actually Pay Their Board To Our Stable Through the Sureshod System?
Yes! Your boarders can pay through the system - but Sureshod does not have access to your money. Because we integrated PayPal into the system, your clients can log into their private account on your website and pay their bill with either a bank account or a credit card. All financial transactions take place through your private PayPal account - outside of the Sureshod system. You receive a notification of payment from PayPal and those funds are then deposited into your PayPal account. The Sureshod system automatically marks those invoices as paid, changing the color from red to black on the Client Information page.

What Services Will Sureshod Offer Me?
Here are just a few specific highlights of the services this system offers:

Detailed Client and Horse Records
10 Minute Billing
Accepts Credit Cards with PayPal
Detailed Client Communication Records
Horse Notes and Photo Records
Completely Customizable Website
Create and Update WebPages, Colors and Layouts - No web master needed
Facility locator utilizing Google Maps
Detailed Google Analytics to track and evaluate your advertising and website statistics
Incorporates YouTube videos as a marketing tool for your facility

NOTE: Not only is this product unmatched in the industry, but it comes with unparalleled customer service. We are proud of our product and stand behind it 100%.

Introduction to Client Information 1 & 2
Keeping track of client information has always been a tedious and time- consuming process. We've made accessing that information a snap. Check out our five minute video and discover how you can access and manage all of your client information, communications, invoices and reminders - all from one page.

Introduction to Horse Information 1 & 2
Keeping track of horse information has always been difficult. Handwritten notebooks and sticky notes can be frustrating when trying to find a specific entry. We've made accessing that information a breeze. Check out our five minute video and discover how you can access and manage all of your horse information, precautions, notes, follow-ups and photo records from one page.

Introduction to the Billing Section
Billing and invoicing takes the most time out of a busy schedule. Our system shortens this process to just 10 minutes. It also sends a detailed copy of your invoices straight to your bookkeeper. Take a moment to see how we've simplified the invoicing process - making it easier for you to get paid.

Introduction to the Communication Section
There is nothing more frustrating than arguing with a client about what was said months earlier. With our communication system, those frustrations will be a thing of the past. Watch this five minute video to discover how you can send, track, categorize and access your communications with current or former clients.

How Many Plan Options Does The Sureshod System Have?
There are currently five service plans from which you may choose. Plans range in size from one to five and are based on the amount of storage space needed to manage a specific number of clients and horses. Each service plan comes complete with every available feature as well as Customer Service and free system upgrades. Changing plans is easy, giving you the freedom to expand when you're ready. The system automatically prompts you when you need to move into another plan.

Plan One:
Management tools to manage up to 10 Clients and 10 Horses -
Only $19.99/month

Plan Two:
Management tools to manage up to 25 Clients and 25 Horses -
Only $29.99/month

Plan Three:
Management tools to manage up to 40 Clients and 40 Horses -
Only $39.99/month

Plan Four:
Management tools to manage up to 55 Clients and 55 Horses -
Only $49.99/month

Plan Five:
Management tools to manage unlimited Clients and Horses -
Only $69.99/month

Can I Change My Sureshod Personal Website To Fit My Facility?
Yes. You can create web pages, upload and edit specific text, pictures, business logo and links - all without a phone call to a web master. You have the power to do it yourself and we are here to help you if you have questions.

Is It Cost Effective?
Yes. Our system includes features that, if sold separately, would cost you additional monthly dollars: credit card processing, $15+; web hosting, $10+; data back-up, $5+. The above costs do not even cover the office management features that keep your office in order and your information accessible from anywhere.

Is The System Hard To Use?
No. We created this to be very easy to navigate. Once entered, all your information is accessible from just four pages: Client Information, Horse Information, Communication, Billing. Throughout the entire development process, we held firm to the "keep it simple" principle.

Is This An Accounting Program?
No. This is an online office manager. It helps you efficiently send out invoices to your clients and your bookkeeper and then track those payments when received.

My Area Requires Me To Tax My Clients. Will The System Allow Me To Figure That Into The Invoices?
Yes. We've created a tax section where you can create and name any tax specific to your area. This is then incorporated into the billing page where it shows up on the invoice as specified.

Is Sureshod Involved With My Online Payments?
No. All online financial transactions are done through PayPal. The Sureshod System only tracks and records those payments made through PayPal.

Do My Clients Have To Pay By PayPal?
No. The system allows you to offer this convenience to those clients who wish to participate. The system still allows you to send out invoices and receive payments manually. When you receive a payment manually, you must mark that invoice paid through the client information section, changing it from red to black.

Can I Easily Upgrade To A Larger System?
Yes. Our system will automatically prompt you when you reach your limit asking you if you would like to upgrade to the next-sized plan. There's no need to worry about outgrowing your system, we grow with you!

Can I Store Photos Of My Horse In The System?
Yes. We've included a photo record where you can upload pictures of the horse or work you're doing with that horse; you never have to worry about loss or overloading your personal computer.

Can I Give Access To My Employees Without Revealing Client Information?
Yes. The system allows you to set up multiple peripheral accounts for your employees to log into and view specific horse and client information critical to daily management.

Can't I Create My Own System At Home And Do This Myself?
It can be done, but why would you want to? For as little as $2.00 a client per month, you receive the benefits of an office manager through the Sureshod Stable Management system – 24/7.

Can I Do The Setup Myself?
Yes. We've created a set-up wizard to guide you through the process as well as an in-depth help section to answer any questions you might have along the way. Of course, our friendly customer service staff is ready to help you if you have any problems.

Can I Put Client Testimonials On My Sureshod Website?
Yes. Testimonials are a huge part of marketing so we included a testimonials section where you can include your client's positive words and pictures of their smiling faces.

How Long Before I Am Up And Running?
You can immediately start using the system to enter your information. It takes us about one business day to setup your web address on our servers.

Can I Use YouTube On My Sureshod Website?
Yes. YouTube is the newest way to show the world what's going on at your facility. You will have to create your own YouTube account; once created, you can link directly to all the exciting videos you wish to show your clients.

How Do I Get Started?
Just contact Sureshod or visit our website and we'll get you started today!
---
Contact: Our Friendly Staff
PO Box 242
Gallatin Gateway, Montana 59730
Phone: 406-763-3701
Email:
Website: Click Here To Connect

---