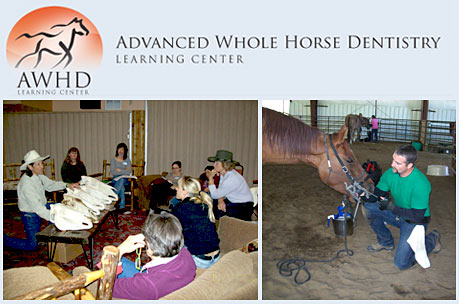 Advanced Whole Horse Dentistry by Spencer Training and Horsemanship School
Find out how to affect the health of the horse with Whole Horse Dentistry at the Advanced Whole Horse Dentistry Learning Center.

About Spencer LaFlure
Born on a pack trip through the Adirondack Mountains of New York, Spencer LaFlure grew up on his parents' two dude ranches there. He has had a lifetime of experiences with all kinds of horses. After a successful rodeo career, he trained horses, but decided he could better help the horse through dentistry. He holds advanced certification in Natural Balance Dentistry® from Advanced Whole Horse Dentistry Learning Center. He now practices extensively throughout the United States.

After five years of research, Spencer developed a procedure he calls Natural Balance Dentistry® which consists of equilibrating the front teeth first according to each individual horse's bars of the mouth, then going on to equilibrate or balance the back teeth restoring centric relationship of the TMJ. He has had tremendous success with this procedure, and as he puts it, "I haven't had a horse yet that it hasn't worked on with fantastic results!" He presented his theory of Natural Balance Dentistry® at the 2001 Parelli Savvy Conference in Pagosa Springs, Colorado. It received a wonderful response which led him to Australia and Indio, California and the jumping world.




Natural Balance Dentistry®
Natural Balance Dentistry® is different from traditional forms of equine dentistry because it has its beginning with he incisors (front teeth). The natural length and angle of the incisors should remain the same as that of that of a five year old throughout the lifetime of the horse. Biomechanically speaking, the relationship of the anatomical alignment of the jaw to the body should be the goal. For millions of years, before man, horses have come into this world equipped with teeth configured, or designed, to erupt and wear simultaneously, maintaining their own natural balance and form to function. Maximum surface to surface contact of the molars, with a serrated edge (with tiny points) for cutting food (similar to the difference between cutting a steak with a steak knife vs. a butter knife) and with proper guidance to the TMJ with a full range of motion, are all necessary for the horse to maintain its optimal mass and motion. Watch this video to learn more about this dentistry method.

What Is The Philosophy Behind Advanced Dentistry Whole Horse Dentistry?
Our goal is to provide the horse with the ultimate in dental balance that we have proven and documented actually fits the horse by returning centric relationship of the TMJ, enhancing overall muscle movement and performance as well as developing muscle mass in the topline. We believe the ultimate in dental balance developed by Spencer LaFlure. That is balancing the mouth starting with the front teeth first, setting up the paradigm, then going on to balance the molars (maximizing surface to surface contact) and giving centric relationship relation to the TMJ to fit each horse anatomically. We call this Natural Balance Dentistry®. Our purpose is to teach Veterinarians, Dentist, Health Care Professionals, and Horsemen alike how to perform this procedure. Our focus is placed on the Whole Horse!

What Sets Your School Apart From Other Dental Schools?
Everything! We have a patented procedure that starts with filing or balancing the front teeth first to be equal to that of a five year old, then we go on to balance the back teeth. When we balance the molars, we maximize the surface to surface contact. We balance the teeth to allow the TMJ to be centered, which turns on the neurology of the horse. We work on our knees with the horses head hanging down in a natural position. We use ergonomically redesigned hand held instruments only.
We put the whole horse in mind (all parts considered, or a holistic approach). We use Ranch Resorts around the country as our campus. When students become certified, we give them clients to start their business with. We also teach head anatomy, horse handling, body work and its relationship with the dentistry.

Do I Need Special Skills Or Prerequisites To Join Your School?
No special skills or prerequisites are required to attend AWHD. Just an open mind and will power. Many of our students are women because our procedure is easy to perform. Classes are offered in one weekly session, four times a year, and held at different Ranch Resorts around the US. Class time is from 9 to 9 with sharing three meals a day included. Access to instruction and extra help is 24-7, class sizes are small to ensure 2 on 1 instruction. Six levels are required to certify. Each level may be taken at any time class is offered, so you may attend one time per year or up to the four times offered per year.

Subjects include anatomy, physiology, kinesiology and lots of hands on practical applications. Testing is given to determine levels. Clients are then referred to students who certify. Other classes are offered in horse handling, anatomy, and body work in relation to Dentistry. These classes are necessary to certify.

What Do People Say About Natural Balance Dentistry?
Spence is kinda like a magician in the horse's mouth. He's no different than a lot of other guys. The secret to walking on the water is knowing where all the rocks are. And Spence knows where all the rocks are at in that horse's mouth and I think it's great.
Ronnie Willis

We believe in the importance of Equine Dentistry. The benefits of equine dentistry encompass the whole horse. These important benefits include both the structural and muscular components of the horse. In order to get peak performance from your horse, they must be at their fittest. In order to achieve this fitness we believe that horse's teeth must be properly balanced. Spencer LaFlure, the tooth fairy, has been very instrumental in helping us achieve our horses peak performance. We appreciate Spencer's passion for his work. He is always working to make things better for the horse and we cannot thank him enough for his devotion to our friends.
Tom & Trina Curtain

I just wanted to report on the effects of the dental work you performed on my stallion. Almost immediately, I observed a difference. He was happier in vertical flexation in all gaits and his spins to the right became much easier for him. My farrier even observed that his hindquarters appear to engage better. This is an impressive result and I thank you for the time and care you took to be so thorough.
Pat Parelli

Get Started With Your Equine Dental Career Today!
A NEW career awaits you! We are excited to talk to you-- please call us today!
---
Contact: Our Friendly Staff
869 High Street
Athol, New York 12810
Phone: 518-623-9967
Email:
Website: Click Here To Connect

---