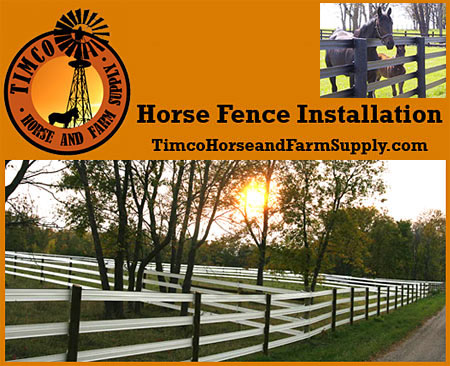 Horse Fences and Installation Services By TIMCO Horse and Farm Supply
TIMCO Horse and Farm Supply and Installation offer everything from farm structures to fence installation and supplies at reasonable prices.

About TIMCO
TIMCO Horse and Farm Supply is an installer owned and operated retail/warehouse/online horse and farm supply store. You can stop by the store in Independence Iowa and talk to Chris Mon-Sat or call Chris anytime if you live too far away! We install everything we sell and will travel to most of the United States. Our knowledgeable sales and installation staff can answer any of your questions and we can match or beat prices on most products. We buy for our warehouse in volume to help you save money. We are upfront with our pricing and we are happy to bid any job, installed or not. We want to help you. The fences we install will outlast us, and yours should too!

What Advantages Does Working With A Professional Installer Have To Offer?
The biggest advantage to using a professional installer is time. While many of our clients are capable of installing fence, they have full time jobs and find it hard to get large blocks of free time to install fence. Sometimes just finding the correct equipment to quickly install fence posts can be a task. If you add Mother Nature to the equation, a small job can stretch into weeks. It can also give you peace of mind to know your fence posts are level, the fence is straight and the electric works the way it should.

What If I Live Out of State, Can TIMCO Still Help Me?
TIMCO travels the entire United States and offers several installation packages for every budget. A turnkey installation involves no work for the client, the job is complete. The next level is a partial turnkey, Chris and his crew installs all of the posts, deliver the material and help you get started. A variation on the partial turnkey is when Chris and his crew travel without equipment and the client provides the heavy equipment. Finally, the least expensive is the consultation, Chris travels to you and trains a crew (For large equine facilities) or a client and stays on for all or part of the installation.

What Kinds Of Fencing Does TIMCO Install?
We will install almost any type of fence that is safe for horses and livestock. TIMCO is a full line dealer and installer for Centaur Fence, Electrobraid, Woodguard Forever Fence, Finish Line Fence, Gallagher, Ritchie Livestock Waterers and Speedrite. We also install Applegate Gates, round pens, corrals, chutes and shelters.

Does TIMCO Sell Fencing Also?
TIMCO focuses on American Made products with good reliability and stocks Electrobraid, Centaur, Finish Line, WoodGuard, Gallagher, Speedrite, Patriot and many installation supplies. Everything in our warehouse ships the next business day and can be expedited for the installation on a schedule. If you run short or need something, even on the weekend, call us and we will get it to you. View our product line at our website.

Does TIMCO Offer Low Cost Fencing?
We offer quite a few options for fences on a budget. If you aren't sure if you need a temporary or permanent fence, please call us. We want our customers to know what to expect from each fence when it comes to permanence and life span.

What If I Just Want Instructions On Installation?
We offer full manuals, installation instructions and warranties on every product we install online and videos for download. If you don't see what you are looking for call us, Chris has used and installed every item on the website and many more we don't carry and he will walk you through anything you need.

Is Working With Timco Affordable?
TIMCO will work with any budget and we accept credit cards for installations and materials. When you have a fence professionally installed, you avoid many pitfalls that plague do it yourselfers. Chris has fixed many fence installations initially done by unlicensed contractors or homeowners. He has seen posts fall after a few months, electric that never worked, and fence that allowed horses to escape after installation. Unfortunately, it is always more expensive to have someone out to fix something than to have it done correctly the first time. If you have a fence that needs troubleshooting, please call, Chris has many references to provide on redoing fence and he can also troubleshoot most electrical issues over the phone.

What Do People Say About Working With TIMCO?
Most of TIMCO's installation work is by word of mouth, once people work with Chris, they recommend him to everyone. He is meticulous, friendly and very professional. TIMCO is insured and follows contract and permit laws in every state we travel to. Every client has a full contract with all prices and services fully disclosed before work begins. TIMCO's estimates are clear and there are no surprises, we take the mystery out of fence installation.

How Do I Get Started?
Just give us a call or drop us an email. We love to talk about projects and see what you need to get going on yours. We have installers and salespeople available 7 days a week, if you don't get an answer right away, please leave a message. We use voice to text so every call gets returned promptly by the correct person.
---
Contact: Our Friendly Staff
2349 Jamestown Ave Suite #6
Independence, Iowa 50644
Phone: 1-866-991-2220
Email:
Website: Click Here To Connect

---