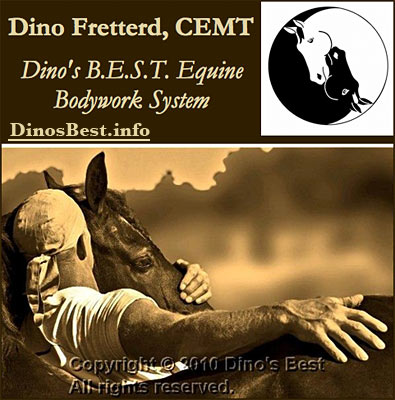 Dino's Best Bodywork System By Dino Fretterd
Help your horse achieve balance and good posture with Dino Fretterd's Dino's Best Bodywork System!

About Dino Fretterd
Dino Fretterd previously worked on people for 17 years, specializing in muscluloskeletal dysfunction. During this time he worked with Chiropractors and Orthopedic Surgeons aiding in their patient's recoveries.

Dino has always had a special attraction and love of horses so it only seemed natural for him to apply his expertise and knowledge to help horses. He started working on horses in 1996 after he received his certification in Equine Massage Therapy from Optissage in Circleville, Ohio. His endeavor started slowly, but with lots of love, persistence and trust by tthe trainers, he was soon being referred everyone on the show circuit.

His methods are based on the simple basics of massage, joint mobilization and stretching. He uses specific hand placement, body position and body mechanic to ensure safety for both himself and the horse at all times. Dino's work has been sought by veterinarians in treating horse's injuries.

Balance Equine Structural Therapy Clinics
In these clinics, you will be instructed in proper Bodywork Techniques using proper body mechanics, body position and hand placement. An Octassager massage tool and stretching video are included with each clinic. Here are Dino's available clinics:

1 Day Clinic for the Horse Owner- This Clinic is for a maximum of six participants and takes place at you facility or ranch where you would be instructed on assessing the balance of your horse and demonstrated simple to use stretch and strengthen exercises to help restore balance to your horse. Each participant can bring one horse, and will learn much more because you are required to watch the other participants. At this clinic proper body position , body mechanics and hand placement are thoroughly demonstrated. It is important that if you are a participant that you feel comfortable working with your horse's legs.
3 Day Clinic/course for Hoof Care Professionals- Dino offers a course on soft tissue/joint mobilization and stretching techniques to isolate specific areas of muscle/tendon tension which allows you to achieve the trim you want without compromising the soundness or structure of the horse (legs only). This course is availabe for a maximum of 8 particpants.
5 Day course for practicing Massage/Bodywork Professionals- This class requires a minimum of 4 participants and a maximum of 8 participants. This is a class for practicing professionals who have already attended a massage class. The purpose of this requirement is having knowledge of anatomy and a comfort level working with horses.

For more information about these clinics including clinic cost and Dino's availability, please contact Dino at our website.

Does Dino Offer Videos For At Home Learning?
Absolutely! Dino offers his Posture and Performance DVD Series which is a 3-DVD set that will change your life, and the way you view your horse. In this 4-hour DVD set, Dino and his "Whole Horse Team" will show you how the major components of the horse are inter-related, and how by balancing these systems in harmony with one another, your horse will function better and you'll see an improved relationship with your horse.

What Other Products Does Dino Offer?
Dino has designed two incredible products designed to improve the comfort of your horse! The first product, The Maxi Scratcher, is designed to mimic what horses love best, being groomed by another horse, by using the Maxi Scratcher in your own hand! Based on equine behavior, the Maxi Scratcher is anatomically designed from the horse's maxilla bone from where the incisors grow and is designed for maximum effect with minimal effort. It is made of durable plastic and bonded with rubber to ensure a comfortable grip.

Dino's other product, The Octassager, is a message tool that has eight individual heads that provide that "Oh, that feels good feeling" sensation for people and horses (dogs too!). It's unique design enables you to give or receive a relaxing massage without fatigue or stress on your hand or wrist. It is a wonderful massage tool for people, horses and pets!

What Do Customers Say About Dino And His Products?
Dino, your clinic was fabulous! MJ and I have been consistently stretching our horses three to four times a week after our workouts. We have noticed a tremendous difference in their balance, stride and flexibility. Willas and Toby also seem to enjoy the stretching - especially the carrot stretches! We are looking forward to the next clinic.
Karen Bates and MJ Hawes, Willas and Toby

Dino, thank you for the Maxi Scratcher. My horses love it, and particularly my older heel horse. She has always shown tightness and soreness unilaterally in her brachiocephalicus muscles. When I trace that muscle down its length it will spasm. As I continue to palpate, the spasm will lessen until it stops. At this point there is a noticeable softness to the muscle and the mare. I repeat this for about 15 minutes 3 times a week and it seems to have an effect on this mare's ability with consistency in collection and leaving the box flatter and with more power. Thanks Dino."
Mike Fragale, Certified Equine Dentist

Get Started With Dino Today!
By hosting or attending a clinic with Dino Fretterd you will learn the methods necessary for having a balanced and happy horse with Balanced Equine Structural Therapy. For more information about Dino's clinics or the product and DVD line, please visit our website.
---
Contact: Dino Fretterd
3977 Center Ave
Norco, California 92860
Phone: 818-254-5330
Email:
Website: Click Here To Connect

---