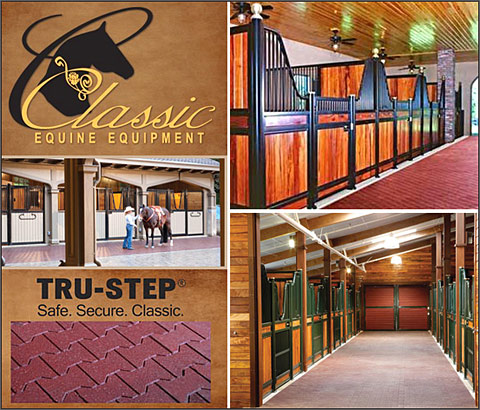 Tru-Step® Equine Flooring by Classic Equine Equipment
Classic's full line of long lasting Tru-Step™ rubber-based flooring options offers an extra layer of protection for you, your horse and your stable.



About Our Company

Classic Equine Equipment located among the rolling hills and horse farms of Southern Missouri, was founded in 1991 on a love for horses and a commitment to their ultimate care and safety. Though a lot has changed since then, our mission remains the same: To provide quality stall systems, barn components, exercisers and accessories to meet the needs of discriminating horse owners.

We go to great lengths to make sure our passion for quality and love for horses shows in the details of the products we produce – smoother edges that prevent scratches or scrapes; narrower spacing between grills to make sure that small hooves don't get caught; galvanized hand-welded steel frames that can endure all the punishment and abuse your horse can throw at them and keep on shining.

The fact that our award-winning products are among the most beautiful that you'll find is a testament to the tastes of the many horse owners and facility managers across the continent that work with them and have inspired their design.



Why Tru-Step® Pavers?
Tru-Step® Pavers are easy-to-install interlocking rubber equine pavers that provide long-lasting protection and comfort for a variety of equine flooring applications. They offer exceptional durability, comfort and slip resistance while creating an aesthetically pleasing and clean environment. Tough, flexible, long-lasting Tru-Step® Pavers offer a safe, nonslip surface on barn corridors, entrance areas, horse stalls, wash bays, paddock areas, patios and more.Economically priced and environmentally friendly, Tru-Step® Pavers are manufactured from recycled tire rubber and available in a terracotta color. Their 1½" (40mm) thickness provides superior shock absorption and protection. Tru-Step® Pavers are durable enough to drive tractors and cars over them. They are particularly useful in wash bays or other wet areas due to excellent self drainage and slip resistance. Ideal for replacing dirty, dusty, slick or hard surfacing. Extremely durable and resilient, as well as sound-absorbing which produces a quieter environment. Easy to install and maintain, these interlocking pavers can be used indoors or outdoors, as either temporary or permanent flooring. Coverage is calculated at 3.3 pavers per square foot.Tru-Step® Pavers are UV resistant and will withstand freezing and thawing conditions. Maintenance is easy. Use a broom, leaf blower, pressure washer or vacuum. Pavers can be laid on various surfaces such as concrete, asphalt and compacted stone dust.

Benefits of Tru-Step® Pavers

Outstanding performance and longevity
Excellent shock absorption and protection
Exceptional durability with comfort and resilience
Ensures safe footing in both wet and dry environments
Easy to install and maintain
Interlocking to insure stability
Unaffected by freeze and thaw
Controls bacteria and dust
Low cost and environmentally-friendly
UV resistant

StableComfort™ Stall Mattress
StableComfort™ is a wall-to-wall waterproof stall mattress system. Not only is it ergonomic, efficient and economical, but it is also environmentally-friendly.The StableComfort™ stall mattress system provides unsurpassed comfort through a resilient stall surface which simulates natural turf. While standing, this stall flooring system provides a supportive, even surface. While lying down the StableComfort stall flooring decreases the timeline of injury rehabilitation and aids in loosening stiff joints.The StableComfort™ stall mattress system is comprised of two components: The first component is a multi-celled mattress filled with uniform sized rubber crumbs. These rubber crumbs provide the mattress with a very high level of horse comfort and shock absorbency. The second component is the top cover. This top cover is made of an industrial-strength geotextile and impregnated with a vulcanized rubber compound that not only adds to its indestructible durability, but makes it a non-draining, water proof stall mat system. The one-piece top cover is fastened to the stall walls using plastic fastening strips and screws. This ensures that no bedding or waste gets underneath the stall mattress system.

Loktuff Stall Mats
If proper care and protection of your valuable horses is high on your list of priorities and you desire an efficient method to keep stalls clean, then you cannot afford to be without the benefit of our Loktuff stall mats. These button style mats make for excellent traction in your wash stall. At ½" thick they will withstand years of use. Like our standard stall mats, these interlock to prevent movement. As the mats are completely nonabsorbent, they will not harbor or promote bacterial growth. Your wash bay's slick, wet floors are potentially the most dangerous place in your barn. Loktuff button mats for wash bays and trailers give solid, cushioned traction even when wet and soapy, keeping horses - and humans - safe from harm or injury.

What Do Customers Say About Classic Equine Equipment?

I am very pleased with Classic Equine Equip., for the wonderful service, quality, and prices that I received. Not to mention that they added safety and a beautiful accent to my facility.
 Sue Murphy
Manteno, IL



I am very pleased with your product. Easy to install. Great workmanship.
 Frank Jelsma
Murrieta, CA 



Order Your Equine Flooring From Classic Equine Equipment Today!

No matter what your equine flooring needs are, we know we can help you find the perfect product for your unique needs. To learn more about our flooring and to place your order, please visit our website.
---
Contact: Our Friendly Staff
100 Wulfert Drive
Fredricktown, Missouri 63645
Phone: 800-444-7430
Email:
Website: Click Here To Connect

---