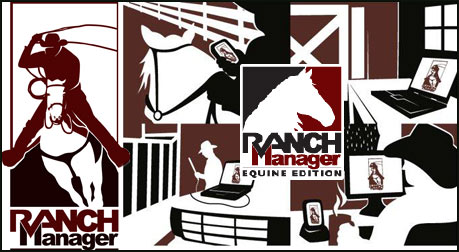 Equine Ranch Software by Lion Edge Technologies
Horse Software - Affordable, Simple, Livestock Record Keeping Management

About Lion Edge Technologies
Lion Edge is a family-run business established in August of 1999. The livestock management software was created, developed and produced in-house including all the packaging and website. Ranch Manager: Cattle Software was first created to manage the family's ranch operation. Soon after creating the Cattle software, customers requested ranch management software such as Sheep software, Goat Software, Equine Software, Deer Software and Elk Software. Lion Edge introduces new features and products based on customer needs. Customers and products have grown to include the Canine Edition (Dog Software for purebred dogs and livestock guardian dogs), the Camelid Edition for Alpaca and llama producers and the Pocket Edition, mobile livestock software for handheld devices.

Ranch Manager: Equine Edition Software
Use Ranch Manager: Equine software, to manage your equine records (horse/donkey) for your ranch operation. With Ranch Manager viewing your horses could never be easier. Separated into major categories such as Foal Crop, Herd Mares, Herd Stallions, Herd Geldings, Animal Sales, Animal Search, and Unmanaged Animals, each view gives the opportunity to view the animals in a list with various characteristics displayed, or use the pedigree and offspring views to discover an animal's family tree.

Ranch Manager will track the expected foaling due dates for your horses, whether you pasture breed, AI, or use Embryos. The equine program tracks estimated beginning and ending dates for each mare's foaling season based on the days the animal was exposed to one or more stallions in the same location. Estimated due dates are calculated when the breeding date is recorded (such as with AI and Embryos). When a mare births, Ranch Manager calculates the expected sire based on breeding information provided.

For sample screens please visit our equine features page.

Ranch Manager Software for your desktop is available in Windows and Macintosh platforms, including Windows 7, Vista, XP and Mac OS X.

Whether on the go, in the pasture, or at a show, the Pocket Edition Software for handheld devices syncs with the Ranch Manager Equine Desktop Edition. The Pocket Edition makes working and viewing equine records easier and more productive. The Pocket Edition runs on both Windows Mobile and Palm handheld devices. You select and provide the handheld (refer to system requirements), Lion Edge provides the software. Ranch Manager Software is where you need it, when you need it.

What Are The Benefits Of Using Ranch Manager Software?
You can have as MANY horses as you want for the SINGLE… ONE TIME PRICE of less than $100!

• Best value includes Technical Support & Electronic Updates
• Family-run, everything created in-house
• No extra charge for the number of horses, adding multiple pictures, profit and loss, etc.
• Easy to use interface with built-in Help features and How Do I instruction
• Customizable fields, useful filters and custom searches
• Most screens can be printed in report format.
• Handy ranch calendar and ranch journal to document appointments and important activities
• Profit and Loss statements can be viewed by any date range or year end
• Apply actions to multiple animals at one time (eg. treatments, sales, etc)
• Rapid Data Entry: Ranch Manager allows you to enter multiple animals in a sequence at once

What Makes Lion Edge Different?
Lion Edge strives to keep livestock software affordable and easy to use. Lion Edge keeps up with technology and tests for compatibility with various operating systems. Ranch Manager Software is compatible with 32 bit and 64 bit computers. The Mac version of Ranch Manager is a native Macintosh application. Lion Edge is on track to produce applications for new smart phones and possibly tablet computers. Actively listening to users' ideas and creating new features, keeps customers enjoy using the software.

I Have Horses & Cattle. Do You Have A Combo Package So That I Can Have Them In One Program?
Ranch Manager Software is designed to allow users the flexibility to combine products. If you have horses and cattle, the Livestock Edition for Equine and Cattle works seamlessly together in one software program. For a single $50 charge, you can add another breed such as Dogs or Cattle. There is goat terminology for the Goat Edition and Horse terminology for the Equine Edition. Select any combination and build your own livestock software edition:

Cattle Edition, Sheep Edition, Goat Edition, Equine Edition, Wildlife Edition (Deer, Elk, Exotics, etc), Canine Edition (livestock dogs and purebred dogs) and the Camelid Edition (Alpaca/Llama).

For more information on any of the livestock software Editions, please visit Lion Edge's website.

Does Ranch Manager Allow Me To Record Show Records And Training Records For My Animals?
Absolutely! Ranch Manager allows you to track all the events that your animal participates in, with detailed notes. Event details and results can also be recorded. Show records and training records are both included in the program.

What About Mobile Ranch Software for My Smart Phone?
The Pocket Edition Software is a companion software product that allows users to add or view livestock data in the field or at a livestock show using their PDA device. Customers select their own PDA device on Windows Mobile or Palm OS platforms. The Pocket Edition Software was created for Palm and Windows Mobile devices, well before the iPhone popularity. There are plans for a new Ranch Manager iPhone application for Windows and Macintosh computers.

What are the System Requirements for Ranch Manager Software?
Recommended Windows Desktop System Requirements
Windows 2000, Windows XP, Windows Vista, Windows 7, Mac OS X (See below)
500 MHz or Faster CPU (2 GHz or Faster Recommended)
500 MB of available hard disk space
512 MB of RAM
Mouse or Pointing Device
Color display supporting a resolution of at least 800 x 600
CD Drive with burner (optional)
Printer (optional)

Recommended Mac OS Desktop System Requirements:
Mac OS X 10.4.1 or newer (Snow Leopard, Leopard & Tiger)
Intel, G4 or G5 Processor
512 MB RAM
30 MB available hard disk space
Mouse or Pointing Device
Color display
CD Drive with burner (optional)
Printer (optional)
Please visit Lion Edge website for Pocket Edition requirements.

What Do Customers Say About Ranch Manager Products?
I had bought your Equine edition at the end of last week for both the PC and the PDA and I have been impressed with the software. It took me a lot of the weekend to get my data on there (and I still have some left to go), but I did have one question with regard to the PDA software. I do realize that it is a companion software and not a standalone one, but I didn't think it would hurt to ask. The only thing that I wished the PDA software had was the Income/Expense module as I know I would be using that quite a bit when I'm at the horse shows. Is that possible for a future update? Thanks for the help, keep up with the great software.
Evan
Breezeway Farm

Thanks for the great service. I am really enjoying the software and look forward to getting all my ranch data moved over. The added note areas throughout the software is also a great idea. Thanks again.
Geraldine Chapman, Australia

To view more testimonials, please visit our website!

Order Your Equine Edition of Ranch Manager Software Today!
For more information about Ranch Manager Software please visit Lion Edge's website!
---
Contact: Our Friendly Staff
7663 S. Duquesne Way
Aurora, Colorado 80016
Phone: 1-720-870-5086
Email:
Website: Click Here To Connect

---