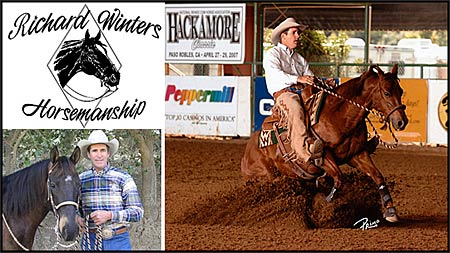 Richard Winters Clinics and Demonstrations
"Richard Winters is an excellent communicator with horses and people alike."


About Richard Winters
For nearly three decades Richard Winters has dedicated himself to honing his horsemanship skills and to passing this knowledge onto others. His vast experience has included starting literally hundreds of horses that have gone onto almost every equine discipline imaginable. Richard's credentials extend from the rodeo arena and high dessert ranches of the west to the highly sought after horsemanship clinician that he is today.

On any given weekend Richard and Cheryl Winters can be found conducting horsemanship clinics up and down the west coast and across the country. Richard's special blend of horsemanship and confidence building techniques has helped riders of all disciplines become better equipped to lead their equine partners. In the last few years Richard has had the opportunity to dedicate himself more fully to the training and showing of reined cow horses.



Where Can I Find Richard Winters Clinic And Event Schedule?
Visit our website to view Richards schedule and to sign up for any of our clinics or other events. Here are the clinics and events we are offering currently:
Horsemanship Clinic-This clinic is designed to establish trust and respect with your equine partner. The riding exercises are practical and instill confidence in each rider's abilities. Equine Psychology, Ground Work Exercises, Focused Riding, Handling Spooky Situations, Rein Management, and Lead Changes are some of the areas that will be covered.
Advanced Horsemanship Clinic- This advancing clinic will revolve around the body control and maneuvers necessary for upper levels of performance. Through Richard's "4 Part Harmony" exercises, you will establish communication and suppleness of your horses head and neck, shoulders, rib cage and hind quarters. You'll gain greater understanding of stops, spins, lead changes, collection and refinement. This clinic will prepare you to perform at a higher level, regardless of your particular riding discipline.


Performance Horse Training- While Richard continues to train horses from a myriad of equine disciplines, his passion and focus is with the ReinedCow Horses. His training program consists of preparing horses for the Snaffle Bit Futurity, continued development, and showing in the Hackamore and Bridle Horse classes. More and more, non-pro enthusiasts are finding Richard's teaching methods an invaluable resource as they pursue their own Reined Cow Horse goals.


Intern Certification Program- Richard is inviting a very select group of individuals to participate in this thirty day "Intern Certification Program" (ICP). This program is designed for the serious horseman, or woman, who dreams of pursuing horsemanship on a vocational level. ICP students will work and ride along side Richard daily, learning invaluable lessons and skills that are needed to succeed as a professional horseman. Students are invited to bring a young horse to be started – along with a saddle horse. Our summer clinics will be in session during your stay here. Each ICP student will participate in these events and be given opportunities to further develop your teaching skills.


Ultimate Horse Course I- Just imagine the improvement that you and your horse could enjoy with consistent, uninterrupted, and quality instruction invested in your partnership! Add to this the support and guidance of Richard's coaching through each new challenge, and this is what will transpire at this years "Ultimate Horse Course!" With a week devoted to progressive horsemanship, we'll cover everything from ground work to trail riding, confidence building, and cattle working. Richard's goal is to elevate your current horsemanship experience to a new level of knowledge and leadership.


Ultimate Horse Course II-This course was such a success last year that we are offering it again! Richard will be spending a week helping good riders reach for the next level of horsemanship. All riders must have attended a Richard Winters Ultimate Horse Course or an Advancing Horsemanship Clinic with Richard. Participants need to be comfortable and confident trotting and loping their horses consistently in a group setting. Richard will challenge each participant to "step up to the plate" and be the horseman their horse deserves.
All Womens Horsemanship Retreat- Our ladies have a great time each year and this year promises to be even better. This is a weekend where women with the same interest and love for horses are able to be pampered and enjoy each others company as they spend hours with their equine partners.


I Would Like To Host A Clinic, Is This Possible?
Absolutely! Richard offers Horsemanship, Advancing Horsemanship, Colt Starting and Cattle Working clinics for horse enthusiasts of all riding levels and disciplines. You can host a clinic in your area, designed to meet your needs. Call 805-640-0956 for pricing details.

Does Richard Offer Horsemanship Training DVD's?
Absolutely! Here are the four sets we offer:

Making the Equine DVD Connection – This comprehensive course is nearly 6 hours in length and divided into 15 different segments. You'll receive instruction on ground manners, trailer loading, proper equipment, control, rein management and more.


"Step It Up!"- This new DVD will take you to the next level of horsemanship. You'll learn the components of proper stops, spins, lead changes, along with total body control. With special guest, Ted Robinson, NRCHA World Champion. A "must have" DVD for the advancing rider.


Colt Starting Live- View in "real time" as Richard demonstrates the colt starting techniques that he has refined over thirty years of horsemanship experience. You'll see ground work, saddling, and first rides of a young unstarted colt; all performed before a live audience at The Equine Affaire in Pomona, California.


Equine Problem Solving Tactics for Transformation DVD- You'll view in "real time" the preparation and procedures Richard has been using for over 25 years to build solid relationships with his equine partners. We believe that you'll enjoy these entertaining, breath taking, and educational segments! You will be able to glean some good and practical information from this "never before aired" 7 hour, 2 disc, training DVD!
Get Started Today!
Great horsemanship takes planning, work, and great trainers to help you! Make sure you make Richard Winters part of your training education and plan to watch Richard Winters on RFDTV!




---
Contact: Richard Winters
115 Columbia Hill Court
Reno, Nevada 89508
Phone: (805) 640-0956
Email:
Website: Click Here To Connect

---