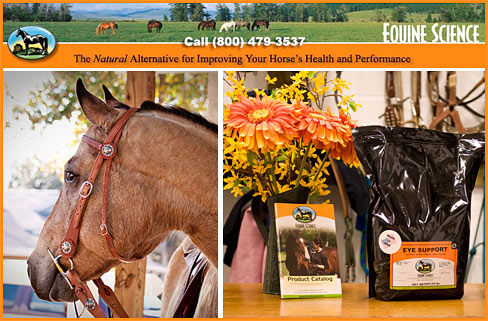 Equine Eye Health Supplements by Equine Science
Eye Support Blend, Supper Immune Booster and Cipex special blends of natural herbs that support eye health, increase circulation, support greater immune health and have helped many horse owners across the country.


Why Use Herbs?
Nature often has wonderful solutions to help with health issues. Any time you can NATURALLY improve your horse's health and performance you are always better off- and so is your horse. Many drugs like steroids or inhalers, offer temporary relief at best and long term use of steroids can literally destroy your horse's chances of recovery or health and well being.

Equine Science was founded by horse people who believe that nature has the answers to health questions for all creatures great and small. Made with quality ingredients from nature's garden, Equine Science helps your horse to obtain the nutrients he needs to maintain his own natural health and immunity.

What Products Should I Be Using To Help My Horse With Eye Issues?
There are a few different products at Equine Science that can help with eye issues, like Moon Blindness.

Eye Support Blend
Eye Support Blend is a unique blend of herbs that help to support the eye in preventing conditions such as inflammation, weeping, and ulcerations.

Active Ingredients: Eyebright, Bilberry, Ginkgo, Rosehips.

Recommended Amount: 1 oz. per day. Based on 1,000 lb. horse. (1 ounce scoop provided) Available: 3 lb., 5 lb. and 10 lb.

Super Immune Booster
Super Immune Booster is unique blend of natural herbs developed to provide optimal support to strengthen the immune system in horses suffering from EPM, or other serious health matter.

Active Ingredients: Clever, Hawthorne Berry, Garlic, Rosehip, Nettle, Kelp, Red Clover, and Pau De Arco Bark

Recommended Amount: 2 oz. per day based upon 1,000 lb. horse. (1ounce scoop provided) Available: 3 lb., 5 lb. and 10 lb.

Cipex -Circulatory Performance Enhancer
Cipex is a unique blend of natural herbs that may help improve circulation to tissues, speed repair and possibly halt tissue damage- which can be very beneficial if your horse is having any kind of health issue that requires the repairing of damaged tissues.
Active Ingredients: Hawthorne, Buckwheat, Nettle, Willow, Meadowsweet, Rosehip, Echinacea Inactive Ingredients: Peppermint

Recommended Amount: 2 oz. per day based on 1000 lb. horse. (1 oz. scoop provided) Available: 3 lb., 5 lb. and 10 lbs.

What Do Horse Owner Say About Equine Science?
Thanks Don ! I am a 22-year-old thoroughbred with a chronic eye problem and faced having it removed. Although I continue to use an ointment, your herb combination has made a world of difference and impressed my vet. Keep the Eye Support, Cipex, and Super Immune Booster coming my way. Love the peppermint you put in my herbs !
Grateful in SC Rodney (the thoroughbred)
Lori B. - 2010
Trenton. SC

I want to thank you so much for your wonderful products! I have been using Eye Support since shortly after my Tennessee Walking Horse mare was in an accident and clinically diagnosed to have lost her sight in one of her eyes. Within weeks of taking the herbs, she gradually stopped tilting and turning her head to see. Now, after continued use, her eye will even respond to movement and activity on that side. The product does everything you said it would for my girl!

Thank you again for another wonderful product. My Tennessee Walking Horse gelding was diagnosed with EPM and after going through traditional treatment I felt it just wasn't enough. I really didn't want to put him through another course of treatment. Since I have had wonderful experiences with many of your other products, I called you to see if there was a product to help with EPM. After you recommended I try Super Immune Booster, it all came together. His attitude and willingness have come back! His ability to cope with stress is back. He has returned to the calm, friendly, patient mount that had disappeared when EPM set in. Words could never express my continued thanks!

Lynn McLaughlin
Canaan, NJ

Hi Don:
I wanted to tell you that the Eye Support Blend worked wonders on the yearling filly with the blue spot in her eye and my seven month old colt's pupil is working just as well as the uninjured one. Full recoveries on both. Thank you very much.
Pamela Waldowsk

Where Can I Buy Equine Science Products?
Our DEALERS actually offer LOWER PRICING than our direct website (which is herbs4horses.com). This is to encourage horse owners to support the good people who provide horse owners with the Equine Science line of products. If you have any problem locating a "dealer" just give us a call and we are happy to help you.
---
Contact: Our Friendly Staff
1270 Warford Street
Memphis, Tennessee 38108
Phone: 800-479-3537
Email:
Website: Click Here To Connect

---