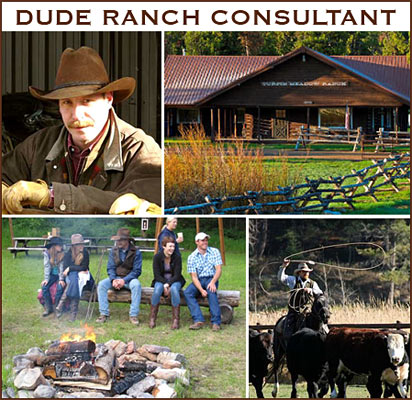 Dude Ranch Consultant and Vacation Services by Ted Harvey
Whether you are looking to attend a dude ranch, or are interested in starting a dude ranch, or need help maximizing the dude ranch you currently own--you need Dude Ranch Consultant!

About Dude Ranch Consultant
Dude Ranch Consultant was founded by Ted Harvey. Below Ted Harvey explains both his passion and background in dude ranching:

My name is Ted Harvey. For the major part of my career I have been involved with horses and guest ranches. My ranch life began at the age of fourteen when my dad took me to Valley Ranch in Cody, Wyoming. I have been working on my dude ranch career ever since. At the age of seventeen I went back to Valley Ranch to their Wrangler School. Over the next 25 years, I developed a great appreciation of dude ranching and for giving people the best vacation of their life. Working on ranches in Colorado, Wyoming, New Mexico and Montana I have formed life-long friendships with guests, ranch owners and staff.

Starting my career as a wrangler I have worked in every aspect of dude ranching from being the head wrangler to head cook, from maintenance to director of activities and sales and reservations to wedding planner and been general manager in charge of every aspect of ranch operations. I am certified by the Dude Ranchers Association as a Wrangler Instructor and have trained countless wranglers, and head wranglers over the years. I have developed policies procedures and programs for every area of dude ranching.

Dude Ranch Consultant Services
Dude ranching for the right people and on the right ranch can be an extremely rewarding way of life. But if you are considering buying a ranch you must understand that it is not a get rich business but a lifestyle with the possibility of a comfortable living. If you currently own a dude ranch we offer services to help you better manage your ranch. Here are the services we offer:

Ranch Planner- For anyone considering buying a ranch or would like to review their current dude ranch financial status I have developed Ranch Planner Software. This program will help you understand the business and financial side of your dude ranch. By estimating information such as number of guests each year or the expense of operating the ranch, the program will provide you with complete financial statements for the next five years, including Cash Flow, Balance Sheet, Profit and Loss and Expense Statements.
Consulting- If you want to analyze a ranches existing business model, or refine your operation I am here to help. Let me help you avoid mistakes that I have learned about through years of experience. So whatever your need is call me to help guide you through the process.
Wrangler Training Courses-Certified by the Dude Ranchers Association I am able to offer Wrangler Safety Certification courses. These are one day eight hour courses held at your ranch. This is a great opportunity to get your wranglers certified. These courses are typically open to wranglers or other interested parties. The cost is $500 for the instructor and $25 per wrangler that has a job at a DRA member ranch and $50 per person for non members.
Horse Purchasing Agent- Though extensive contacts with dude ranches, horse traders, and others in the horse community I have the resources to find the kind of horses you are looking for. Consider letting me do the ground work for you to find quality horses for your operation. Whether you need 5 horses or 100 I can help. Understand that I am not a horse trader and do not randomly buy horses to sell to anyone. But if you have specific needs I can find what you are looking for and negotiate reasonable prices.
Ranch Management-There are many important aspects to running a successful dude ranch. Many people would put horses at the top of that list. Dude ranching, though, is not simply a horse business but rather a business of taking care of people on a horse-related vacation. This distinction is important because it helps to clarify the business mission. All guest ranches have horses, scenery, activities and lodging. Therefore it is a ranch's staff and how they treat their guests, that sets them apart from other ranches. So whether you are just starting out or have owned your ranch for years, I can help with lasting management programs, policies and procedures.

I Have An Established Dude Ranch, Why Do I Need Dude Ranch Consultant?
As well as consulting, I am a travel agent specializing exclusively in dude ranch vacations. As you know most booking agents and many travel agents charge very large commissions. I am happy to work with you will accept reasonable commissions. (Typically 10%) Working with me costs you nothing unless you get a reservation. Booking agents want to hold the deposit until 30 days before the check in date. There are two reasons why this is bad. First it means your cash flow is not good during your booking season. Second if that reservation cancels close to the 30 days prior to check in you have no deposit to hold and don't have much time to fill that space. Booking agents will tell people whatever they want to hear to make the reservation. Acting as a referral service it is my mission to match ranches with guests based on their needs and expectations -- "happy guests" is the ultimate goal! Here is a sample featured ranch listing.

I Am Interested In A Dude Ranch Vacation, Can Dude Ranch Consultant Help?
Absolutely! Plan a Dude Ranch vacation without the stress by letting Ted Harvey find the perfect ranch for you. Ted Harvey's Dude Ranch Vacation is the only Travel Agent specializing exclusively in ranch vacations. His services are FREE and there are no added charges because the ranches pay the commission. There is no better way to spend your vacation than on a dude or guest ranch. It is a chance to learn about riding horses in spectacular scenery, relax away from the city, and reconnect with your family and what matters most. So whether you are looking for a working ranch with real cattle drives, a dude ranch family reunion or the best family vacation you have ever had, Ted would like to help you find the ranch that matches your needs, expectations and dreams. Let Ted take the work and worry out of making your dude ranch reservations. Fill out our questionnaire to get started in finding the right ranch just for you!

What Do Customers Say About Working With Dude Ranch Consultant?
For anyone who reads this, I have never met Ted but I can assure you of this, I got cowboy running thru my veins and I've been where Ted is located, worked cattle in that part of America. You won't find anywhere on God's earth that will satisfy your soul for all outdoor activities, whether your thing is fishing, riding, camping, or hiking. The scenery is second to none if your a photographer. "Wyoming" it don't get any better. I highly recommend contacting Ted for your next vacation.
John Fox. 2011

I initially met Ted while he was the General Manager of the Bar W Guest Ranch. During my stay at the Bar W, I came to know Ted quite well and was extremely impressed with his operations which were efficient, friendly and demonstrated a high commitment to client service, safety and entertainment. Ted is obviously very experienced in ranching and guest ranching and clearly portrays outstanding executive management and leadership skills with a long and broad perspective of all aspects of guest ranch management and operations. I would recommend Ted to anyone looking for a knowledgeable consultant for dude/guest ranch operations or for anyone looking for a unique vacation experience. Contact Ted, you will be glad you did!
Greg Adams. 2010

My wife , and I have stayed multiple times as a guest of Ted's care. Every time it has been one of our most outstanding vacation experiences. Both novices at Ranching, Ted and his crew guided us to the level we were able to reach, and in any case we felt on top of the world and masters at the trade.Ted's stories , hospitality care and professionalism are just great. We have recommended Ted Harvey many times to our friends , many have stayed with him and ALL had the best time of their life. If only there could be more Ted Harvey's in the world !!
Janpieter Scheerder 2011

Get Started With Dude Ranch Consultant Today!
The Dude Ranch Consultant doesn't cost you money-- he SAVES you money-- and that is a fact! Ted Harvey can help you make the most of the current dude ranch you have, or find the right dude ranch for you to attend or purchase. His knowledge will save you time and save you money! For more information about our services, please visit our website in the contact information below or for your vacation needs please visit our vacation website.
---
Contact: Ted Harvey
51 Corbett Rd
Cody, Wyoming 82414
Phone: 406-314-5330
Email:
Website: Click Here To Connect

---