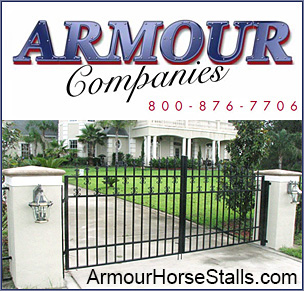 Barn Products By Armour Companies
Armour Companies can help you with your barn!

About Our Company
Armour manufactures a variety of aluminum horse stall doors, stall fronts, end barn doors, stable shutters and even newest to it's collection: Barn Art. Armour's Barn Components assist builders and individuals with newly built barns or renovation projects. End barn doors, shutters, horse stall doors and alike, arrive fully assembled with the necessary hardware and fasteners for lumber installation. Armour products are NOT KITS, once products are received; installation is achieved with 8-16 fasteners. Some of the Armour barn products are made with or without lumber for those with discriminating taste. Our high quality aluminum equine accessories will illuminate and ventilate any barn structure and our knowledgeable staff is trained to meet each customers needs.

Our Gates Offer Beauty, Security and Peace of Mind!
An attractive gate for your driveway offers both beauty and security. When you own horses, you are responsible to keep the horses on your property in the most secure fashion possible. Having an Estate or Driveway Gate will ensure your property has the best in security and the added property value of a beautiful, secure entry for your property. We have several beautiful and attractive styles to choose from!
Install your gates and fencing "professionally"
Bolt-together construction
No loose pieces to assemble
Pre-welded and Powder Coated (Black only)
Decorative scrolls available at minimal additional cost.
Price includes: Spear Points, Hinging, Cane Bolts, Mounting Brackets and Powder Coating.
More About Armour Gates...
Gate Posts are furnished with hinge placements welded to both the Gate and the Vertical Posts that allow pivoting action. Simply install the furnished fasteners and tighten after alignment. Fully Adjustable clevis units (four per double gate installation.) Easy to level and plumb, also allows adequate space off columns for Stone or other materials to be fastened to columns when posts are not necessary.

NOTE: Metal posts sold separately if required. Metal posts are a pair of either 8' or 9', 5" Square tubing, 1/8" wall with mounting angles affixed.
What Other Products Do You Offer?
We offer a wide range of products! Armour manufactures stalls, dividing stall partitions, stall doors, Dutch doors and stall gates from the highest quality materials available in the American metal market. Armour believes American products should be quality, eco friendly and economical. That is why Armour offers a superior ALUMINUM horse stall and sliding barn door product that will outlast its iron counterpart and have less impact on the environment.

Order Your Armour Stall Product Today!
Our stall products are made of the highest quality materials to ensure longevity and are easy to maintain. We are happy to work with you to get you the stall product that works best for your needs. Don't wait- be sure to CALL us today!
---
Contact: Our Friendly Staff
1370 Saratoga Street
DeLand, Florida 32724
Phone: 800-876-7706
Email:
Website: Click Here To Connect

---