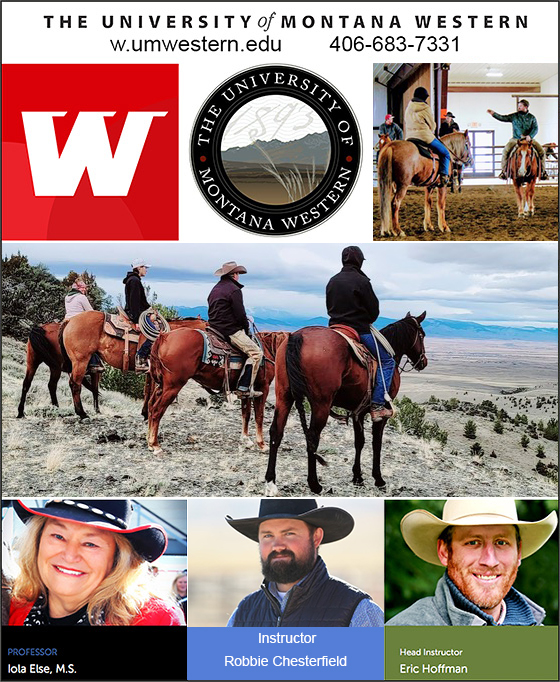 Equine Career Education from the University of Montana Western
Get the ALL Natural Horsemanship education you need for a successful equine career by enrolling in the University of Montana Western!

Equine Studies at the University of Montana Western



All Natural Horsemanship School- General Program Information:
Students majoring in equine studies or natural horsemanship must select one of three areas of emphasis beyond the general education and equine core classes: management, science or psychology.

The management option aids students in preparing to run their own training or boarding facility, run a small business in an equine-related area or manage the equine aspects of larger business or other enterprise. The science option is geared toward a student interested in science and a greater understanding of the biology of a horse. These students may be contemplating veterinary school or graduate school in some aspect of equine science. The psychology option is geared toward individuals with an interest in equine assisted learning and/or equine-assisted therapy. Graduates may choose to go on to graduate school in clinical therapy or become horse specialists through organizations such as the Equine Assisted Growth and Learning Association (EGALA).

Degrees

Bachelor of Science (B.S.) in Natural Horsemanship. This four-year degree program gives students the opportunity to learn the skills of natural horsemanship and obtain a career in the many equine-related fields.
Bachelor of Science (B.S.) in Business Administration, Equine Management option. This degree prepares students to start or manage an equestrian-related business.
Bachelor of Arts (B.A.) in Biology, Molecular Bioscience Option. This degree will prepare the student for veterinary school.
Associate of Applied Science (A.A.S.) in Equine Studies. This two-year degree is designed to provide students with a background for pursuing a career that draws on their passion for horses.
Associate of Applied Science (A.A.S.) in Natural Horsemanship. This two-year degree program gives students the opportunity to learn some of the skills of natural horsemanship and obtain a career in many equine-related fields.

About the B.S. and A.A.S. Natural Horsemanship Degrees
Since 2004, Montana Western has operated this exciting and unique program with La Cense Montana, a world-renowned leader in natural horsemanship education. This program teaches students to work with horses using cooperative methods based on principles of equine behavior.

Students accepted into the program will initially work towards an associate of applied science (A.A.S.) degree. Students wishing to pursue a bachelor's degree must satisfactorily pass qualifying exams after the second year to continue study into the third and fourth years and must maintain a "B" average in this program to progress. Students must also have a horse to be admitted in the natural horsemanship programs.

About the Associate of Applied Science in Equine Studies Degree
This broad-based introductory degree provides a good basis for a student interested in a future with horses. The basic elements of the degree include general education classes and the equine core classes as described above.*


Associate of Science students may opt to continue on to one of Montana Western's bachelor's degrees upon successful completion of the program.

About The Biology with Molecular Bioscience Option
This degree path is recommended if a student is interested in the sciences and biology of the horse, or is contemplating continuing with an advanced degree is some respect of veterinary science or equine science (such as equine nutrition, equine exercise physiology, or equine reproduction). The program emphasizes the sciences, including general biology, cell biology, inorganic and organic chemistry, biochemistry, and others. It also provides the academic requirements for admission into two regional veterinary colleges. In addition to these science courses, the student takes most of the equine core classes as part of the Veterinary Science option.*

About the Bachelor of Science in Business Administration, Equine Management Option
This degree is the best option for a student interested in a future in some aspect of equine business or management. Montana Western has a strong business department that provides a well-rounded bachelor's degree with an equine emphasis that allows a student to mold business studies toward a range of topics from finance, to tourism, to resort management.*

*These programs do not require you to bring a horse.

In addition to the above degrees, a number of equine related areas can be attached to any UMW degree. If a student is interested in equine programs but do not wish to pursue a degree in one of the programs mentioned above, they may want to consider the equine related area. This program can help direct equine interests in a variety of areas, including equine art, equine journalism or education.

The Montana Center for Horsemanship
To maintain the highest quality instruction and ensure the future of the thriving equine programs, Montana Western entered into a partnership with the private, non-profit Montana Center for Horsemanship (MCH) in summer 2011.

The partnership provides a brand new equine facility for program instruction and the boarding of horses. The new facility provides a comfortable, safe and secure environment for students and their horses. Horses are fed and their pens cleaned by MCH staff. Initial facility features include a full-size outdoor arena (150'x300'), individual horse boarding in a 20'x60' (12'x20' covered) pen, individual tack lockers under the covered pen, and long-term trailer parking and short-term parking for cars and trucks. Future plans for the facility also include an indoor arena.

There is a $1,500 per semester special program tuition for resident and non-resident natural horsemanship majors seeking an A.A.S. or B.S. degree. This special tuition helps cover the costs of instruction, equipment, facilities, boarding, feeding and cleaning stalls.

The Western Undergraduate Exchange
The Western Undergraduate Exchange (WUE) is a scholarship program in which students in eligible states can receive a scholarship valued at over $7,500 annually.

WUE is administered by the Western Interstate Commission for Higher Education (WICHE). WICHE states include Alaska, Arizona, California, Colorado, Hawaii, Idaho, Montana, Nevada, New Mexico, North Dakota, Oregon, South Dakota, Utah, Washington and Wyoming.

At Montana Western, WUE scholarships are automatically awarded to high school students with a minimum cumulative GPA of 3.0. Transfer students with a minimum cumulative GPA of 2.7 will also be considered for this scholarship. Students must be fully admitted to Montana Western by July 1 to be eligible for a WUE scholarship.

For more information, visit the WUE website (http://wiche.edu/wue). For questions, contact the UMW Admissions Office at (877) 683-7331 or e-mail admissions@umwestern.edu.

Extra-Curricular Programs
In addition to the various degree options, students may join one of our extracurricular equine teams. An equine-related major is not required to participate in these programs.

Rodeo Team
Our rodeo team is part of the National Intercollegiate Rodeo Association (NIRA) and enjoys a long history of success. Former team members include Jess Martin, Ryan Mapston, Jesse Peterson, Jake Hayworth, Bry Worthen, Jarrett Monroe and many more.

Give head coach Iola "Olie" Else a call at (406) 683-7539 or e-mail her at i_else@umwestern.edu. Be sure to visit the team online.

Equestrian Team
The Montana Western equestrian team was founded in 2000 and has also had great success in its first years. Competing under the Intercollegiate Horse Show Association (IHSA) rules and as an active member of the U.S.A. Equestrian Federation, the team offers show experience for both beginning and advanced riders of either western or English disciplines, including dressage. For more information, contact head coach John Xanthopoulos at (406) 683-7018 or e-mail him at j_xant@umwestern.edu. Visit the equestrian team online.

Outreach Programs
We also offer a variety of additional workshop and weekend courses through our School of Outreach. For more information, call toll-free (866) 799-9140 or (406) 683-7537.
---
Contact: Admissions
710 S. Atlantic Street
Dillon, Montana 59725
Phone: 1-877-683-7331
Email:
Website: Click Here To Connect

---