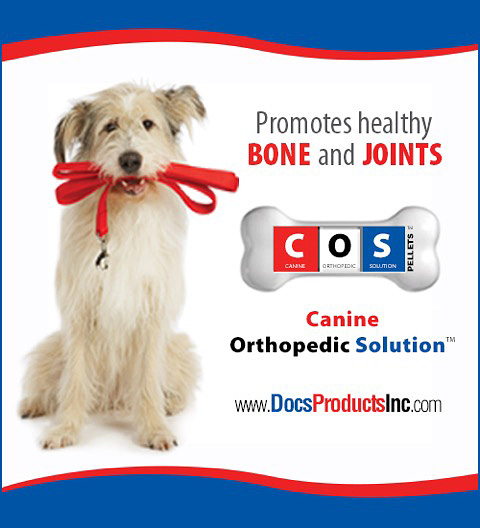 Build Stronger Bones With COS™ Pellets!
Build Stronger Bones with COS™ Pellets


How is COS Pellets Different From Other Joint Supplements For Dogs?
COS Pellets address the daily nutritional requirements for the development, maintenance, and repair of bone and joints. The ingredients of Proline, Glycine Isolates (Chondroitin), Glutamine Isolates (Glucosamine), Manganese, Zinc, Silicon, Sulfur and vitamins help increase bone density at an early age to prevent joint problems later in life. COS Pellets supply the ingredients Gelatin and Glycine to reduce inflammation in the joint, and Sulfur to increase bone density and relief of joint pain in older dogs.

How Do I Know If My Dog Needs A Joint Supplement?
The relationship between nutrition and supplements for the development of the bone and joints at different stages of life is enormous. Providing the correct nutrition in the form of a supplement at all ages is vital for the dog. Bone continually undergoes remodeling; replacing and repairing itself. There are as many as 10 million dogs that presently suffer from the continual pain of orthopedic conditions and one can assume there are even more at risk.

At What Age Should I Start Giving My Dogs A Joint Supplement?
COS Pellets support the bone and joint health of dogs in all stages of life!
Younger dogs - Hip Dysplasia, Elbow Dysplasia, OCD (Osteochondritis dissecans), and HOD (Hypertrophic Osteodystrophy) often appear within the first year of the dog's life and are not a result of stress or trauma. By the time symptoms of disorders occur, changes in the cartilage have already taken place; your dog begins to slow down and struggles to be as active as he once was. COS Pellets ingredients of Proline, Glycine Isolates (Chondroitin), Glutamine Isolates (Glucosamine), Manganese, Zinc, Silicon, Sulfur and vitamins help increase bone density at an early age to prevent joint problems later in life.

Older dogs - DJD (Degenerative Joint Disease), Arthritis, Osteoarthritis, Osteoporosis, etc. are progressive conditions and mainly occur later in life as a result of wear and tear. COS Pellets will provide your dog with the daily nutritional requirements for healthy bones and joints while helping to manage orthopedic conditions in your older dog.

What Benefits Can I Expect With COS?
COS Pellets help decrease the discomfort associated with daily activities to maintain a mobile, pain-free pet. You will be able to quickly see that your dog is more active, more comfortable, and happier when COS Pellets are a part of his daily nutritional program. We are so certain that your dog will show improvement using COS Pellets, Doc's Products, Inc. proudly offers a Risk-Free, 100% Money-Back Guarantee!

I purchased COS Pellets for my 8 yr. old Lab. I noticed her being stiff in her hind end after getting up from sleeping. After about 2 weeks of giving her the pellets, she is getting up quicker and has a smoother, more natural run. Plus, she loves eating the Pellets. I sprinkle them on top of her food and she eats them right up. There have been times when I have forgotten to put them on her food and she just comes and eats them out of my hand. Thank you, Dr. Beebe, for such a wonderful product. It has definitely put some pep back into her step!
Martina Meyerhoeffer, Sorrento, FL

My dog, Mariah, an English Mastiff, is 4 years old and weighs 128 lbs. I was beside myself as my dog was dragging her hind leg and had trouble getting into the car and even going to the bathroom. We visited the vet and were diagnosed with degenerative changes in her hips. It seemed any movement involving her hind end was painful and all she wanted to do was lay on the couch. I knew the effects of OCD Pellets on horses and its success, so I contacted your company. It's been about a month and a half since I received COS Pellets and started giving it to her. Today she is a happy, lively dog again. Now, when we take her for a walk she thoroughly enjoys it. She is getting into the car without any hesitation, jumping into the groomer's tub with a lively step again, and most importantly, wanting to play again.
Anne M. McCloskey

As owner and operations manager of a Thoroughbred race horse breeding farm, I have followed OCD Pellets (equine) since the beginning and heartily endorse their use in both our own horses and those of our clients. I have seen them make a dramatic difference in young, growing horses that have joint and ODD issues. When our English Mastiff/Great Dane mix, Chloe started to exhibit joint stiffness at only two years of age, I was thrilled to find Doc's Products, Inc. had a canine version for me to try. After only one week on the pellets, I noticed her racing around, chasing geese from the pastures and running in and out of the pond with the horses. She was so happy and wild that my husband asked what had gotten into her! We realized that it was due to the COS Pellets. Our old Cocker Spaniel, Lizzie and Chloe will continue to get the pellets every day. They run all around our 60 acre farm, following along as we feed in the morning and evening with no signs of soreness or stiffness. I've tried many, many joint supplements over the years -- and this formula works!
Deb Hilger, Bleu Valley Farm
Stillwater, MN

Order COS Pellets For Your Dog Today!
Having healthy joints for your dog is so much easier with COS Pellets! Call for your order today!
---
Contact: Our Friendly Staff
470 Conway Ct., Suite A-5
Lexington, Kentucky 40511
Phone: 866-392-2363
Email:
Website: Click Here To Connect

---