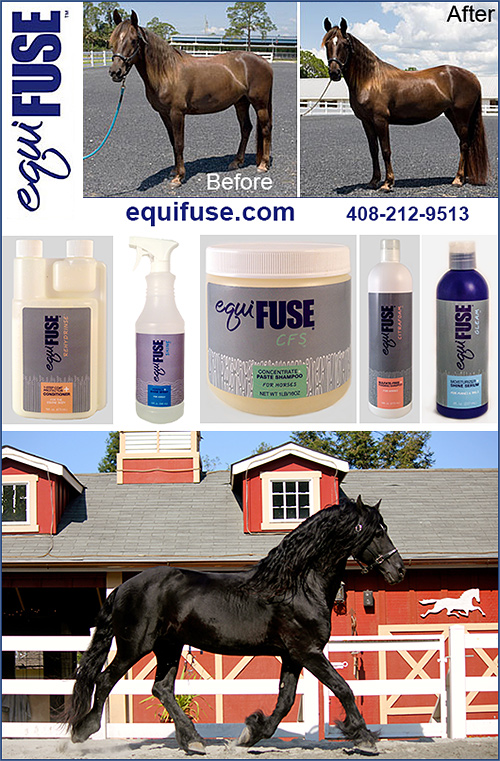 Equine Skin Care Line by EquiFUSE®
EquiFUSE® is an equine skin care line developing high performance shampoos, conditioners, and shine products.



About Our Company
EquiFUSE® was founded by lifelong equestrians, Allyson Winter Harrison and Beki Starr. Together they shared a vision to make an equine skin care line dedicated to results. Given their complimentary backgrounds in chemistry and business management, they were able to develop a product line that is unique.

Business partners Allyson and Beki came up with the name EquiFUSE together. They knew their emphasis would be an equine skin care line dedicated to the animals they share in sport. Both of them envisioned a line that would solely focus on horses, and not crossover into the pet and salon market. To emphasize this idea to their target market of equestrians, they started their company name with "Equi," short for equine.

The second portion of their goal was to relay that both of them inspired to start EquiFUSE. Everything from the way they were introduced to one another, to their weirdly complimentary leadership styles and their borderline obsession with grooming was all by chance. They are a team, and they inspired one another to share EquiFUSE products with horse owners everywhere. While researching synonyms to the word inspire, they came across the definition of infuse:

1) to introduce, as if by pouring; cause to penetrate; instill
2) to imbue or inspire
3) to steep or soak

And with that, they chose the company name EquiFUSE®.



EquiFUSE® Bathing and Grooming Products
We offer a collection of bathing products available for your horse depending on your horses unique needs. Here are some of the products we offer:


CFS™ Concentrate + Paste Shampoo- CFS™ Concentrate + Paste Shampoo is the ultimate necessity for every busy training barn that expects quality and quantity at a great price! This paste shampoo is designed to clean, finish and shine all in one bath. A moisturizer shine additive enhances this formula to eliminate drying and guarantee a soft, flexible and sparkling coat.
CitraFoam™ Sulfate-Free + Foaming Shampoo- CitraFoam™ Sulfate-Free + Foaming Shampoo is developed specifically for horses. CitraFoam™ instantly foams, massaging the horse's skin producing a root deep clean. Using only a small amount of this concentrated formula, CitraFoam encourages a clean horse without the waste. This shampoo is infused with d-limonene, an eco-friendly component of oil extracted from oranges. D-limonene provides 100% of this naturally derived fragrance that neutralizes unpleasant horse odors while soothing the senses. Once dry, the horse's coat is effortlessly smooth and asserts a superior natural shine.
CitraCreme™ Deep Conditioner + Rehydrant- CitraCreme™ Deep Conditioner + Rehydrant is a rinse out conditioner designed to improve and rehydrate the equine mane and tail. Empower dry brittle manes and tails with this blend of effective moisturizers that instantly soften the hair, while increasing suppleness. Loaded with anti-static proteins, CitraCreme™ is the ultimate detangler, promoting hair manageability and a polished finish. Infused with the natural oils of oranges, lemons and sesame seeds, this creamy formula will inspirit the senses and perfect the EquiFUSE® experience.
Rehydrinse™ 1 step coat protector + conditioner- Rehydrinse™ 1 step coat protector + conditioner is the ultimate necessity for the serious horse owner. Rediscover the soft resilience of the equine coat with this nurturing blend of moisturizers and rich proteins. Enriched with hydrolyzed wheat protein, this unique hydrating complex fortifies and strengthens the coat, while leaving the body satiny smooth. Almond oil completes the conditioning experience to guarantee a non-greasy finish and a superior EquiFUSE® shine.
GLEAM™ Moisturizer + Shine Serum- Serious horse care starts with GLEAM! GLEAM moisturizing and shine serum is an ultra rich formula created for all equine hair types. GLEAM provides superior, long-lasting shine while rejuvenating root deep. Infused with Macadamia nut oil and Vitamin E to blast through brittle and tangled tresses, GLEAM results in soft, manageable, and healthier manes and tails. This fragrant blend is a clean burst of energy that will refresh and eliminate even the most unpleasant barn odors.
How Is EquiFUSE® DIFFERENT From Other Product Lines?
EquiFUSE® strives to perfect formulas and change the way horses are groomed. Using the same old stand-by products is no longer acceptable. EquiFUSE® is raising the standards and expectations of grooms everywhere by proving time and again that superior shine is not an option, but a result of quality products.

How Do I Use EquiFUSE® Products?
Our products are designed to work together and are easy to use on your horse. Just follow these few simple steps:

1. Choose your shampoo:
- CFS Concentrate + Paste Shampoo is for normal coats, has a shine element added to it
- CitraFoam Sulfate-free + Foaming Shampoo is for dry, damaged hair; cleans without stripping the natural oils
2. Wet the horse down and add approximately a half-ounce of CFS or CitraFoam to a bucket of water. Lather the horse (being careful to avoid the eyes) and rinse.
3. Put a small amount of CitraCreme conditioner in your hand and work through the mane and tail, making sure to get down to the base of the dock and mane. Rinse.
4. Using the dispenser in the bottle, measure an ounce of Rehydrinse and add to a small bucket of water (approximately a gallon or two). Apply to the entire horse (avoiding the eyes) with a sponge. A small amount of foaming is normal. Sweat scraping is fine but do not rinse!
5. Put a small amount of Gleam in your hand and work through the mane and tail from the base to the ends. Can be applied to wet or dry hair.

EquiFUSE® products are all engineered to be extremely concentrated; a little goes a very long way. Our advice is to start with less and gradually build up to using more product.



What Can I Expect With Continued Use?
EquiFUSE® products are formulated to moisturize the skin, coat, and hair, promoting a natural luster while preventing breakage. Each strand of the mane and tail will be able to grow out longer due to being more supple, while the weightless formulas promote more volume without attracting dust and dirt. Coats feel soft and luxurious without the slick side effects of other product lines.

What Do People Say About EquiFUSE®?
With so many shampoos on the market, I was excited to find it if all you claimed was really true. How could EquiFuse really be that different from so many of the dozens of great shampoos and conditioners? Well, I tried it and it is TRULY TRULY remarkable- I have never used anything like it before! Put a shine on my mare like glass and left her coat soft, silky and without attracting dirt. The conditioner and "gleam" leave my mare's very long mane and tail feeling like SILK! Truly different and superior to anything I have ever tried before. I have NEVER used a product like EquiFuse and plan to stay with your products for a LONG long time!
Ann Pruitt- Director InfoHorse.com

I rarely come across a product that I really fall in love with.. but I have to say that after using your shampoos and gleam I will likely never use another product again.. they leave my horses coats soft and shiny not greasy or stripped of oils and the gleam lasts even through rinsing for over a week with out making the tails feel stiff or dry. Good bye orvus paste and show sheen forever. I am in love with the products... We have aprox 100 horses and it is very nice to have products that work. Makes my life much easier.
Randi Lorber

We love it use it on my wiry tailed mustang and it softens right up and love the shine!
Jacqui Robertson Crews

Wanted to say that I LOVE your products! Nothing out there even compares!!
Susan

Order Your EquiFUSE® Bathing and Grooming Products Today!
Nothing shows off your horse better than a gleaming coat and silky, healthy, mane and tail. Nothing enhances these wonderful assets like Equifuse complete coat care system! For more information about our products and to place your order, please contact us today- we welcome your calls-- you can also find us at JeffersEquine!
---
Contact: Our Friendly Staff

Sunnyvale, California 94086
Phone: 408-212-9513
Email:
Website: Click Here To Connect

---