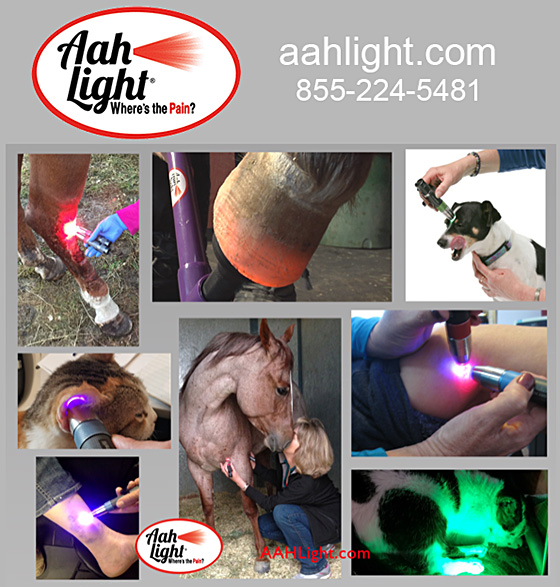 AAH Light
The AAH Light uses Red Light Therapy as a highly effective, non-invasive and natural way to promote healing, kill bacteria and control pain for horses, dogs, cats and people.



Why Is It Called The "AAH" Light?
Although AAH stands for "Accelerated Alternative Healing", the word AAH was chosen mostly because when animals and people use the light, the affects tend to help them sigh a nice big "AAAAAAAAAAAAH" --as relief from pain and discomfort seem to melt away! You'll be saying "AAH" too and so will your horses, dogs and animal friends!

How Did The AAH Light Come To Be?
Several years ago, while watching a demonstration on TV which showed a man using a hand-held red light on a horse, an observation was made that started a journey. Seeing the obvious reactions and changes in the horse, it was obvious there was something to this. The desire to learn more was born.

Being fortunate to have grown up with horses and other animals developed a life long passion for them. As with most animal owners, we care for them as if they're our children, striving to provide the best for them to be happy, healthy and pain free. But, like all living beings, they seem to find a way to get hurt and injured, which sometimes would require medical intervention.

Whenever a medical situation would come up, there was always the dilemma about the cost of medical care and funds available. This is when our emotions take over and tell us money doesn't matter and we need to do whatever we can to help. Wouldn't it be great if money wasn't in the equation and we had the tools in our hands to help at the time it would benefit us the most?

Enter Red Light Therapy and the amazing power of the AAH Lights. With over ten years of successful hands-on experience using commercially available lights, Photonic Healing, LLC, is extremely excited to introduce and offer the AAH Light. With all the years of experience using other lights, we took the best of what we liked from many different sources and combined those into one efficient, durable an affordable light.

Red Light Therapy is also known as Photonic Therapy, and is a safe, natural, non-invasive way to promote healing and control pain. This therapy has been proven to help animals as well as people. Our product emits a specialized 660nm red light which can be applied directly to the skin. This technology has been studied for over 40 years and produces fast relief and healing with minimal, if any, side effects.

Red and near-infrared light can penetrate tissue because they are not blocked by blood or water as much as other wavelengths. This wavelength is used in medical settings for burn treatment, wound healing, joint and muscle pain, sports injuries, etc., but the machines made available to medical professionals are considered to be cost prohibitive for the average person. Over the past several years, new technology allowed improved battery efficiency, increased voltages, and more light output to be packaged into a small affordable device.

Red Light Therapy works because the body's tissue can absorb this type of light at a cellular level, converting it to cellular energy (known as ATP). Many studies have shown that this energy accelerates activity in the mitochondria (the part of the cell that generates protein, collagen, and healing materials) as well as improving blood flow in the area being treated, speeding healing and minimizing pain.

The brain receives signals to release endorphins (natural pain killers) and serotonin into the body. This chain reaction:

Reduces pain and swelling
Increases lymphatic activity
Strengthens the immune system
Accelerates cell regeneration
Increases circulation
Relaxes muscles
Increases anti-viral properties
Encourages collagen production
Regulates serotonin levels



What Makes The AAH Light Better Than Any Other Light?
Besides the combined benefit of low cost and professional results-- there are several qualities that make the AAH Light the best choice for anyone looking for an affordable, durable, hand held, battery-operated photonic light.

Here are just a few cost savings and features:

The AAH Light has three power output settings in one light – 100 mw, 250 mw and 500mw! This means that at the push of a button, you can change the power without reaching for a second or even third light. This allows you to have the power settings you need, when you need them, without incurring the cost and handling of extra lights and batteries. This feature alone will save you thousands of dollars.
The AAH Light was designed with interchangeable colored heads – simply remove the light head and exchange it with any other color light head. For those that do not want to carry a second light, simply remove the head and exchange it for any other color you want.
The AAH Light uses a rechargeable battery – you most likely will never need another battery! The AAH Light was designed to use one 18650 rechargeable lithium battery. Gone is the inconvenience of carrying different types of batteries and spares. The AAH Light comes with a 18650 rechargeable battery and a charger, which will allow many hours of use per charge and numerous cycles per battery.
Is Red Light Therapy Safe?
Yes, Red Light Therapy by use of 660 nm LED's is extremely safe and effective. There is no "wrong" place to apply the light; therefore minimal training is required to achieve results. Stimulating an incorrect point will not cause harm, it simply registers a nil effect. You can also "put it where it hurts" and never go wrong.

As the AAH Light offers three power settings in one light, one would want to exercise care when applying the light around the eyes on the higher settings. One should never look directly into a bright light which on the AAH Light, the higher the setting, the brighter the light becomes. As with any device, be certain to read all the instructions before using the AAH Light.

What Advantages Does The Blue Light Therapy Offer?
While the Blue Light was designed to help make dramatic improvement to acne skin problems, it can help kill bacteria and infection in wounds and more-- and yes, it is still a tremendously affective treatment for acne!!

With no known side effects, blue light therapy allows its users freedom from the dryness and discomfort associated with topical acne medications and the damaging effects of UV lights and laser therapy. The AAH Light kills acne-causing bacteria and regulates oil production by working naturally within the body.

In addition to the blue light therapy, the AAH Light allows you the flexibility of interchanging the colored heads and research has shown that the combination of red and blue light is even more effective for acne treatment than blue light alone. "We found a final mean improvement of 76% in inflammatory lesions using a combined blue±red light radiation which was significantly superior to those achieved by blue light or benzoyl peroxide."

How Often Do I Use My AAH Light?
This is determined by your own needs. There are times when longer treatments are necessary, and other times a condition will respond unbelievably fast. Use your light as often as you like, however, for optimal results here are a few suggestions:


For an acute injury or condition, apply the AAH Light a couple of times a day for the first several days. This will jump start the healing process and may prevent cellular death. Then apply once a day for several days until healing is complete. For surgery, the AAH Light will accelerate your pre- and post-surgery recovery time by applying directly to the area of surgery.
For a chronic injury or condition, apply the AAH Light every other day for several weeks. As the condition improves, reduce the number of times you are using the light to twice a week until you are no longer in any pain.
How Long Do I Leave The AAH Light On Each Point?
The AAH Light is safe to use for any period of time, however, longer is not always better or even necessary. The desired outcome will determine the setting and length of time you leave the AAH Light on one point. The lower setting (100mW) is intended to be used to stimulate the acupoints, which are right below the skin surface and require only 10-15 seconds each. The highest setting (500 mW) is intended to drive faster and a little deeper into tissue but due to the higher strength, it still only needs to he held in one spot for about 10-15 seconds. However, if wanting to use the lower setting to get into tissue, it will take a little longer- so leave it on a point for 20+ seconds if desired. Just remember, that whatever points you are stimulating, be sure to address the same point on both sides of the body.

Do I Apply Any Pressure?
There is no need to add pressure. Simply apply the AAH Light directly to your skin or fur of your animal. In the case of hypersensitivity or excessive wound injuries; hold the light slightly above the area. Applying pressure will not improve the effect of the light on the acupuncture point.

Does This Work On Everyone Or Every Animal?
While almost everyone can benefit from the use of light therapy, there are a small set of circumstances in which the light may not be as effective and the body does not respond as well. Typically this is when anti-inflammatory or steroid/cortisone medications are being used, women who are pregnant, or those with epilepsy.

The Light Therapy will improve the health of people with pancreatitis or insulin dependent Type I diabetes by causing the pancreas to produce insulin. Therefore, if this condition applies to you, be sure to consult with your physician to monitor these levels.

These statements have not been evaluated by the FDA and this product is not intended to diagnose, treat, cure or prevent any disease. If any of these conditions apply to you, be sure to consult your primary medical professional before using light therapy.

What Do Customers Say About The AAH Light?
The Photonic Healing Lite is wonderful for animals or humans. I use mine on my dog Buddy and it seems to really help him. I use the light for my self and have shared it with others and have seen great results. I must say the red light laser therapy works so well on my dog Buddy. He was so relaxed he had a hard time keeping his eyes open. I also think his throat is better and he is not making so many sounds as he used to. This is a great way of healing and there is no pain associated with its use.
Lori V

Sunday night Willem trotted to the barn! I just rode him in the arena and he went very well. He is flexible and willing, still sore in the bruised hooves I think but did a nice walk, trot, canter. Responsive to leg aids, stopped and backed very nicely. Plan to make two practices next week and if all goes well we will probably ride Eagle Rodeo on Saturday. Hope to get a trail ride in with Joyce too. The Photonic lights are just unbelievable! I am so very glad you treated Willem. Only one visit and all that soreness is gone!
Thank you, Lida



Order AAH Light For Yourself or Your Horse Today!
Once you see experience the benefits that the AAH Light can offer your animals and family members, you'll wonder how you ever got along with out it. No one beats the quality and price of the AAH Light. Our results speak for themselves and continue to amaze us. We offer the Equine Complete Package which has everything you need to get started! For more information, please call Sharon today!

---
Contact: Our Friendly Staff
P.O. Box 894
Middleton, Idaho 83644
Phone: 1-855-224-5481
Email:
Website: Click Here To Connect

---