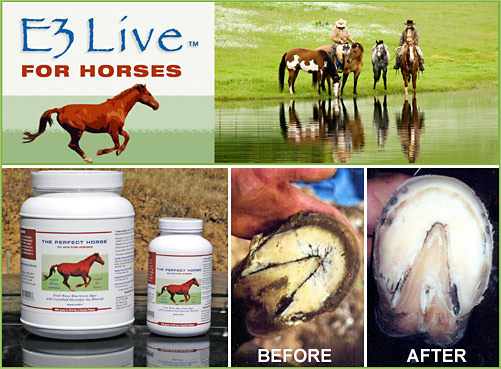 THE PERFECT HORSE® by G.A.L.E., Inc.
Founded by Wayne Blevins, THE PERFECT HORSE® is the perfect equine SUPER FOOD made from Blue-Green Algae harvested in the pristine waters of Klamath Lake in Oregon.



Which Product Is Best For My Horse?
THE PERFECT HORSE® comes in two forms, both guaranteed for purity and results:


E3 Live ™ FOR HORSES is the raw product, micro-filtered fresh water blue green algae, with the sea minerals added. It is the only fresh frozen algae that have been developed for horses, by horse professionals. This product is available for those customers who value raw food for their horses, and we recommend that horse owners begin with this product anytime they are facing a challenge such as; White line disease, Laminitis, Shelly feet, or poor general health. It comes with a minimum order of six bottles. The horse care provider would defrost one bottle at a time and keep the others frozen until needed.
E3 AFA™ FOR HORSES is the same micro-filtered fresh water blue green algae, with the sea minerals added. This product is hydro-dried to a light flake, a process which safeguards AFA's nutrients, thereby presenting a form that, when a small amount of water is added, will stick to hay or pellets or most formulated feeds. A teaspoon serving, twice / day, is a recommended minimum feeding that is quite affordable when you consider it is 97% absorbed, unlike formulations that pass through much of the nutrients. A pound of E3AFA™ FOR HORSES is the most economical way to buy, and will last a horse 9 months at minimum suggested feeding. It also comes in 150gm and 50gm sizes.


What Does It Do?
The micro-nutrients contained in The Perfect Horse™ with Crystalloid Electrolyte Sea Minerals have been shown to:


Encourage the regeneration of damaged hoof tissues as they relate to hoof problems (i.e. laminitis, shelly feet, cracks and karatomas* )
Strengthen the immune system and act as an anti-inflammatory*
Enhance energy, vitality, and endurance*
Improve attention, alertness and brain function*

*This product is not intended to diagnose, treat, cure, or prevent any disease.

Crystalloid Electrolyte Sea Minerals will assist your horse in the assimilation of up to 97% of the rich nutrients available in the pure fresh water blue-green algae of The Perfect Horse™.

What Advantages Do The Sea Minerals Offer My Horse?
E3 Live ™ FOR HORSES and E3 AFA™ FOR HORSES come with Crystalloid Electrolyte Sea Minerals. This is a product developed by the founder of THE PERFECT HORSE®, Wayne Blevins, who documented difference in the results when the trace amount of sea minerals were added to the algae, seemingly turning it to a natural super-food for horses.

When encouraging his customers to use the product with the sea minerals added, he observed that it took less of the AFA to accomplish the same results. Over the fifteen years that he witnessed the synergistic effects of the AFA and sea minerals combined, shelly feet turned to strong material more quickly, and the sole growth developed faster, He now recommends E3 Live ™ FOR HORSES and E3 AFA™ FOR HORSES with Crystalloid Electrolyte Sea Minerals exclusively as a natural food for hooves.

If for any reason, the horse owner does not wish to have the sea minerals added, the E3 Equine powder is also available.

How Does E3 AFA™FOR HORSES Work?
With reports of AFA helping such a wide range of physical and mental symptoms, it is easy to assume the "quick fix" mentality associated with pharmaceutical drugs.

Aphanizomenon flos-aquae is an extraordinary food, not a drug or synthesized vitamin.

AFA is a single-cell organism with a full spectrum of over 64 perfectly balanced, naturally occurring vitamins, minerals, amino acids (protein) and essential fatty acids. AFA helps restore overall biological balance and nourishes the body at the cellular level. AFA is 97% absorbable by the body, compared to man-made vitamins which are only 5% - 25% absorbable. Without any toxicity or side-effects, this is how AFA can have so many beneficial nutritional and energetic effects throughout the body.

How Soon (After Using E3 Live™FOR HORSES) Will I Notice A Difference?
The beneficial effects of E3 Live™FOR HORSES and E3 AFA™FOR HORSES in the body can be subtle as it works to provide long-term protection and well-being.

Horses: Obviously, horses can't tell us how they are feeling. However, owners, farriers and veterinarians would see evidence of good health in the hair and hoof first. Trainers would notice mental clarity, due to the fact that the horse is better able to make good decisions more quickly. Other factors: Good farrier work, regular exercise and what else is in the horse's diet, can enhance or retard how quickly the effects are realized.

Owners: Some of us may experience noticeable changes within a few weeks of use - others may notice differences right away or, conversely, notice no effect whatsoever.

It is important to maintain a healthy diet and exercise regularly in order to reap the full, long-term benefits of AFA. And, while the benefits of consuming AFA may not always be visibly manifested, be assured its phytonutrients are working "behind the scenes" throughout the body's internal systems.

Can Pregnant or Lactating Mares Use E3 AFA™ FOR HORSES?
Yes. It is raw food that benefits at the cellular level, helping nourish young even in the womb. Check with your veterinarian before any changes in your broodmare's diet, like adding E3 Live™FOR HORSES or E3 AFA™FOR HORSES.

Should I Feed E3 Live™FOR HORSES or E3 AFA™FOR HORSES Flakes?
We have seen dramatic results from both. When refrigeration is not available, use E3 AFA™FOR HORSES flakes.

Can I Feed E3 AFA™FOR HORSES To My Small Pets?
Absolutely. In fact, both the liquid E3 Live™FOR HORSES and our Refractance-Window dried form are favorites among veterinarians who successfully treat nutritional deficiencies in dogs, cats, birds, reptiles, horses, and other animals. Benefits are especially seen in older animals, bringing back youthfulness and a higher quality of life.

What Do Customers Say About E3 Live™FOR HORSES and E3 AFA™FOR HORSES?
I could not be more happy with this product I refer it to anyone that I talk to that has hoof problems.
Jeremiah Johnson

My horse came home after 6 months in a different barn, with shelly & cracked feet. Gave him just a little bit, not even the recommended feeding and his feet are completely different, no shelly feet. They are amazing; I am a true advocate now! Heather (my shoer) talks about E3AFA FOR HORSES all the time.
Jessica of Tawnytown, MD

I started using E3 AFA FOR HORSES initially for my donkey who would always get winter laminitis; we feed it to the rest of the herd. Though we are just coming out of winter, she did not get it (laminitis) this winter and I am Really happy about it!
Kate in Vermont

About Wayne Blevins- Founder of E3Live For Horses....
Wayne Blevins grew up in a south side neighborhood of Chicago, Illinois. At age 13 he got his first job as an assistant wrangler with the Christian Organization "Young Life" at their Ranch in Colorado Springs, Colorado, helping to take out rides and caring for a string of thirteen trail horses. The next summer he also worked as the assistant wrangler at "Star Ranch", an experience that would change his life. After graduating from Morgan Park High School he attended Chicago JR College and moved on to New Mexico State University where he graduated in 1970, with a Bachelors degree in Business Administration.

Wayne Blevins Horseshoeing Career
The only person available to trim hoofs was a chief petty officer in the Navy, Randy Welch, who had organized a riding club on the local Navy base in Isabella. Wayne took interest in the skillful knife work and general horsemanship talents displayed by Randy and others. The Military draws its personnel from all over the US, so the members of the club brought a variety of horse skills for Wayne to learn. Before leaving Puerto Rico Wayne joined Randy Welch in shipping 35 Paso Fino horses to the US. One Stallion and two mares belonged to Wayne.

Wayne Discovers Nutrient Rich Blue Green Algae Supplement
In 1996 he formed Gait And Lameness Evaluation, G.A.L.E. Inc., for the purpose of studying and documenting gait with digital video, and moved to El Dorado County where the horse population was abundant. Most horseshoers that stay with the trade eventually gravitate toward studying hoof diseases. He too found that his camera turned to documenting case studies of hoof problems, and eventually focused on cases where Blue Green algae from Klamath Lake, Oregon was used as a nutritional supplement. Impressed with the quality of hoof material produced, when this rich food source was used, it became the main focus of his business the last ten years that he worked as a farrier. Eventually, he would only take on a rehab case if the owner would agree to feed AFA. After a few years of seeing consistent results, Wayne had to take the next step to find other Farriers who would conduct controlled case studies, using this new food source for horses.

Wayne Blevins Founds E3 Live™For Horses
Many Farriers and trainers became distributors encouraging their clients to use the product and seeing the same results he had. It was with their help, and the help of his wife Jeannie, that he came to develop a horse product, THE PERFECT HORSE®. Wayne Blevins is now retired from the Farrier business, but is full time working to make THE PERFECT HORSE® a household name among horsemen and women worldwide.

Order E3 Live™FOR HORSES and E3 AFA™FOR HORSES Today!
Good feet and healthy horses don't happen by themselves. Horses need the nutrients to support hoof, immunity and general health. E3Live For Horses and E3 AFA are the missing micronutrients your horse needs to ensure the best of health from hoof to tail! Talk to Wayne Blevins today and let him tell you about the thousands of horses world wide that he has been able to help with these wonderful products-- and order today!

---
Contact: Our Friendly Staff
2217 Mulberry Lane
Placerville, California 95667
Phone: (877) 357-7187
Email:
Website: Click Here To Connect

---