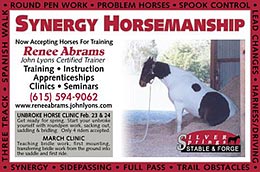 Renee Maxwell Horsemanship
Renee Maxwell makes training fun. She breaks training into easy steps that anyone can learn. With Renee, you learn the same time your horse is learning!

Synergy Horsemanship
I have been involved with horses for the past ten years. My interests are varied, ranging from showing Quarter Horses, to trail riding Tennessee Walking Horses. I am a member of the Tennessee Horse Council, AQHA, PWHAT, which promotes lite-shod Tennessee Walking Horses and was the Sponsor Coordinator for the Tennessee Volunteer Horse Fair in 2000. My husband Chris, is a Certified Master Farrier, and our sixteen-year old daughter, Ashley, shows Thoroughbreds in the Hunter/Jumper "A" circuit division, finishing 5th in the nation last year.
I became interested in John's methods about seven years ago when I bought a horse that I experienced many problems with.  I guess I should have known better than to buy a horse that the previous owners tied to the bumper of their pickup truck to lead, but I liked her and she came home with me.  It didn't take long for me to figure out that the horse owned me, not the other way around!  I took this horse to two trainers, only to have the horse return home unchanged.  My friends told me to sell the horse, and buy something "better", but I was determined by this time to "fix" my horse!  I took her to a three-day, hands-on clinic, where John was successful in helping me learn how to change Leia's behavior.  I attended a few more of John's symposiums, along with other trainer's clinics, and decided that John's methods worked best for me.  I was accepted into John's elite Certification Program in 2000, and successfully completed the seven month course in Parachute, Colorado in 2001.
Services
TRAINING
PRIVATE TRAINING
LESSONS
PROBLEM SOLVING
DEMONSTRATIONS
CLINICS
APPRENTICESHIP PROGRAM
Horsemanship Training
LEARN how to achieve true unity with your horse and how to SAFELY train horses!
Effective and safe method of training will benefit you and your horse. No matter what your previous horse experience is, this program can benefit you! Private, Semi-private and group training courses are designed to fit your specific needs. We have an indoor arena, so training is available year-round. We also provide trailer hook-ups, and there are several B & B's in the area.
Directions
Our facilities are located in the historic town of Bell Buckle, Tennessee.  We have indoor and outdoor arenas, so training is available year round.  We welcome all visitors and observers.  Directions from Nashville:  Take I-24 East (towards Chatanooga) to exit 97.  Exit and turn Right.  Drive approximately 1 mile to Hwy 82.  Turn Right on Hwy 82.  Drive 1.2 miles to Puncheon Camp Road.  Turn Right.  We are the second driveway on the right.  110 Puncheon Camp Rd.Visit our Photo Album (link to http://www.picturetrail.com/gallery/view?username=mrenee110)110 Puncheon Camp Rd
Bell Buckle, TN 37020
HOME 931-394-3062
FAX 931-394-3850
Renee Maxwell
Silver Springs Stable & Forge

Consistent Rider = Consistent Horse
---
Contact: Renee Maxwell
110 Puncheon Camp Rd
Bell Buckle, Tennessee 37020
Phone: 931-394-3062 or 615-594-9062
Email:
Website: Click Here To Connect

---