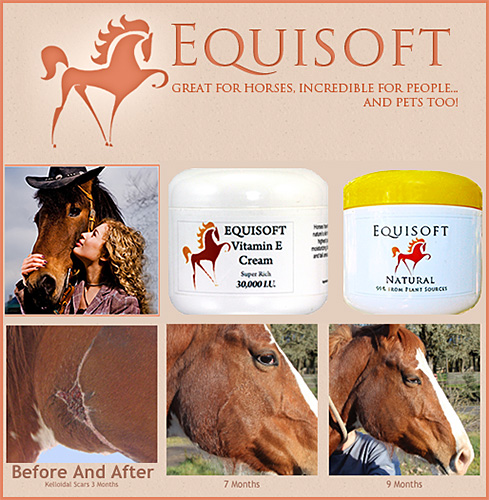 Equisoft Cream
Equisoft Cream is the most powerful and effective Vitamin E cream on the market today.



The Equisoft Story-- It All Started With A Severely Burned Horse Named Rubicon....
Our Sonoma, California based Equine Rescue received for emergency treatment and rehab a horse burned over 40% of his body in a barn fire. After months of extensive therapy, we had a relatively healthy animal - except for his burned skin that refused to heal properly. He was in constant distress from the pain and itching, we had tried every skin cream available, with no real progress. Nothing we tried helped his skin to heal. From prescriptions to Vitamin E oil, to expensive French preparations, nothing helped. We were almost ready to do the unthinkable and euthanize him because of his extreme discomfort, and were literally at our wits end, when we discovered the formulary that helped us develop what has become known as Equisoft. They were recommended to us by a friend who explained they were horse and animal lovers, and their family-owned 110 year old formulary was -and is- the oldest and largest manufacturer of natural medical grade Vitamin E in the USA, and provided the super refined medical grade oil to burn wards across the country.

We called them and explained our situation with the horse, and were surprised when 2 days later they called us from the local airport—they had flown in to see the horse themselves to better understand what was needed.—to say the least we were astounded and very grateful. They drove to our rescue ranch and spent a day with the horse..experiencing his kind nature and courage and falling in love with him, as had we all. Before they left, and with tears in their eyes, they told us they were devoting their lab to formulating a very special cream for us to apply and get the healing started. After several tries, the "Equisoft" formula was born, and we immediately started to apply the rich super concentrated cream.



How Long Did It Take For Equisoft Cream To Make A Difference To The Severely Burned Rubicon?
After a scant few weeks, good results were already visible—scars were healing and softening, raw parches were noticeably smoother, and the horse was not in as much distress. After 2 months we were truly amazed that so much healing had occurred. Hair was growing back, and in the worst areas, skin seemed to be losing the burned texture, and smoothing out, softening and gaining a healthy pink color.

After a year, there was almost no evidence of any scarring or burn damage! After two years you would have to look through a magnifying glass to see where the skin had been burned. After 5 years (yes it takes that long for a horse regrow the mane and tail!) his once magnificent mane and tail had grown back, and along his spine, sides and head the first and second degree burns were now completely healed with full and healthy hair growth restored.

How Did Equisoft Cream Affect The VOLUNTEERS Who Were Applying It To Rubicon?
All of our volunteers were now using the cream for themselves, because they saw such remarkable improvement in their own skin from applying the cream to the horse. Old scars we disappearing, wrinkles greatly demising, symptoms of psoriasis, dermatitis and excema all gone. One volunteer even put the cream on a recent 2nd degree burn, and found that there was no blistering and such relief and soothing that she was amazed. Another gave some to her recently pregnant daughter who used the cream on her tummy, and was astounded that she has no stretch marks even though in her previous pregnancy she had very bad ones, AND the old stretch marks slowly disappeared as well. Another volunteer was diabetic, and always had problems with his feet. Nothing his doctor prescribed worked, and he was spending hundreds a month on useless prescriptions. One $20 jar of Equisoft and in 4 weeks, his feet were pink, healthy and no sign of dryness and cracking—now the doctor sells Equisoft in his office, and swears by it for wound care, elder skin problems, burns, psoriasis, excema and other skin problems. We began thinking that perhaps we could sell this healing, soothing and smoothing cream to people as well, as a way to fund our Equine Rescue organizations.

Equisoft Cream Is Now Available For Everyone!
Used as directed, Equisoft medical grade Vitamin E skin care creams significantly not only help to minimize past damage done to your skin by internal and external destructive forces, they also aid in renewal and beautification of today's already damaged skin. And, at the same time, they penetrate deeply with rich moisturizers -- including a naturally occurring sun block -- to reinforce your skin's natural defenses against future damage. Our medical grade Vitamin E allows Equisoft to deeply and quickly penetrate to the inner most layers of your skin, where new skin cells are created. Bringing the powerful benefits of anti-oxidant effect and super hydration to those cells means your heal, soothe and moisturize littoral from the inside out.

No Cream Has More Vitamin E Than Equisoft!
Every container of Equisoft Original Super Rich Vitamin E Cream has a huge 30,000 I.U's of pure, ultra refined, natural, medical grade Vitamin E Oil—comprising a quarter of each container. Vitamin E has been proven to be one of natures most effective healing substances. Nothing does more to reduce the appearance of scars, and soften, smooth and heal rough dry skin.

Vitamin E is the nature's greatest natural antioxidant and is the best and most effective antioxidant featured in skin care formulations—and for good reason: it is not only a highly effective antioxidant, but importantly, also serves as a hydrating agent.

Medical grade vitamin E is a super penetrant, and soaks quickly, deeply into the skin, bringing the unrivaled anti-oxidant effect, and super hydrating power of Vitamin E to the deepest dermal layers...literally healing from the inside out.

According to the journal Skin Pharmacology and Physiology, vitamin E is 'one of the best naturally produced antioxidant substances to protects against skin's exposure to UV and environmental exposures to ozone'. In fact, according to the article, vitamin E has been identified as the "predominant lipid-soluble antioxidant" for human skin.

Also Available-- Equisoft NATURAL!
Equisoft Natural is the 99% Botanical based alternative to original Equisoft skin cream—but with no mineral oil, no artificial colors, no artificial fragrance, natural preservatives, and 25% (by volume) pure Vitamin E fortified with Evening Primrose Oil. This luxurious moisturizing cream leaves your skin feeling smooth, soft, and radiant.

Our New "Natural Formula" blends a lavish 30,000 units of pure natural Vitamin E, nature's dry skin relief wonder, into every jar of Equisoft Natural. Carefully melding finest quality all-natural Vitamin E oil, Evening Primrose Oil, Citrus Oils, Lavender Oil & other natural ingredients. 99% of the ingredients in Equisoft Natural Cream are sourced from plants to make this incredible moisturizing balm for skin care. So gentle you can use it EVERYWHERE! There is no better cream for dry, flaky, itchy skin relief. Equisoft Natural even helps with scarring.

What Conditions Can I Use Equisoft For?


Sunburns (you, your horse or your dog!)
Burns
Wounds that are in the process of healing
Dry Flaky Skin
Softening scars or stretchmarks
Bed sores
Psoriasis
Eczema
Dermatitis
Cracked Feet (Diabetics!)
and many more!

What Do People Say About Equisoft Cream?
Everyone who uses Equisoft is amazed at the difference. Wrinkles, scars, old wounds, cracked heels and hands all respond so well. Be sure to see our "before and afters" and read our Testimonials so you can hear for yourself how well Equisoft is working!

Be Sure To Order Equisoft CreamToday!
At only $25 for an 8 oz jar of Original Equisoft or $28 for an 8 oz jar of Equisoft NATURAL-- you can't afford to let you horses, dog or even yourself suffer without it. You'll be amazed at the soothing and incredible difference it makes to the healing process! Call us and order today!

---
Contact: Our Friendly Staff
122 Calistoga Road, Suite 232
Santa Rosa, California 95409
Phone: 1.888.708.3303
Email:
Website: Click Here To Connect

---