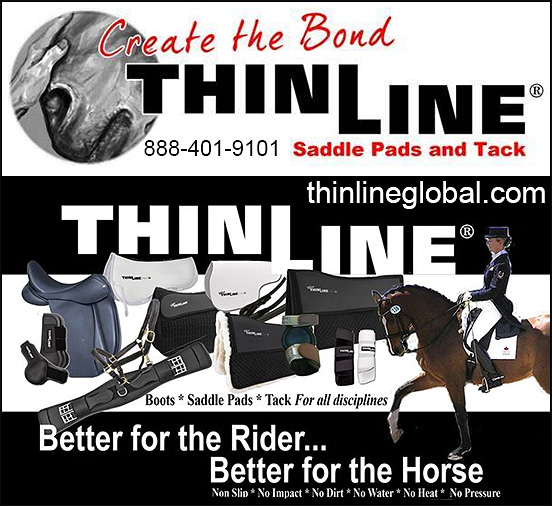 Superior saddle pads by ThinLine Global


What separates our pads from the competition is the technology and superior fit of our pads.




About Our Company
ThinLine became famous for our revolutionary saddle pads made from a superior shock absorbing open cell foam. Elaine Lockhead, President of ThinLine ran a large riding program in North Carolina and competed through Intermediaire I. It was while she was riding Lipizzaners that she inadvertently discovered ThinLine. She remembers, I was riding these wonderful baroque horses, but was having a horrible time with saddle slippage and had resorted to using fore girths and cruppers, which the horses hated. I was riding at a barn where I came across an old piece of ThinLine so I tried it. Voila! No more saddle slippage. What first attracted Elaine to the product turned out to be just one of the benefits. As I continued to use the product I noticed how much better my horse was going and how much it easier it was to sit the trot. At 3/16th of an inch it is unbelievable what this pad can do for you as a rider!



Is Your Horse Not As Relaxed And Round As You Would Like Him To Be?
Ultra ThinLine saddle pads eliminate excessive lower back and upper leg movement in the saddle, without inhibiting desired contact through the seat bones. This pad also works well to keep the horse comfortable so that he uses his shoulders and back more freely. Recommended for (and by) professional riders on experienced horses, reining, western pleasure, equitation, and any other discipline or rider that is looking to improve their performance in the saddle- with numerous styles to choose from! For Horses with sensitive backs or horses in very demanding working conditions chose the 1/4" ThinLine pad. Recommended by Equine massage therapists, vets and chiropractors as well as top riders this pad will do more to improve how your horse uses his back than any other product on the market.



The ThinLine Difference
What separates our pads from the competition is the technology and superior fit of our pads. All ThinLine Inc. Pads have the following features:
Maximum Shock Absorption: ThinLine technology makes it the most shock absorptive material on the market. Drop a golf ball on your pad. And the do the same on a ThinLine pad. The golf balls will dead weight on the ThinLine pad. Lab reports showing 95% shock absorption.
Excellent Breathe-ability: 100% ThinLine products vent laterally across the pad.
No Slip Defense: ThinLine saddle pads are the best no slip products available. Add a ThinLine girth and your tack will remain perfectly stable. Boots do not slip on horse's legs, even when traveling through water.
Does Not Compromise Saddle Fit: Thinline is the only pad recommended and sold by over 80% of UK certified Master Saddlers residing in the U.S. ThinLine works with custom saddles. Better yet, it makes good fitting saddles a custom fit for every horse. ThinLine carries a whole line of products designed by saddle fitters to create better saddle fit.
Long Lasting Anti-Microbial Protection: ThinLine is infused with active anti-fungal, antimicrobial agents allowing use on multiple horses. ThinLine products will aid in reducing rain rot.
Extended Durability: 7-10 years is the average life of a ThinLine product.

Ultra ThinLine Western 30X30
Our wafer thin Western Pad is the most shock absorbing product on the market! It minimizes lower back movement and stabilizes rider position, making it easier to sit and ride the gaits while giving an ultimate close contact feel. This pad is ideal for reining and pleasure riders. Pads may be used either over or under another pad. Riders with sore backs will discover this pad eliminates both pitch and yaw keeping the rider back stable while also providing shock absorption. Tested against many products, the Ultra ThinLine pad proved to be the most effective in reducing rider sore backs and fatigue. You are guaranteed to see a performance difference in your show horses!

Ultra ThinLine Half Pad
Ultra ThinLine Half Pad is a product that while providing good benefits for your horse's back will provide exceptional benefits for riders; it will keep you close to your horse and help you sit quietly. You will see increased performance in how your horses lift their backs; all riders will sit close, quiet and be able to do more with lighter aids! The half pad will aid a great deal in front back saddle slip across the seat.

ThinLine Contour Pad
ThinLine Contour Pad will keep you close to your horse and help you sit quietly. You will see increased performance in how your horses lift their backs; all riders will sit close, quiet and be able to do more with lighter aids! This ¼" thick pad will deliver the best comfort available on the market for your horse.

Are Thinline Pads Guaranteed?
You bet they are! All Thinline Pads come with a full 100% Satisfaction Money Back Guarantee! You can ride in any ThinLine pad for up to 1 month after you receive your pad and if you are unsatisfied for any reason, you may return it for a full product refund!

What Do Horse Professionals Say About ThinLine Pads?

"Nottingham's back was in a lot of pain... He jumps hard and really uses his whole body. At his first show in the ThinLine pad, Notty jumped 3 days in a row without having a pole down... 2 weeks later a bone scan showed his back to be pain free! Notty & I love the ThinLine pads.... I even noticed a difference in my back. I now plan on using ThinLine on all my top horses!"
Schuyler Riley, Grand Prix Champion

"What a great concept in a pad! Finally someone thought it out and made a pad that is thin, has shock absorbing density, is easy to clean, breathes, and can be cut to any shape you want. What more could you want? I'll especially appreciate how thin it is. This allows us get our saddle back down on our horse's back where it belongs instead of sitting up high on a thick pad. I've used it on Quarter horses, Arabs, Thoroughbreds, Warmbloods and Lusitanos -- and it works on all of them."
Scot Hansen, HorseThink

What Other Products Does ThinLine Offer?
At ThinLine Inc. we have a wide array of products ranging from our wonderful saddle pads all the way to horse boots with a variety of therapeutic products in between!

Order Your ThinLine Performance Saddle Pads Today!
For top of the line saddle pads, there is only one place to go and that's ThinLine Inc's saddle pads! You can find our pads at SmartPak Equine and many fine equine catalogs like DOVER SADDLERY, VALLEYVET, AMAZON and more! Order your Thinline Saddle Pads today!
---
Contact: Our Friendly Staff
2945 South Miami Blvd, Ste 120
Durham, North Carolina 27703
Phone: 888-401-9101
Email:
Website: Click Here To Connect

---