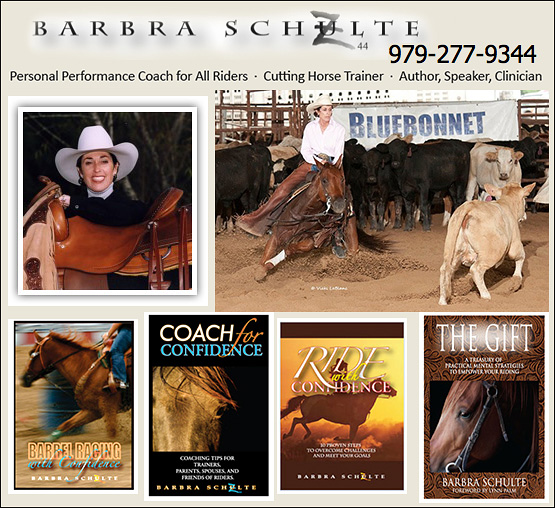 Barbra Schulte, Professional Cutting Horse Trainer and Personal Performance Coach
Barbra Schulte has some powerful solutions to help you and your horse!



About Barbra...
Barbra Schulte is a Professional Cutting Horse Trainer, Personal Performance Coach, Author, Clinician, and Equine Consultant. Barbra has been involved with horses her entire life. Beginning in early childhood and continuing through college, she helped market and show many of her family's 500 head of horses. She competed in western pleasure, reining, horsemanship, and cutting.

In 1983, Barbra's love of horses led her back to the competitive arena where she embarked on a career as a Professional Horse Trainer. In 1986, after reading Mental Toughness for Sports, by Dr. James Loehr of LGE Sports Science, Inc., she began to incorporate his training techniques into her own regimen. After combining the performance enhancing strategies of the Mentally Tough program with her own wealth of experience as a trainer, Barbra began to see remarkable results. She captured the 1988 NCHA Derby, the 1992 NCHA Super Stakes Classic, and the 1992 Augusta Futurity – the first woman to wear the crowns for all three championships. Horses and riders trained by Barbra have earned numerous national, regional, and championship titles throughout her career.

In 2000, Barbra was awarded the prestigious National Female Equestrian of the Year Award given by the American Quarter Horse Association in conjunction with the Women's Sports Foundation. This honor recognized outstanding performance and leadership in a female equestrian. Candidates for the award spanned across all disciplines recognized by the American Quarter Horse Association.

Today, Barbra continues to train and show cutting horses. At the same time, she is expanding her education business by continually providing new online and live informational training for riders of all disciplines (regarding mental and emotional skills) and cutting horse enthusiasts. Barbra's training is highly energized with powerful messages, tips, and skills to help riders develop their full potential, perform under pressure, and overcome fear. They learn to ride, live, and compete with focus, fun, and high positive energy.

Barbra Schulte Has DVD's To Help You With Your Goals!

Personal Performance – THE GIFT
Tools and Tips to Give You the Help You Need to Gain Riding
Confidence and Overcome Your Riding Fears

THE GIFT is a treasure chest of powerful mental strategies to help recreational and competitive riders accomplish their riding dreams with confidence, ease and fun.

If you have ever experienced any of the following, you will find solutions within THE GIFT:
Anxiety on your horse
Worry about your mistakes or your horse's errors
Difficulty staying focused
Worry about other people's opinions
Difficulty recovering from a horse accident
Fear of performing poorly under pressure
THE GIFT includes these powerful solutions:
Getting in touch with yourself and your unique desires and talents
Building great relationships with the people and horses in your life
Learning real life strategies to boost your overall confidence
Mining the unlimited power of mental focusing techniques
Turning tough times into treasures
Training positive emotions within
THE GIFT is a treasure chest of powerful mental and emotional strategies that work and will help you take your riding to the next level.
THE GIFT Book
by Barbra Schulte
This book is divided into nine sections. Each section contains individual messages packed with practical, powerful ideas and tips that are easy to implement into your riding. The messages are easy to read. Because each stands alone, you can read them in any order. Start at the front and read all the way through, or use the table of contents to locate the topics that address your personal needs. This book will empower your riding.

RIDE WITH CONFIDENCE Ride With Confidence Digital Audio Program
By Barbra Schulte
"The Most Concise, Research Based, 10 Step Confidence Building Information Available For Riders of All Disciplines."
Inside Tracks:
Understanding the Ideal Performance State
Dreaming great dreams
Evaluating your personal mental, emotional, and physical strengths and weaknesses
Using acting techniques to achieve your Ideal Performance State
Thinking strategically with positive words and images
Triggering positive emotions on demand through rituals
Using stress to build mental and emotional toughness
Strengthening your physical body and increasing your capacity to manage stress
Testing your skills
Going for it again – I Believe In Myself
COACH FOR CONFIDENCE Coach For Confidence Digital Audio Program
"Coaching Tips for Trainers, Parents, Spouses, and Friends of Riders" Be the Best Support Person You Can Be For a Rider in any Discipline!
Inside You'll Find:
Your Job as a Coach
The Ideal Performance State
Performer Self and Real Self Acting
Mental Conditioning and Ritual Skills
Recovery Strategies
Mutual Expectations
Performance Goals
Positive Statements and Simple Ideas
Recovery Training
Show Day Strategies

BARREL RACING WITH CONFIDENCE …Barrel Racing With Confidence 2 Audio CDs
Discover the High Performance Secrets of World-class Barrel Racers. Learn How They Run Their Best Times Under Pressure!
Tough competitors know how to make great runs in ANY situation. Now, using researched-proven tools, you can, too!
If you have ever experienced any of the following frustrations, you will find solutions in Barrel Racing With Confidence:
Inconsistency in your performances
An inability to let go of errors
Mounting stress when things around you seem distracting or out-of-control
Difficulty staying focused
Worry about the comments or judgments of others
Lack of belief in yourself
A sinking feeling after a poor run
Burn-out
Lack of fun and enjoyment

Barrel Racing With Confidence includes these powerful proven tools (and more) applied to barrel racing:
Step-by-step help to get into the "Ideal Performance State" (also known as "The Zone")
How-to instructions for getting your mind, body, and emotions in alignment
A simple but effective tool to immediately let go of errors or problems
Power-packed visualization techniques
World-class acting strategies
Physical toughening tips
Interviews with other barrel racers who overcame obstacles and found success
"HOW TO FIND TRUE SUCCESS IN RIDING"How To Find True Success In Riding

Lasting Success is Not Just About What You Achieve Externally … But Who You Become as a Result of Your Hard Work.

Let Dr. Jim Loehr gives you concrete tools to perform better … achieve more … change your life … and positively impact the lives of people around you.
Dr. Jim Loehr



World-renowned Performance Psychologist
Co-Founder of the Human Performance Institute
Author of 16 books including his most recent, "The Only Way to Win"
Co-authored the national bestseller, "The Power of Full Engagement"
Has worked with hundreds of world-class performers from the arenas of sport, business, medicine and law enforcement
The Human Performance Institute's training is the result of 30 years of proprietary research and working with elite performers including Olympic gold medalists, elite professional athletes, military Special Forces, Hostage Rescue teams, surgeons and Fortune 500 CEOs.
INTERVIEW TOPICS
1. Welcome and Introduction
2. Overview of the Human Performance Institute's Current Work
Importance of character in achieving extraordinary results
Joy in what you do
You always become something as a result of riding
The importance of learning
Going to the core of character through purpose
3. Definition of Performer Skills and How They Work
What goes on when anyone performs at their best
Enjoyment, fun, confidence, energy, calm, trusting, etc
Performer skills train these feelings to come up on demand
Routines automate your ability to access these skills on demand
4. How to Use Adversity to Mine Good Outcomes
Learning how to handle stress
How to carry yourself during chaos
Performer skills save you when they are trained
Loving the privilege of opportunities
Having a clear purpose gets you to this place
5. Putting Achievement into a New Light
Extrinsic … reason you participate is for the recognition
Intrinsic … satisfaction is in the pursuit itself
Intrinsic has to do with doing what we want to do
Intrinsic has to do with getting better at something
Intrinsic has to do with a purpose that's bigger than ourselves
These things, when engaged are like magic for performance
6. Developing a Helpful Inner Coach
Never allow yourself to have a self-critical voice
Become your own best coach
Find a great inner voice in the middle of any challenge
Go on a noble adventure
7. How to Find That Magical Place Within Yourself
Seek a delicate balance with all parts of human system
Take care of your body
Clear picture of your purpose of "why"
Disciplined voice of the inner coach
Performer skills
Loving the adventure
8. Getting Your Scorecard Powerfully Aligned
Extrinsic … how you place
Intrinsic … what's important to you
Using your own converts to great performance
All about putting energy into things you can control
Fulfilling accomplishments comes from happiness first
9. Home Exercises
Q&A:
1. How do we overcome a mental block after a tragic event?
2. Do you still have "Love the Battle?"
3. What are the areas that really hold people back?
4. How to overcome feeling intimidated by others?
5. How to overcome feeling like a "little fish in big pond?"
6. Excited about "Only Way To Win" … being a teammate with a horse.
7. Information about Human Performance Institute programs

Order Your Programs and DVD's From Barbra Schulte Today-- For A More Successful and Confident TOMORROW!
---
Contact: Barbra Schulte
2000 South Market Street; Suite 219
Brenham, Texas 77833-5800
Phone: 979-277-9344
Email:
Website: Click Here To Connect

---