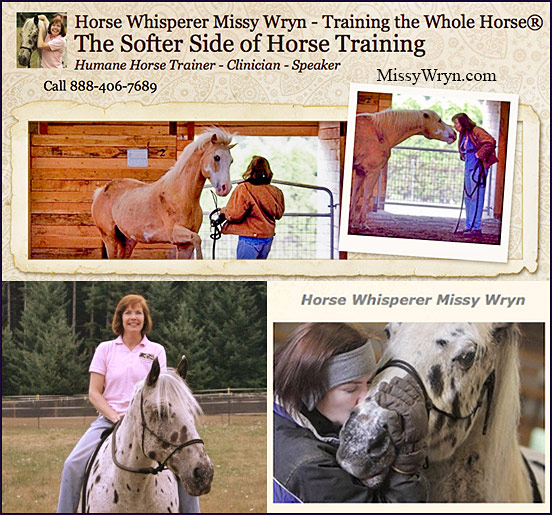 Missy Wryn HorseMAREship, LLC.
Missy Wryn provides comprehensive horse management, horse training, and effective communication workshops, clinics, and presentations across the country



About Missy Wryn
Missy Wryn is an Internationally recognized Horse Whisperer, Horse Power Speaker- who has pioneered the WHOLE horse approach and training methods on the foundation of DO NO HARM. From horse lessons to horse keeping Missy's acclaimed Training the Whole Horse® techniques demonstrate how to accomplish a safer relationship and deep rapport with horses- and focus on helping horse owners achieve those goals. As a speaker and clinician Missy provides her critically acclaimed HORSE POWER workshops and presentations at her Zen Barn, horse expos, fairs, shows and private barns.

Her own life was nearly taken in a tragic car accident in her youth and the fateful events that followed took years to overcome. But despite having her back broken, punctured lungs, and numerous broken bones, Missy put her life, and her love of horses back together. She worked hard with renowned horse trainers like Frank Bell, and developed a system of training that is both effective and sensitive to students who may have fears they are working to overcome. Missy Wryn has the life experience and knowledge to motivate, inspire and, yes, get horses and their owners on a path to success!

What If My Goal Is To Be A Horse Trainer -But I Can't Travel To Take A Course?
Then Missy's "Starting Under Saddle Mastery Program" can get you to that goal! Her "DISTANCE LEARNING" allows you to master each Program at your own pace in your local area. To get started all you need is a video recorder, access to the internet and access to horses that have never been ridden or started under saddle… it's just that easy! Each Mastery Program builds on the other to fulfill the requirements of becoming a Training the Whole Horse Certified Master.

What Can I Learn As A Master Trainer And What Benefits Does It Offer Me?
If you are someone who dreams of a career working with horses using a truly gentle and mindful approach, Missy's Certified Horse Master Trainer Program is for you. You will learn how to invoke a horse's natural instinct to recognize you as their herd leader through gentle communication without the use of force, pain or devices. Your understanding of a horse's true nature will deepen as you learn connective communication techniques while gaining confidence in training and riding bitless. Missy supports you with one-on-one support with weekly phone calls and unlimited email communication all at your own pace without having to travel.


STARTING UNDER SADDLE MASTERY PROGRAM
The Starting Under Saddle Mastery Program is the first step in becoming a Training the Whole Horse® Certified Master. There are two levels to achieve Starting Under Saddle Mastery. You must work with a horse that has little to no training (halter broke ok), has not been ridden or not been started under saddle for these courses.

Level I you must demonstrate effective herd language, herd leadership, equine anatomy, and functions of the horse both physically and emotionally while preparing and conditioning the horse with groundwork and training techniques to prepare the horse for the saddle.
Level II is advanced demonstration of training techniques, in addition to riding under saddle bitless at a walk and with some horse's higher gaits.
NOTE: To advance past Starting Under Saddle Level I you must demonstrate accomplished riding skills (maintain your seat and control at a walk, trot and canter) by submitting a video within 30 days of purchasing Starting Under Saddle Level II.

What Other Programs Are Offered by Missy Wryn?

IRON FREE MASTERY PROGRAM
The Iron Free Mastery Program is designed to take the newly Started Under Saddle horse to the confident and trusting level of riding Iron Free (no bits – no spurs). Expanding on Level II of Starting Under Saddle Mastery you and the horse will learn and refine moves such as backing up, turning, turning on the haunch, turning on the forehand, drop rein whoa and the ever present emergency handbrake. From the walk to the canter the horse's emergency handbrake will be refined to the position of the safe and loving place when all else fails.

Level I Program picks up where you and the horse left off from Level II of Starting Under Saddle Mastery Program. Understanding and refinement in the lower gaits as well as turns, cruise control and the emergency handbrake are the accomplishments of Level I.

Level II adds control at the higher gaits with emergency handbrake refinement along with confidence and trust in riding skills.

TRAIL RIDE MASTERY PROGRAM
The Trail Ride Mastery Program is the final course which Starting Under Saddle and Iron Free Mastery certification must be completed before acceptance. Upon completion of the Trail Ride Mastery Program and the subsequent Mastery programs you will be awarded and recognized as a Training the Whole Horse® Certified Master. Enroll here>>

Level I is an introductory to the trail on the ground with the goal to complete under saddle.

Level II is the completion of Trail Ride Mastery with all three gaits displayed under control and controlled water crossing.

Can I Do These Programs At My Own Pace? Will I Get Weekly Phone Consultations With Missy?
YES! Mastery of all levels can be accomplished at your own pace by viewing and applying the Training the Whole Horse® training techniques demonstrated in the Training the Whole Horse® video series, documentation via video footage submitted to Missy for viewing, and weekly phone consults.

PRICING: is only $450 per level (CURRICULUM INCLUDED) and $850 per program… or $2500 for all 3 programs when purchased as a package.

What If I Just Want A Better Relationship With My Horse- Can I Attend Workshops or Clinics?
Missy Wryn has a number of programs to help you! Missy also has many FREE VIDEOS to help you with understanding and overcoming training problems. If you will call Missy, she can arrange to have a clinic that fits your needs and the needs of members attending. If you want to work with Missy one on one with your horse, you can call and make arrangements to meet with Missy or have Missy travel to your area.

Can I Talk To Missy If I Have A Question and Just Get A Phone Consultation?
Absolutely! Missy is so committed to helping horse owners that she has kept her Phone Consultation fee to a very reasonable $35. Missy understands that it is not always possible to drive over or attend a clinic— or, you may have a situation that needs immediate help and waiting is not a possibility. Call or email to arrange for a phone appointment and Missy is happy to help you every step of the way via the phone.

What Products Does Missy Have To Help Me?

Missy's All-In-One-Bitless Bridle and DVD's are among her most popular training items! But her STORE is filled with numerous products to help you on your journey to enjoying an incredible relationship with your horses. Yes all her videos are available for FREE viewing online at her YouTube Channel (http://www.youtube.com/wholistichorsewoman) and her website.

PREMIUM QUALITY All-In-One Bitless Bridle is a rope halter and bitless bridle that includes a 12' lead rope with leather popper on the end. Warm up your horse, snap on your reins & GO!
Hand tied with a single piece of high-quality soft nylon rope using double overhand knots to create side-pull loops positioned above the corners of your horse's mouth for true bitless riding, finished with a Fiador knot attaching the eyelet loop of the lead lope.

NO Metal clasps to bang into your horse's chin, NO pinching straps under the chin, NO vice-grip poll action. Your horse rewards itself by INSTANT release of pressure offering a deeper trusting relationship, one without pain, fear or dominance. The All-In-One is specially designed and hand tied to first be a rope halter for maximum training benefit, and second it is a bitless bridle by simply snapping on your reins to the customizable side-pull loops, and you're off and riding. No need to change out the halter to a bridle, you've got it All-In-One. Since horses learn from the release of pressure, not the pressure itself, the All-In-One maximizes instant release and self-reward for your horse. Collection and a smooth lateral flex are made easy with the All-In-One's design and placement of pressure knots and side-pull loops. You don't have to change how you ride, just warm up your horse, snap on your reins and GO. Only $64.95!

NOTE: The "Training The Whole Horse" Kit Offers The Best Of Missy's Expertise! (includes the All-In-One Bitless Bridle) With the Training the Whole Horse Kit you receive all three videos, Training the Whole Horse, Five Fundamentals for a Safer Ride and Iron Free Riding plus bonus video footage, an All-In-One bitless bridle with a Browband to maximize a perfect fit for any horse.

You Deserve To Have Your Horsemanship Goals! Call Missy Today!
Missy has spent a lifetime achieving nearly incredible goals at nearly impossible odds. Her life is an inspiration to so many. She knows horsemanship, training and working with horses is something that every horse owner is going to need help with and she has incredible programs, DVD's, and training tools to help. Missy's knowledge, products and training packages are designed for your success! Whether you work with her at home, workshops or on the phone, Missy can help you. Join people across the country who share their success stories working with Missy and call today!

---
Contact: Missy Wryn
26011 S. Morgan
Estacada, Oregon 97023
Phone: 888-406-7689
Email:
Website: Click Here To Connect

---