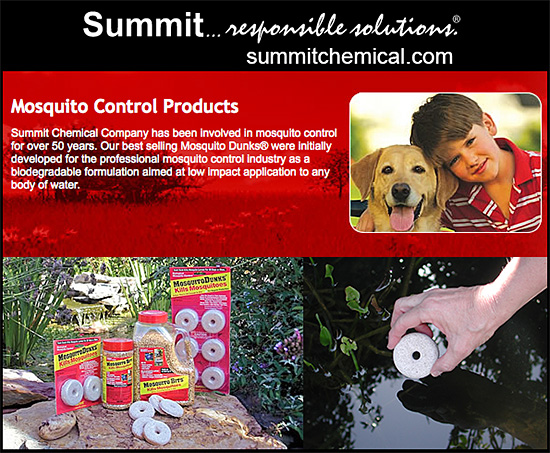 Mosquito Dunks® by Summit Chemical, Inc.
The Mosquito Dunks® are America's best selling mosquito control product to keep ponds and water tanks free of Mosquito larvae!



About Summit Responsible Solutions
Summit Responsible Solutions offers environmentally friendly pest controls including best-selling Mosquito Dunks®, Mosquito Bits® and Summit® Year-Round® Spray Oil. Over the years, Summit Responsible Solutions has developed a reputation as an industry leader in pest control products, while always promoting environmental quality and responsibility. While safety and environmental health are integral parts of Summit's creed, Summit prides itself in providing high-quality products that effectively kill pests—and satisfy even the most skeptical of consumers.

Want To Avoid Mosquito Larvae In Your Horse's Water Tanks and Ponds? Mosquito Dunks® Are The Answer!
Kills Mosquitoes before They're Old Enough to Bite!® The Mosquito Dunks® are America's best selling home owner mosquito control product. The only product with BTI, a bacteria toxic only to mosquito larvae, that lasts 30 days and treats 100 square feet of surface water.

Non-toxic to all other wildlife , pets, fish, and humans.
Simply apply Mosquito Dunks® to any standing water, or water garden.
Kills within hours lasts for 30 days or more.
Labeled For Organic Gardening by the USEPA.
Highly effective low impact product
How Do Mosquito Dunks® Work?
While floating, a Mosquito Dunk® slowly releases a long-term biological mosquito larvicide at the water's surface. This larvicide gradually settles in the water, and while it travels through the water it is eaten by the mosquito larvae growing there

What About Standing Water In Your Pastures? Mosquito Bits® To The Rescue!
Marshy swampy areas inundated with larvae? Sprinkle Mosquito Bits® (Quick Kill) as a shock to quickly annihilate the larval population. Corn cob granules coated in Bti, the Bits™ (do not last long but) provide a punch, turning water black with larvae, to a clear pool void of future mosquitoes. A week after application either supplement with Mosquito Dunks®, for long term control or continue to add Bits™ on a bi-weekly basis. The Mosquito Bits® are now labeled to control Fungus Gnats in plant beds or pots! Utilizing a similar mode of action for control of mosquito larvae, the Bits™, either sprinkled on the soils surface or mixed with potting soil prior to planting will kill fungus gnat larvae with the same safety and target specific control offered for mosquito larvae.

The Mosquito Bits® are available as an 8 ounce jar, 30 jug, and 20 pound bucket.

Can I Use Mosquito Bits® In My Pasture?
Absolutely. Scatter Mosquito Bits® throughout the lowest spots in your pasture where rainwater can collect. The BTI in the Mosquito Bits® will become activated when wet and begin to kill any mosquito larvae. Mosquito Bits® are especially useful to control mosquito populations in low-lying and marshy areas of pastures and fields. Mosquito Dunks® and Mosquito Bits® kill mosquitoes in the larval stage, before they become flying, biting, disease-spreading adults.

Mosquito Barrier & Coils Help Keep Your Backyard, or Campsite Free Of Moquitoes!
Summit's Mosquito & Gnat Barrier packaged in a convenient precalibrated hose-end sprayer makes it possible to enjoy your backyard without the annoyance of insect pests. Mosquito & Gnat Barrier contains permethrin, a residual insecticide that provides up to four weeks of repellency for a wide variety of insect pests including mosquitoes, ants, fleas, ticks, and more.
Spraying your backyard can help to reduce suitable mosquito resting area (usually vertical vegetation), and therefore reduce your chances of being bitten. Spraying down wooded areas that your dog frequents can aid in reducing the risk of tick born illness for your pet and family.

How Do Mosquito Barrier & Coils Work?
When the Mosquito Coils are burned, they release a small amount of the insecticide, d/l-allethrolone d-trans chrysanthemate. This potent compound repels mosquitoes and other insects, providing inexpensive and effective protection in the backyard, patio, or campsite. Using Summit's mosquito control products together will provide multiple approaches to prevent annoyance, bites, and disease.

Is It True That These Summit Mosquito Products Are Safe For Horses, Pets and People?
YES! Summit Responsible Solutions products kill insect pests but are not harmful to people, horses, pets and wildlife. The active ingredient in Mosquito Dunks® and Mosquito Bits® is BTI (also known as Bacillus thuringiensis israelensis)—a naturally occurring bacterium that is deadly to mosquito larvae but harmless to other living things. BTI is nature's way of keeping mosquito populations down, but it has no effect on other insects, people, animals or fish. Mosquito Dunks® have specifically been approved for use in animal watering troughs, fish habitats and organic production. Use Mosquito Dunks® and Mosquito Bits® with full confidence!

Buy Summit Mosquito Dunks® or Bits at Home Depot, Lowes, Walmart and Fine Retailers Today!
Your horses deserve to enjoy water free from mosquito larvae and you deserve a horse property and water tanks that aren't running rampant with mosquito larvae! Mosquito Bits and Mosquito Dunks are super affordable, highly effective and can be easily found at Lowes, Home Depot, Walmart and many fine retailers both on and off line. Super affordable, easy to use and harmless to people and animals- there is simply no reason to suffer with mosquito larvae anymore!

---
Contact: Our Friendly Staff
235 South Kresson Street
Batimore, Maryland 21224-2616
Phone: 800-227-8664
Email:
Website: Click Here To Connect

---