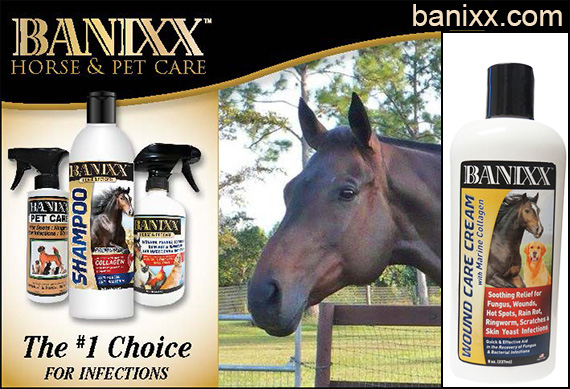 Banixx Equine Products by Serborne Corporation
Banixx™ is an effective wound, skin and hoof care product for treating all manner of equine ailments.



Banixx Wound and Hoof Care
Banixx™ Wound and Hoof Care is an affordable multi-use spray that facilitates quick and effective recovery from both wounds and infections. This specially formulated, antibacterial, antifungal wound spray is ideal for treating all manner of ailments from cuts, abrasions, punctures and scratches to rain rot, ring worm, white line disease, greasy heel, rain scald, mud fever, pigeon fever, thrush and more. Test results show that Banixx™ eliminates the big three bacteria — staphylococcus aureus, salmonella choleraesuis and pseudomonas aeruginosa — with a 99.9999% kill rate, and knocks out fungal infections within minutes with a 98% kill rate. Banixx™ helps horses heal bacterial and fungal infections on their own naturally while promoting deep tissue healing. It contains 2.5% hydronium solution but does not contain steroids or antibiotics. Banixx™ will not burn infected tissue, stain, or irritate skin. It has no offensive odor and may be used with a medicine boot. For all these reasons and more, Banixx™ is one product that is suitable for use on any and every type of pet.



What Are Some Of The Skin Conditions For Which Banixx™ Is Helpful?
Banixx™ can be used in any situation where bacteria or fungus is indicated! In addition to cuts, scrapes, and puncture wounds, Banixx™ is effective on a whole list of common equine ailments including:

Rain rot (also called rain sores or rain scald)
Greasy heel (also called scratches, mud fever, and cracked heels)
Ring-worm
Pigeon fever
Mysterious bumps and lumps
After a fire ant attack
Any fungal infection on the skin

In some cases it may take several applications—morning and evening for 2-4 days—to complete the healing process.

How Is Banixx™ Different From Other Products Sold To Treat Skin Wounds?
First and foremost, Banixx™ does not sting or irritate the wound upon application, nor does it have any unpleasant odor. The lack of pain and absence of odor makes treating the horse easier, and thus makes the process safer for everyone concerned (a big consideration when the patient may weigh 1,000 pounds or more). And because Banixx™ penetrates tissue to promote healing from the inside out, it won't allow proud flesh to develop. Finally, Banixx™ does not cauterize tissue, so wounds heal both on and below the surface.

How Is Banixx™ Different From Other Products Sold To Treat Thrush, White Line Disease and Abscesses?
Many hoof products contain ingredients such as iodine that cauterize and burn the infected area, allowing surface problems to heal but sealing in the deeper infection. Banixx™ does not cauterize tissue, and therefore promotes the progression of both surface healing and healing deep within the wound. There is nothing more frustrating or more dangerous for a farrier than dealing with a horse that is in pain, not from its hoof condition, but from the product being used to treat it. Because Banixx™ does not harm healthy tissue, and causes no pain, it has become a favorite with farriers!

Can I Treat Thrush By Just Spraying Banixx™ Onto My Horse's Feet?
For best results, we recommend using Banixx™ in conjunction with a medicine boot for the treatment of thrush. Since thrush resides in the dark, warm, moist crevices deep within the frog area of the hoof, simply spraying Banixx™ onto the feet may not be enough to treat the root of the thrush infection. Banixx™ needs to make good contact with the bacterial or fungal infection in order to be most effective. By using a medicine boot in conjunction with Banixx™ application for the treatment of thrush, you can help ensure that the hoof stays awash in Banixx™ while staying clean and clear of the dirty, germy environment in which the hoof usually resides.

What Do Customers Say About Banixx?
I have used Banixx™ and so have several of my friends in the sport. We are extremely pleased with the results in treating wounds and thrush. I highly recommend Banixx™ to anyone in the equine industry, in every discipline.
Bill Long, six-time National Four-In-Hand Champion

My husband, Dr. Richard Porter DVM, and I own a veterinary clinic. We have used Banixx™ on our surgery sites with tremendous results! We had one gelding who had cut his leg — it was a severe injury. We used Banixx™ on the injury. There was less irritation afterwards and it healed quickly with little or no swelling. Banixx™ was a part of his complete recovery.
Gwen Porter, Porter Ridge Veterinary Clinic

Al Skywalker is currently the #10 all-time leading money winner in Steeplechase history. Jennifer Majette, trainer and owner of Al Skywalker, enthusiastically reports:

Banixx™ is one of the most incredible products I have ever used for thrush and wounds. Al had chronic thrush his entire career and we tried everything on the shelf, but nothing really worked until we used Banixx™. Jennifer also used it on a throughbred race horse that had a severe laceration on his neck that was about eight inches long and about 3/4" deep. She followed the instructions on the Banixx bottle, spraying the wound twice daily. Within 24 hours it was starting to heal and within 7 days it was completely healed with no stitches applied. I gladly recommend Banixx™ to anyone who owns a horse.
Jennifer Majette, Trainer and Owner of Al Skywalker

I import a number of high quality dressage horses from Europe for sale. A common problem that I encounter is thrush. I've had some cases that were really stubborn and just would not go away with all of the other products that I've used. Banixx™ showed an incredible improvement in a very short period of time and now all of our horses have wonderful, healthy feet. This product will always be on my shelf!
Vicki Kelley, USDF Silver & Bronze Medalist with over 40 years experience as a rider and trainer

Order Banixx Wound and Hoof Care For Your Horse Today!
Treat fungal and bacterial infections in your horse safely and effectively with Banixx™ Wound and Hoof Care. Banixx™ is available through numerous online and print catalogs such as SmartPak, HorseHealth, KV Vet, Valley Vet, Stateline Tack and Jeffers. You can also visit us online to find a local retailer, or purchase it directly from our website.

---
Contact: Our Friendly Staff
P.O. Box 5374
Pinehurst, North Carolina 28374
Phone: 877-944-0795
Email:
Website: Click Here To Connect

---