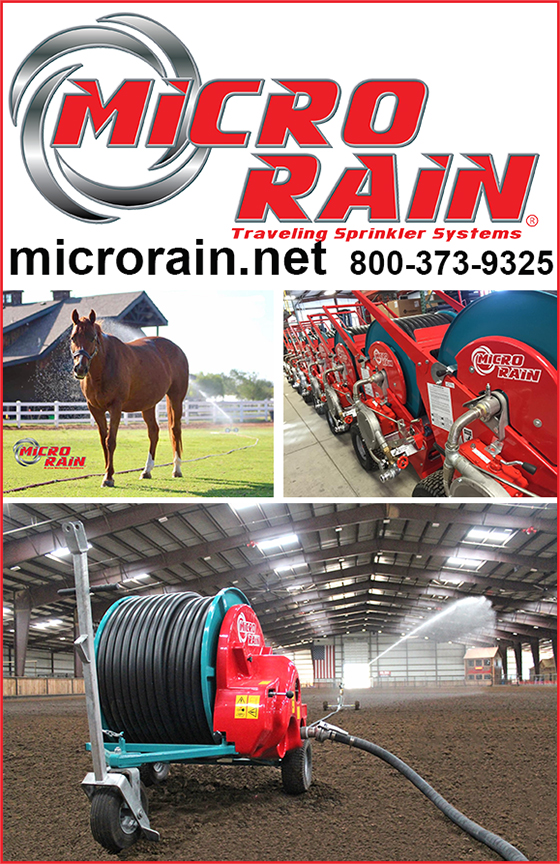 Micro Rain Turbine Driven Self Traveling Sprinkler Systems
Micro Rain systems provide the labor free solution to watering dusty arenas!

About Our Company
Since its inception, MicroRain (The Kid Group) has been a distributor of unique irrigation and turf maintenance products. Our goal is to offer customers the most dependable, convenient irrigation products while providing unparalleled customer service. To further our goal, we have developed a turbine-driven traveling sprinkler that operates using almost any water source. The engineering and design of the Micro Rain sprinkler has proven to be simple, reliable, and cost effective for our customers. The Micro Rain line features a broad range of sizes to accommodate a variety of settings for portable irrigation.

Micro Rain systems are created with components from expert manufacturers throughout the world. The systems are assembled with precision, water-tested and packaged for shipping at our facility in Yukon, OK. We have a large inventory to ensure product and parts availability at all times and our central location allows us to provide timely and affordable shipping methods when orders are placed.


Mico Rain Products
From small areas to large acreages, Micro Rain travelers are designed to put "convenience" back into watering. The extensive product line below outlines individual machine performance and features for assistance in choosing the appropriate model for your application. Here are a few of our models:

MR25- Compact and effective reel sprinkler! The MR25 connects to a standard ¾ inch garden hose to operate totally unattended, with flows ranging from 3 to 10 gallons per minute. The sheer ease of setup and operation makes the MR25 very popular with homeowners for watering large lawns and gardens. Horse owners with small arenas and dressage rings rave about this model's ability to control dust and provide safe, uniform footing. View the performance chart to get a glimpse of the area covered by this model! read more »
MR32- The MR32 combines heavy duty, quality steel frame and reel construction with the simple, yet maneuverable two wheel design like it's smaller counterpart-the MR25. Build to withstand heavy use, the MR32 operates from a 1 inch line (or 3/4" hose if flow and pressure is adequate) and allows irrigated areas up to 300 feet long and 120 feet wide for sports fields, horse arenas, hobby farms, or any area up to 4 acres. The MR32 is also available with a hitch kit making it compatible for towing with an ATV or small garden tractor! An excellent reel irrigator for many different applications!
MR32 Ultra Drive- The MR32 Ultra Drive utilizes dry cell battery technology that powers a small 12-volt motor to retract the hose. Simply charge the battery, move the unit to any operating location and begin watering for up to eight hours of continuous operation. This system does not require any water flow or pressure to retract the hose, meaning any water source from 3 to 30 gallons per minute is adequate. Low pressure is not a problem with the Ultra Drive!
MR43- The MR43 is the ideal machine for achieving single pass coverage on football fields, large riding arenas, and more. With flow ranges from 15 to 50 gallons per minute and a 393 feet hose length, the MR43 can effectively water up to 1.5 acres in a single pull! The ability to add the reliable Honda boost pump kit, can greatly enhance performance in low-pressure situations.
What Is The Advantage Of A Micro Rain System?
Micro Rain travelers have years of proven field service and simply do the job! Constructed with a durable all-metal chassis and drum design, these machines are built to stand up to years of use. At the heart of the Micro Rain is the rugged and reliable turbine drive system. Smooth and efficient power is developed as the water flows past the fins of the turbine impeller, powering our direct mounted gearbox system to drive the reel. All water entering the turbine remains in the system and passes through the sprinkler head, eliminating any need for water to be wasted or dumped around the machine unlike other drive systems.

The Micro Rain system can use a variety of water sources, such as wells, lakes, rivers, municipal water or grey water from lagoons. The turbine drive system has earned the reputation of being very forgiving when faced with water quality issues such as high mineral contents, grit and sand.

What Do Customers Say About Micro Rain?
I think it is the greatest thing since electricity! I've had a couple of people look at it and ask how I can justify the cost. I tell them to go home and figure out how much they are spending in time or equipment costs(not to mention safety for them and their horses due to poor or slick ground) and they will find, as I did, you can't afford not to have a Micro Rain." Greg Kesler
Owner of Double Dollar Livestock in Utah

This system simply does the job so easily you'll wonder how you ever got by without it. The sheer ease of setup and operation, freeing you from having to watch over its progression, is alone worth having one. You'll be seeing this fantastic new sprinkler system around the majority of arenas due to its excellent portability and ease of use!

MicroRain Is The Perfect Solution In Today's Economy!
MicroRain will eliminate dust in your arenas, water your pastures and perform a host of watering solutions for your farm or ranch. Our friendly staff is waiting to provide you with information on how to adapt your water source to accommodate a Micro Rain arena watering system. Giving you arena the proper moisture and care is only a phone call away!
---
Contact: Micro Rain's Friendly Staff
15250 Sunshine Road
Yukon, Oklahoma 73099
Phone: 800-373-9325 or 405-354-6925
Email:
Website: Click Here To Connect

---