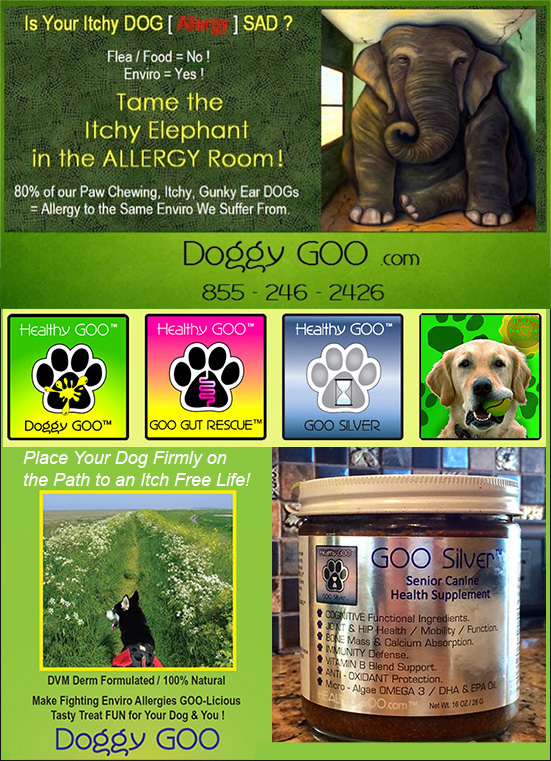 Doggy GOO™ by Healthy GOO™
Doggy GOO™ makes the Serious Business of Fighting Allergies much more Fun for both You and Your Dog! Our GOO-licious Peanut Butter Treat builds Immune System Tolerance to Pollens, Dust Mites & Molds 100% Naturally.



WHAT is Doggy GOO™ ?
A premium Canine Immune System Health Supplement focused on promoting the Health & Response of your Dog's Immune System. Simultaneously Targets, Supports & Balances the Innate, Acquired & GUT Tiers of your Dog's Immune System. Doggy GOO's methodology builds Immune Tolerance to everyday Environmental Allergy Sources.

Why is Doggy GOO ™ Important To Dogs With Allergies?
Any dog can suffer from allergies but research has shown that may of the most popular breeds including Scottish Terriers, West Highland White Terriers, Cairn Terriers, Wire Haired Fox Terriers, Pugs, Miniature Schnauzers and English Bulldogs, Lhasa Apsos, English Setters, Irish Setter, Retrievers and Dalmatians are genetically predisposed to allergies.
Up to 25% of dogs suffer from allergies. 85% of these suffer exclusively from allergy to environmental sources

WHY Should I Choose Doggy GOO ™ For My Puppy or Dog?
For PUPPIES or Young Dogs ( Pre 9 mo.), Doggy GOO Pre-Emptively builds Immune Tolerance to Enviro Allergens before Allergy has a chance to become entrenched. For "Allergy / Atopic Dermatitis Stressed " Dogs, Doggy GOO Re-Establishes / Builds / Maintains Immune Tolerance to Enviro Allergens.

How Did Doggy GOO™ Save A Seeing Eye Dog Named Philbin?
Odie Is Completely Blind and he places his life in Philbin's PAWs every day…
For a while Odie was Deeply Concerned that Philbin's Building Itchy Allergies and Steroid Use would prevent Philbin from his Guide Dog Duties. Fortunately Odie's DVM Dermatologist recommended
Doggy GOO™ for Philbin's Allergies because it is 100% Natural,does not interfere with Philbin's Guide Dog Duties— but also because GOO really works.

You see, Doggy GOO targets the Source of ALLERGY by Building "Internal" Immune System Tolerance to Philbin's Environmental Allergies. Now Philbin is a Doggy GOO™ Dog His Allergy Itch is a Distant Memory.
Philbin is Healthy & Happy. Odie is Happy that Philbin is Healthy & Happy. Now Odie & Philbin can Continue their Great LIFE Adventure Together. Without ALLERGY Limitations.
Hear & See what Odie has to say about Doggy GOO in the video below:



Ask Yourself---"Is My Dog Well --or Stressed?"

Has your pet recently traveled or moved to a different part of the country?
Has your pet been acting differently lately or hasn't seemed like him/herself?
Has your pet been diagnosed with an illness?
Have you noticed any signs that your pet may be fighting health issues (such as lethargy, skin, ear, or GI issues)?
Have you noticed any abnormal behaviors?
Has your pet been scratching, biting, or licking more than usual?
Is he or she shaking their head and scratching at their ears?
Note: If you have answered 'yes' to more than one of these questions, we consider your pet's health and well-being to be "stressed".

Are You Looking for a Solution To The Misery Of Canine Allergies? (itching/ scratching etc)
The makers of Doggy GOO™ know that pet owners often see the signs of an unbalanced or weakened immune system which present as skin conditions, ear infections, persistent itching or gastrointestinal problems. When your dog displays these symptoms you will naturally try to find the cause of their discomfort.

Is The Allergy Caused By My Dog's Food?
Many people will start with their dog's food and believe that the dog may have a food allergy which sends them down the road of special diets to determine what ingredient(s) are causing their dog's allergies. The problem with this is it can take weeks to months after a change in food to see any change in the dog's overall appearance and behavior. Food elimination diets have to be carefully constructed and managed so the dog does not get any other food or treats. They are very hard to manage as well as time-consuming. If your dog does indeed have a food allergy then finding a food that will alleviate their symptoms is key.

Note: The important thing to realize is that 85% of dogs with allergies are allergic to things in the environment and not food. Most medications like Corticosteroids and Antibiotics only mask your dog's symptoms meaning they will have to be taken for the rest of the dog's life. Many of these medications also have underlying side effects that can cause a whole host of other health realated issues.

What About Allergy Testing and Shots?
Allergy testing and shots are another option but who wants to have to give their dog a shot every day for the rest of their lives. This is inconvenient for you and painful for the dog. Besides the shots, allergy testing can be expensive and not always accurate.

Isn't There An Easier Way To Help Rid My Dogs Of Allergies?
YES! Doggy GOO™. Doggy GOO™ utilizes a similar methodology as allergy shots but in an easy to administer, pet-friendly way. Daily use of Doggy GOO ™ can help build immune system tolerance to the environmental and food offenders that are making your dog miserable.

What Makes Doggy GOO™ So Special?
You mean besides the fact that it WORKS? Doggy GOO™ is the FIRST and ONLY 100% natural, Veterinary Dermatologist Formulated Canine Allergy Product on Today's Market.

It is designed to:

Simultaneously & Synergistically target, support and balance a your pet's overall immune system
Build natural tolerance to 15 Environmental Allergy Sources
Foster a healthy Gut response through the use of Prebiotic & Probiotics
NOTE: If your Dog suffers from the itching, biting and scratching associated with allergies, please give DoggyGoo a try.
What Are The Benefits of Doggy GOO™
Doggy GOO™ leverages natural adaptive power of Immune System methodology to help build and strengthen your dog's immune system tolerance to 10 pollen, 3 mold, 2 mite and 2 food allergy sources.
Doggy GOO's beneficial yeast ingredients work to support and balance your dog's first line immune defenses.
The Prebiotic & Probiotics support healthy gut functionality and nutrient absorption.
Doggy GOO ™ can help allergy stressed dogs reestablish immune tolerance to environmental allergy sources.
Doggy GOO ™ can preemptively build immune tolerance to environmental allergy sources in your puppy.
Doggy GOO ™ is 100% all natural and can be tried before Cyclosporine, Steroids or Allergy SHOTs
How Do I Feed DoggyGOO™ ?
Doggy GOO™ is to be spread thinly on a little plate that we will provide to you, so your dog can lick it up. The "licking" action actually helps the doggy goo to assimilate faster and better into your dog's body so that it an have maximum effectiveness… with EACH " lick" your dog is building immune/ GUT health and tolerance to allergens.



What Do People SAY About DoggyGOO™?
I tried Doggy GOO with skepticism for my Shnorkie (Schnauzer/Yorkie) Kaya.
Until I tried Doggy GOO, She would get terribly Itchy and Bumpy especially in the Warmer Weather. Now, she's good to GOo. No more Skin Issues.

My other pup Cooper also loves it, although his story is more of a Respiratory problem.
I figured it couldn't hurt so I started to give it to him as well. He is doing so much better now.
I don't know how or why, but he can breathe without any problem now.
Thank You Everyone at Healthy GOO
Laurie -Hopewell, NJ

I have a 1 year old White Standard Poodle who is Allergic to Everything !
My good friend, Kim L, from South Louisiana, told me about Doggy GOO.
She has 3 Dogs and knows her Canine Health very well. She swears by it… now,
This morning, I ordered my 3rd jar of Goo!!

After the first week of Doggy GOO, I gave my Dog / Orion his monthly dose of Heart Worm medication. He broke out 5 days later, first on his leg and then his chest, with raised itchy lesions. The Doggy GOO lessened the severity and duration of this outbreak and now, a week later, the allergic reaction has subsided. We are now on our second jar of GOO, and he is Happy, Healthy and full of Energy, as he should be. Prior to GOO, he scratched, licked and bit constantly - what a Relief to now be GOO Well !
Barb RN—Slidell, LA

I am purchasing my 3rd Jar of Doggy GOO and I am truly Amazed at how much GOO has Helped with Me and Cooper. I just took him to the Vet for his Yearly Check-Up and he received an A+. The Vet said his Skin and Paws looked Great. Since GOO, I've not had to buy any Medicine, No Steroids or Bi-Weekly Trips to the Vet.

Had I not been Desperate, I may not have tried Doggy GOO because it did Sound "To Good to be True", but in my Case..... GOO IS THAT GOOd !!!
Deborah -Gastonia, NC

Put Your Dog On "GOO" and See The GOOey-Difference!
Don't spend thousands when there is a Goo-reat Solution that is so much more affordable and effective. A 16 oz container (please refrigerate upon opening) is less than $80 and can last up to 90 days for small dogs or up to 30 days for large breeds (we'll help you get the right dosage). This is so much more affordable (and delicious!) than hundreds spent every month at the vet for products that really don't work or are even harmful to your pet's health (like steroids!). Call us today and tell us about YOUR dog and let us help restore your dog to health-- naturally!

---
Contact: Our Friendly Staff
1806 Elmwood Park Drive
Highland Park, Illinois 60035
Phone: 855-246-2426
Email:
Website: Click Here To Connect

---