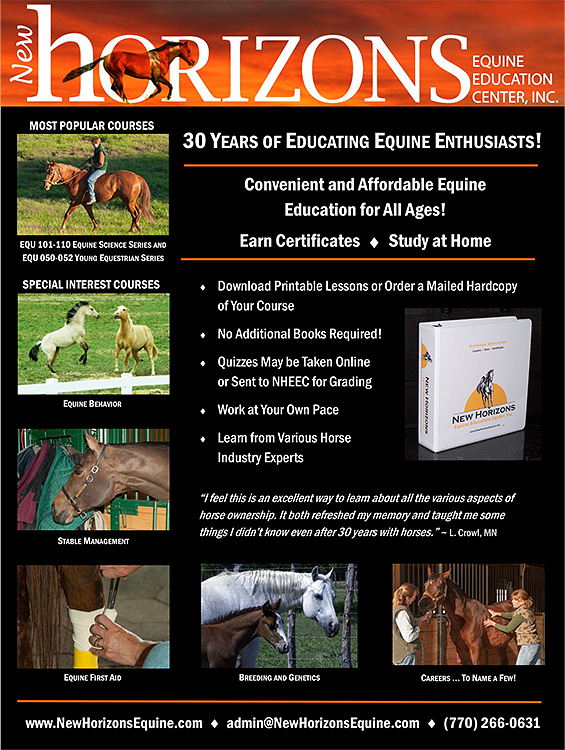 New Horizons Equine Education Center, Inc.
For nearly 30 years, New Horizons Equine Education Center has been proud to offer you the most comprehensive equine education available online today. Learn at home- or wherever, and take only 1 test at the end online.




About New Horizons Education Center, Inc.
Nearly 30 years ago our Director and Founder, Colette May noticed that resources were vastly lacking for those adults and children who desired a more formal equine education. As an educator and experienced horseperson herself, she envisioned a means to bring solid horsemanship knowledge and skills to horse enthusiasts without the expense, time constraints and accessibility challenges so often experienced. Neither would there be binding contracts or a set schedule so as to accommodate the most challenging of schedules. That's how New Horizons Equine Education Center came into existence and as many of our students have relayed to us over the years, New Horizons' courses are truly a dream come true!

So How Can New Horizons Someone Who Wants To Become More Knowlegeable With Horses?
New Horizons Equine Education Center lets you work at your own pace at home-- nothing (except the final test) is done "on line". You can study and learn in the quiet of your own home, office, barn-- or anywhere! We are proud to offer the most comprehensive Home Studies Program for horse enthusiasts available today.

Can New Horizons Help Me Even If I Am NOT New To Horses?
Yes! Whether you are new to the horse world or have years of experience, we are confident you will find just the right courses to help you achieve your goals. Our interactive lessons are designed to guide you from basic through advanced horsemanship, focusing on both the art and science of equine management. Whether you are preparing for a career with horses or simply want to improve your equestrian knowledge for personal benefit, New Horizons has 30 years of experience in distance learning to help you achieve your goals.

Here are just a few of New Horizons' advantages:

Study at home or anywhere
Learn from horse industry experts
Work at your own pace
Affordable & cost effective courses
Earn grades and Certificates of Achievement
Personal service
The Only "on line" work is the final test at the end!
What Courses Are Most Popular?
New Horizons knows what it takes to make a skilled and confident horse person. We have 2 particularly popular series that many of our students enjoy:

Young Equestrian Series
Our EQU 050-052 Series has been developed especially for young people who love horses-whether they own a horse or it is still a dream. This youth course will provide an important introduction to the fascinating world of horses by focusing on the basics, with nine easy-to-read lessons.

This program promotes self-confidence and pride, and is designed to help kids succeed. Students ages 13-15 should have no trouble completing lessons independently, while younger students, ages 10-12, might benefit from working with an adult. Students will be rewarded with a special Certificate of Achievement upon completion.

Equine Science Series
The EQU 101-110 series provides a perfect foundation for a lifetime with horses. Step-by-step lessons teach the essentials of horse ownership, care and management-including some surprising facts that everyone who works with horses should know.

You'll learn how and why horses think and react the way they do, and gain greater understanding of the horse's structure and athletic ability. You'll explore nutrition, grooming, tack selection, health care and horsekeeping topics to help you become a better horse person.

Each course is divided into six lessons, including text, illustrations and assignments. New challenges are introduced throughout the series, and end with a quiz which is returned to New Horizons for grading. A Certificate of Achievement is awarded after completion of each course. Students who graduate through the entire 10-course EQU series will be awarded a special suitable-for-framing certificate. It's recommended that courses be taken consecutively, beginning with EQU 101.

Are There Special Interest Courses To Help Me With A Specific Topic or Equine Skill?
You bet! We work with people at all levels of skill and knowledge. Some of our students just want help in a specific area to improve their knowledge or skill in an area where they feel they need extra support and knowledge.
Here are courses -- many of them only $85-$105!

Stable Management
Instructor Course
Equine First Aid
Equine Behavior
Breeding and Genetics
Equine Reproduction
Horse Training Goals
Transportating Horses
So How Does This Work?
When ordering the Mailed Hardcopy the same course materials will be sent via USPS. The course lessons are printed on 3-hole punch paper, suitable for adding to a 3-ring binder. Upon completion of ALL six quizzes they are then returned to NHEEC for instructor grading. They may be scanned and returned together via email to admin@NewHorizonsEquine.com or they may be mailed to New Horizons. The graded quizzes and Certificate of Achievement will be returned to you via USPS. If, however, you would rather complete the quizzes online, you will also have access to the quizzes through the My Courses tab and upon verification of course completion a Certificate of Achievement will be mailed to you.

Do I Receive A "Certificate of Completion" For These Courses?
Yes, a Certificate of Completion will be issued for each course successfully completed.

Do I Have To Own A Horse In Order To Take Your Lessons?
While the majority or our students are horse owners, there are those who take our courses prior to horse ownership to better understand the many facets involved in horse care and responsible horse ownership. As an educated handler, many pitfalls of the inexperienced horse owner can be avoided.

What Do Students Say About New Horizons Equine Education Center?

I feel this home study course is an excellent way to learn about all the various aspects of horse ownership. It both refreshed my memory and taught me some things I didn't know after over 30 years (off and on) dealing with horses.
- L. CROWL, MN

These lessons have helped me organize what I already know into a logical order and filled in some gaps. Now I know the information I give to my students and fellow barn mates is accurate.
- M. TUCK, ONTARIO, CANADA

Even though I have had horses for years and attend college classes, your courses have helped me learn new things and reinforce and review what I already know. I find it very easy to memorize the facts you present.
- M. HEAGEY, CA

I wanted to let you know how much your courses are respected in the field. When I applied for a barn manager's position at a farm near me, I sent the owner copies of my New Horizons' grades and certificates. I am happy to say I am now the barn manager at High Moon Stables. I feel that I have you and your courses to thank for that.
- C. WATSON, WV

How Do I Get Started?
Working with horses is so rewarding and we make it easy-- and affordable! Whether for personal enjoyment or as a career, education will be the key to your success. You'll love our comprehensive and concise programs that can literally change your life for the better. Call us today-- or visit our website and enroll online today at NewHorizonsEquine.com

---
Contact: Our Friendly Staff
P.O. Box 246
Good Hope, Georgia 30641
Phone: 770-266-0631
Email:
Website: Click Here To Connect

---