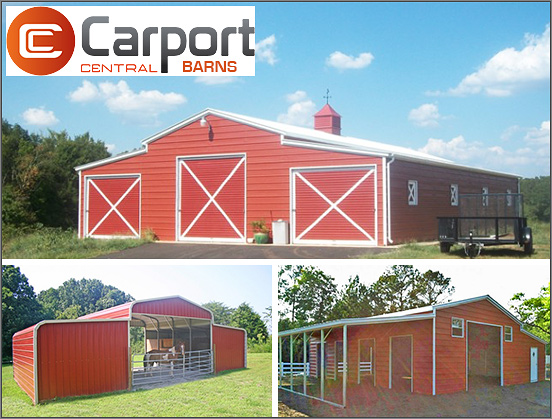 America's Most Affordable, Durable Horse Barns by Carport Central
Our beautiful barns are designed to withstand winds up to 180 mph and can be installed on any level surface... starting at less than $5000 and that includes delivery AND installation!!



About Carport Central...
Ok, Carport Central may have started out to be the nation's leading distributor of quality metal carports, but our quality, dedication to our clients and the broad needs of our customers soon broadened our company to be one of the leading distributors of extremely durable, beautiful, long lasting and affordable horse barns in the nation.. and yes, we DO install them for you… with prices starting at less than $5000 (delivered and installed!)

Feel safe and secure knowing that when you purchase a custom horse barn from us, your family and property will be protected. In addition to our exceptional products, we have some of the best customer service representatives in the industry. Our dedicated team can answer any questions about our diverse product line and help you customize any structure you need. We focus on educating our customers, so they can pick the right structure at the right price.
Want to learn how you can benefit from our years of experience and relationships with manufacturers and others in the industry? We have the skill, products, and customer support that will ensure that you will never want to go anywhere else!

Is It True That I Can Really Have a Beautiful Barn for Less than $5000- Installed and Delivered?
Yes, you can have a beautiful metal barn from Carport Central installed and delivered for under $5,000.00! And when you see it and how nice it will look on your property— you will truly be amazed! Of course the width, length, height, and other options would all affect the total price. We have one lovely barn that is 42 x 21 x 9.6 tall… that is only $4,690!

We offer the best prices, customer service, and products in the industry, and most of our barns are installed and delivered for less than $10.00 per sq. ft. All of our manufactured horse barns include a one year workmanship warranty, a 10-year panel warranty against cracking and chipping, and a 20-year rust through warranty on the 12- or 14-gauge framing.

Are Carport Central Barns Really Able To Withstand Winds Of Up to 180 Miles per Hour?
Yes, in some areas of the country our barns are engineered to withstand up to 180 mph wind loads. All of our barns are engineered to meet each customer's local county wind and snow load as specified in each of the 46 states we cover. The local wind and snow requirements will need to be researched by the customer. In most cases, we can certify our buildings in areas where a permit is required.

Note: In the state of Florida, the customer is required to obtain the permit. After a deposit is placed, Carport Central will provide the customer with the engineered drawings required by the customer's county or residence. A certified building simply means the building is built to specifications and certified by a professional engineer to meet local building requirements. If you do need to certify your building, you will likely need a copy of the blueprints for the inspector to review. Please speak with our customer service representatives to learn how to get a copy of the blueprints.

So What Advantages Do Metal Barns Offer Today's Horse Owners?
Horse owners are a special breed, fiercely dedicated to the health and well-being of their equines. And if you own horses or dream of owning horses in the future, you are probably aware of the high cost of ownership involved. Wouldn't it be great if you could provide your horses with safe, comfortable, low-maintenance accommodations without breaking the bank?

With metal horse barns, you can significantly cut down the costs of your horse stable or arena. Whether you have four horses or forty, metal barns can provide safe, dry housing with adequate storage and stall space for your animals, feed, and tack.

Here are some benefits to choosing a metal horse barn over a traditional wood barn:
* Avoid Problems Common with Wood
Unlike a wooden structure, a metal horse barn will not bow or warp, eliminating the cause of many leaks which can become costly when they get to the feed or equipment. Steel also does not present the fire hazard that wood does, which can save you money on insurance. Additionally, you won't have to deal with insect infestations.

* Increased Strength and Durability
When it comes to strength and durability, there is really no comparison between steel and wood. Protected with a rust inhibitor coating, your metal horse barn will withstand the elements far longer than wood without warping or rusting.

* Cost Savings
Whether you just need a small horse barn or custom horse barns for breeding and training, you can have metal barns delivered and installed for a fraction of the price of wooden ones. Would you like to start offering riding lessons, expand your breeding, or provide boarding services to generate extra income? No matter what your horse barn plans, this more economical option gives you more bang for your buck, so you can get exactly what you want.

* Easily Customizable
Metal horse barns can easily be customized to fit your unique needs. Choose from three different roof styles, a variety of colors, custom windows and doors, and a wide variety of barn designs. Check out our metal barns page to see all of the amazing options! And as your horse family grows, you can easily add on to your barn.

* Lower Maintenance
Steel horse barns offer low-maintenance ownership, and with some common sense preventative maintenance, you can ensure that your metal barn will be around for decades. Steel is mold and mildew resistant and does not allow for infestation by insects. And forget repainting—simply touch up small areas as needed and your barn will continue to look beautiful for years to come.

* Cleanliness
A clean barn is essential to the health of your horses. Metal horse barns are much easier to clean and care for than their wooden counterparts. In fact, the interior and exterior can quickly be cleaned with soap and water or with a power washer. This saves you a great deal of time and gives your horses a safer environment to live in.

Will Carport Central Really Help Me Install My Barn?
When you speak with our friendly, knowledgeable sales representatives to price your barn, the price quote we give you includes the installation and delivery. If you would prefer to handle the installation on your own, you can have Carport Central drop it off or you can pick up the barn from one of our many manufacturing plants across the country.

Note: If you choose to install it yourself, you will receive a discount on the retail price of the barn.

Is It True that My Barn Can Be Installed on ANY Level Surface - Even Without a Concrete Pad?
Yes, our metal horse barns can be installed on any surface as long as the surface is level… this can make it very affordable for clients on a budget who still want a solid, beautiful barn for their horses! We can install on concrete, asphalt, ground, gravel, wood decks, walls (3' or less in height), and non-floating docks. Make sure that you have leveled the installation area. If you are installing a certified building, the site must be level to within 3" front to back and side to side. If the site is not level when the installation team comes out to install the structure, they may have to reschedule the installation for a later date, which will mean an additional fee for the return trip.

Will I Need To Put In My Own Stalls, Tack Rooms, Etc.?
Yes. While our barns do not come equipped with tack rooms, kick plates, feeders, or stalls, we can provide barn stall divider walls on the lean-to sections so you can configure your barn stalls and other areas based on your requirements and preferences. Our friendly customer representatives can help you determine the best way to customize your horse barn so that you have everything you need. In this way you can get the design inside just the way you want it with whatever budget you have to work with.

Does Carport Central Have Several Barn Designs or Even Custom Designs Available?
Absolutely… and you will NOT find a BETTER price for the quality and durability for what we offer. The sky is the limit. But, for those on a budget, we offer a beautiful, yet safe, and durable barns— our website has a "design your barn" feature coming soon to make it even easier to have the barn of your dreams!

Call Carport Central Today and Let Us Help You With The Barn Of Your Dreams— Affordably!
Are you in the market for a new horse barn? Carport Central offers metal barns that are made of the highest quality steel, available in both 12-gauge and 14-gauge frames. All of the barns we build come with a one year workmanship warranty, as well as a 20-year warranty on rust through on the 12-gauge and 14-gauge galvanized steel frames, giving you peace of mind. We offer everything from standard small horse barns to custom horse barns to fit your needs. Pick up the phone and call us today so we can help you with your plans— you'll be so glad you did— and so will your horses!

---
Contact: Jody Casstevens
731 Sunset Drive
Mount Airy, North Carolina 27030
Phone: 844) 860-4950 or (980) 321-9898
Email:
Website: Click Here To Connect

---