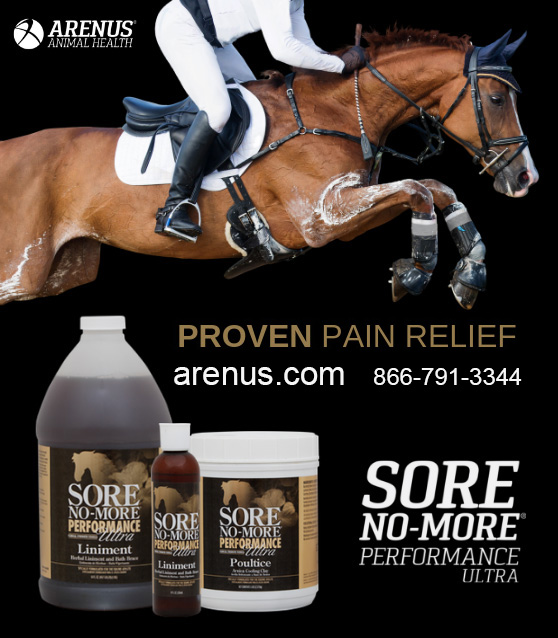 SORE NO-MORE® Products by Arenus
SORE NO-MORE® is a family of natural topicals for your horse.


About Arenus
Arenus is a worldwide leading developer of animal health and nutrition solutions. All of our products are backed by sound science and nutrition. Its global staff includes more than 75 dedicated veterinarians, scientists and other animal health professionals. Arenus is an audited member of the National Animal Supplement Council (NASC), an industry.



SORE NO-MORE® The Sauce
SORE NO-MORE® The Sauce is the SORE NO-MORE horse liniment combined with Povidone Iodine for rain rot, scratches, skin fungus anywhere on the body and for thrush and abscesses of their feet. The Sauce is the first herbal Sugardine dressing on the market. Sugardine is an old time remedy of mixing iodine and sugar to form a paste that is then applied to open wounds, abscesses, or resected hooves to reduce inflammation, infection, and healing time. Simply add sugar to make a hoof packing for abscesses and thrush.

SORE NO-MORE® Sports Salve
SORE NO-MORE® Sports Salve is the SORE NO-MORE horse liniment mixed with a creamy Tamanu Butter & Aloe Vera blend to give you a soothing cooling Arnica cream. The applications are endless. The mix makes an excellent leg grease prior to competition. Apply to areas of edema, swelling, heat, inflammation or friction burns and scrapes. It also helps hydrate skin and hooves and encourages hair growth.

Sore No More® Gelotion
Sore No More® Gelotion is derived directly from the original Sore No More® horse liniment but in gel form. This all-natural horse liniment is thicker and less runny for those who do not want to loose a drop! Safe to use under wraps. Great to use on horses with sensitive skin and when doing ultrasound work.

Sore No More® Massage Shampoo
Sore No More® Massage Shampoo is a pure plant based shampoo concentrate free of the harsh detergent, Sodium Laurel Sulfate, a proven skin irritant. This gentle cleanser has the added benefits of the SORE NO-MORE horse liniment. Rinses clean with no residue. Leaves their coat silky and shiny. Tails no longer itch and hair grows back quickly.

Sore No More® Liniment
Sore No More® Liniment is an exceptional arnica and witch hazel based herbal horse liniment that contains no chemicals or harsh abrasives. Great to use as a massage liniment before and after exercise, or as a leg or bath brace. Wonderful for horses with sensitive skin. Use with or without bandages. It is a cooling horse liniment, therefore safe to use under magnets. Voted two-time "Product of the Year" by the Horse Journal, as the best herbal horse liniment for reducing pain and inflammation. Great for humans too!

Sore No More® Poultice
The Master of Muds has arrived! SORE NO-MORE® is no longer just an Award Winning Horse Liniment. It is now available in a Performance Poultice that is silky smooth, non-irritating and heat drawing packing. Use on legs or as a hoof packing to draw out heat and inflammation. Can be used anywhere on the body.

What Conditions Are SORE NO-MORE® Helpful For?
SORE NO-MORE® is helpful with conditions that need to be cooled out. The original liniment can be used on the legs and anywhere on the body, before or after riding. SORE NO-MORE can be used with or without bandages. It can be added to the bath water as a bath brace, and painted on the feet for stinging feet. Any lathering that may occur when applying can be used as an indicator for troubled areas that need attending to by your vet or healthcare practitioner by pointing out areas that need attention.

What Do People Say About SORE NO-MORE?
My groom applies the SORE NO-MORE Gelotion to my horses' backs and legs before and after a ride and the SORE NO-MORE Cooling Clay Poultice is also used religiously after every gallop. Since we have been applying the products on a consistent basis, I have noticed a marked improvement in the tightness of the horses' legs and the suppleness through their backs – all crucial improvements in their overall performance.
Boyd Martin

We have had excellent results using SORE NO-MORE natural liniments, poultice, hoof packing and Horse Spray. I have seen my horses respond very well to the liniment and I especially like the back brace for my driving horses.
Chester Weber

Make Sure To Order Your Sore No More® Products Today!
Keeping your horses joints in good condition is vital to his health, happiness and performance. Many of the Arenus products can be found in catalogs like Dover Saddlery and SmartPak Equine! We welcome your questions and you can order directly from Arenus today!

---
Contact: Our Friendly Staff
500 N. Link Lane
Fort Collins, Colorado 80524
Phone: 866-791-3344
Email:
Website: Click Here To Connect

---