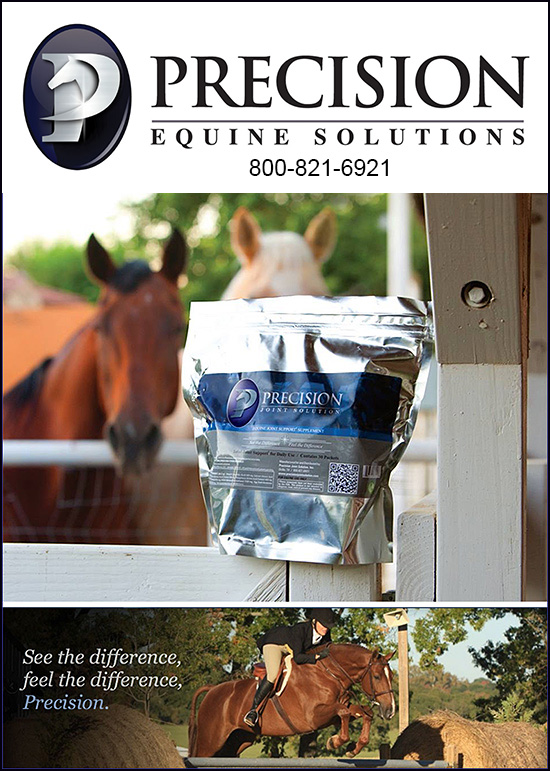 Precision Joint Solution
Horses with joint problems, Ringbone, Hock Stiffness and even Navicular have found great relief with Precision Joint Health. Don't use a joint supplement that isn't working, let Precision Joint Solution do the job RIGHT!

About Precision Equine Solutions
Precision Equine Solutions is proud to introduce Precision Joint Solution, All-In-One Leg Support. This amazing product, was developed by Cherie Hecht, lifelong horsewoman and successful show jumper, in her quest to find a joint support that actually worked. Cherie has an extensive education in equine nutrition and equine physical therapy. It was Cherie's unfailing desire to give her horses the best therapy and the best nutrition that led her to develop Precision Joint Solution.
"My goal with Precision Joint Solution was never to be the biggest joint supplement… just the best. Our company emerged out of a desire to formulate the equine health supplements on the market for your horse."


What Is BiovaPlex™ Natural Egg Membrane and How Can It Help My Horse?
BiovaPlex™ is water soluble and rich in beneficial proteins (elastin), collagens and glycosaminoglycans (chondroitin sulfate, glucosamine) which support the stability and flexibility of synovial joint mobility, as well as skin/coat health.
Amazingly, egg membranes are made of the exact same ingredients as equine joints. In fact, egg membrane is one of the only substances on earth that naturally contains a range of constituents needed to rebuild cartilage and connective tissue, including key glycosaminoglycans like chondroitin and hyaluronic acid, as well as collagen and other proteins. The unique combination of so many joint health nutrients in one natural ingredient is a key factor in Precision Joint Solutions fast results.


What Are The Blend of Enzyme and How Do They Help My Horse's Joints?
Precision's proprietary blend Arto-Velox™, contains pro-tease enzymes that have been shown to help reduce inflammation, pain, and stiffness while also cleansing free radicals and toxins from soft tissues. These naturally occurring enzymes were discovered 25 years ago by Japanese biochemists recognized for identifying these enzyme's anti-inflammatory health benefits. One of the benefits which is key to the formulation of Precision Joint Solution is the enzyme's affinity for non-living tissue such as scar tissue and inflammation while posing no harm to healthy living tissue.
A powerful proteolytic enzyme with potent fibrinolytic activity, it is used for its ability to reduce swelling and increase the speed of recovery. It also helps the body to reduce inflammation and then cleanse toxins and free radicals from soft tissue, along with supporting the body's immune function as well.
The effects of enzymes for animals may help with the following:
Discomfort issues

Inflammation as part of your body's immune response

May help with the reduction of fibrous tissue
Precision's Proprietary Blend of Enzymes are a Naturally-occurring Anti-Inflammatory!
Are The Minerals In Precision Joint Solutions Chelated?
Yes! Chelation Equals Solubilization. To understand the benefits of chelation, it is first necessary to understand how the body digests substances. An organic material, one which is derived from living material (plants and proteins), is more easily absorbed by the body than inorganic material (minerals).
Chelation is a process which attaches minerals (inorganic) to other substances, such as amino acids (organic), in order to increase their bioavailability. As a result, chelated minerals are protected through the digestive process which allows it to be absorbed into the cell membrane and utilized rather than excreted. An increase in bioavailability of the mineral results in the mineral being absorbed faster and more effectively by the body. What does this mean for you? You get what you pay for!


Does Precision Have FEI and NOPS Approved Ingredients?
The all natural compounds in Precision Joint Solution are FEI safe. PJS does not knowingly contain any naturally occurring prohibited substances and is extensively tested for these NOPS. This means maximum leg support 100% of the time even while competing!
How Do I Feed Precision Joint Solution?
Simply feed one Precision Joint Solution packet a day in your horses' feed either am or pm. Our superior, perfectly balanced ingredients offer powerful support for all in one leg support and performance!
Why Is Precision Joint Solution In Powder Form?
The hydrolyzed natural egg membrane is processed using a patent-pending method resulting in a soluble powder. The benefit of this method is that no further processing of the egg membrane is required in order to deliver the first and only water soluble natural egg membrane on the market.
The proprietary blend enzymes need to be protected while traveling through the gastric juices of the digestive tract to ensure they reach the intestines where their beneficial characteristics can be absorbed. The enzymes are enterically coated to afford them this protection.
Why Does It Come In Easy To Feed Single Packets?
The single packets is to provide a consistent and correct dosage, and also to protect the contents from environmental exposure (i.e. humidity, air, light) in order to provide you with quality that we can stand by.
Can I Afford Precision Joint Solution?
The real question, is can you afford NOT to feel Precision Joint Solution to your horse? At only $85 a month (or select "auto ship" at only $76.50 every 4 weeks— every horse owner can afford to have a powerfully effective joint health supplement that has been producing real results across the horse world!
What Do Horse Owners Say About Precision Joint Solution?

One week before trying PJS my quarter horse went completely lame on his hocks....to the point of dragging his hind leg. I was devastated. The vet stated it was a combination of sore hocks and pulled muscles from compensating for the sore hocks. Cherie sent me a back of Precision Joint Solution, and I honestly thought "What good is a joint solution going to do for this horse's hocks, I have tried at least 15 different formulas-- to no avail!"... but I decided to try PJS-- within 1 week there was a huge difference. Within 1 month my horse was almost walking normally and was even cantering in the field! I am thrilled-- honestly I don't care what is IN it-- I just know it WORKS! Bob Pruitt- InfoHorse.com
We are absolutely thrilled with Precision Joint Solution. Our horse, Rosie, tore her tendon in an accident. The vet recommended a procedure to help repair her tendon and said that she would be on stall-rest for about 8 months after the procedure. At her 7-week checkup, the vet was stunned to find out that her tendon was already completely healed. He wanted to know what we were giving her, because he had never seen this kind of injury heal this quickly. I am 100% convinced that the consistent use of Precision Joint Solution helped the healing process. Thanks for creating such an excellent product!!
Drumlane Fillie – aka Darcey is a lightweight six year old show cob. Competed very successfully in the show ring bringing home many wins and championship trophies. Last winter we turned her hoof to hunting and enjoyed several months going cross big country in County Wicklow. Once her rest was over after hunting we then went back into show preparation – disaster struck, Darcy was out playing in the field and got a bang to her hock. She never went lame but wasn't recovering, not happy with her, one of our vets recommended an X-ray – our worst nightmare was about to begin…
Darcey had a chip in her hock and required very expensive surgery to remove it – she is worth it so we went ahead. Surgery was in late February, she came through very well and was fortunate to have no wound bar keyhole. A couple of weeks later I was invited to try Precision Joint Solution… Darcey is now in full work and about to go back into the show ring, her movement is good and in fact she is looking and feeling stronger than before her accident. I am so happy that we have Precision and in fact, our whole yard is now running on PJS and we have had super success this season so far, fingers crossed it continues! We have seen not only better mobility but improved coats, well-being and general health. If you have not used Precision Joint Solution yet, you NEED to!!!
Blondie is a retired reining horse that is a big part of our therapy program, she has been everyone's favorite from the start and is amazing with our beginner and timid children. She unfortunately has navicular and general arthritis, she was starting to come up lame in the front legs about a year ago when we started her on the Precision Joint Solution. Into the second bag of Precision, Blondie was back to herself and even started to run and buck like a youngster! We would have had to permanently retire her from being used for Hippotherapy and Therapeutic Riding if it wasn't for Precision. Along with several other horses in our therapy program, Blondie is sponsored by Precision and continues to impact the lives of our special needs children and adults. Thank you Precision for giving us our horse back!
Tim has been on Precision Joint Solution for over a year now and boy have we seen a change! In October 2006 he was diagnosed with Degenerative Suspensory Ligament Desmitis (DSLD). DSLD is a progressive and devastating lameness. In this condition, there is failure of normal healing, with the ligament in involved legs becoming progressively thicker and more spongy. Once thought to be a problem only of the suspensories, recent research has discovered this is actually a body wide problem.
After college I started taking his shoes off since he was not being ridden much; and that is were the real trouble started. Because he is a Irish Sport Horse he has rather large hooves, however they are still not as large as the should be to support his body, he had so many issues that had been masked for years I don't even know where to begin with explaining it all. We started with Holly Heidemann in 2011 working on a more natural trim for his feet but it never seemed to help. For over a year he was living 24/7 in pasture boots and not getting any better. Poor Tim would spend most of his days standing in the shed depressed and when he was moving it was obvious that his DSLD would bother him. He had gotten to a point that we were discussing quality of life and none of us were happy about that; that's when Holly suggested we try PJS since it had many benefits for both his hooves and ligaments.
Words can not even describe the difference it made on him. After 30 days he was able to walk on concrete without his SoftRides or having to take short strides. By 90 days he was trotting and cantering in the pasture with his friends. July of last year, we were walk/trot/cantering in the arena and I thought my life was complete, but things just kept getting better and better. By the end of last year he had been sound for over 6 months and we were even able to pop over a few small fences without repercussions of the joint issues. February of this year we started taking lessons again and are currently looking at a local jumping show by the end of the summer. Because of PJS I have my horse back and after many many years and lots of tears Tim and I are both truly happy again and looking forward to our next 10 years together.
Your Horse Deservses Results! Call and Order Precision Joint Solution Today!
Your horse represents a tremendous investment in both dollars, love, training and emotion! Make sure your horse has a truly effective joint health supplement to support comfort, health and performance. Call and talk to us today— tell us about your horse and let us tell you about Precision Equine Solutions and how we can help you today!
---
Contact: Precision Joint Solution
PO Box 42108
Austin, Texas 78704
Phone: 1-800-821-6921
Email:
Website: Click Here To Connect

---