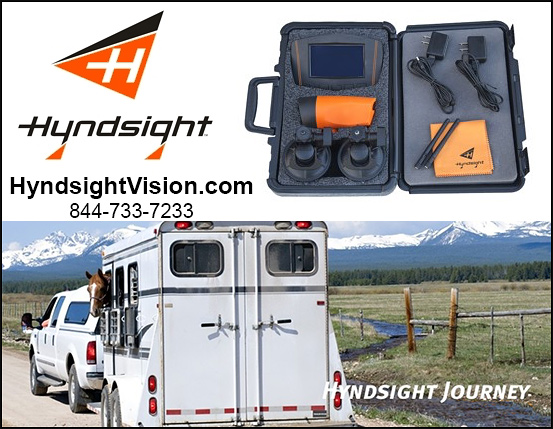 Hyndsight Vision, Inc.
Hyndsight Journey is the best-- and only TRUE wire-free camera system available on the market today! Nothing compares- it will change the way you haul and monitor your horse!



About Hyndsight Vision Systems
Hyndsight Vision Systems, located in Peterborough, N.H., was established in 2011 after the founder, Melissa Thompson, PhD, was volunteering at the Head of the Charles Regatta in Boston, Massachusetts. After seeing boats repeatedly collide with each other or the bridges of the Charles River, the idea for Hyndsight was born.

Serving an unmet need initially for the rowing community, Hyndsight Vision Systems created the first product of its kind designed to assist rowers visualize where they are going without having to wear a tiny mirror on their head. But as the product evolved it became evidently clear that the technology had applications well beyond rowing. Because the Hyndsight Vision Systems product line provides ANYONE with a clear field of vision and does not require any wiring or complicated installation, it became instantly popular in the equine industry. It can go anywhere, anytime and save you thousands of dollars in injuries and accidents.

Whether you're a rower, a boater, a horseback rider, a bicyclist, an outdoor enthusiast, a mom who wants to watch her kids in the backyard while she prepares lunch in the kitchen, or a dad who wants to watch his steaks on the grill, Hyndsight Vision Systems has a product for you!

Introducing JOURNEY by Hyndsight Vision Systems, Inc.

The world's most versatile camera and monitor system designed for use on any vehicle either as a back-up camera or a forward facing viewing system.
Portable from vehicle to vehicle with reliable wireless connectivity for effortless mounting and ultimate adaptability.
Sunlight readable monitor and clear field of vision combined with live stream monitoring video and up to a 100 yard range!
Water and weather resistant, shockproof, and ruggedly constructed.
Rechargeable batteries...or you can hardwire your device for long trips.
The uses are only limited to your imagination!



Is It True That Hyndsight Is The Highest Quality Horse Camera On The Market Today?
Yes, Hyndsight IS the highest quality horse camera on the market today! It is wire-free, giving the user the option to use it in the barn or foaling stalls, then move it to the trailer or around the farm. Journey by Hyndsight is also super rugged with a durable overmolding that protects it from occasional drops. The monitor boasts a 4.8" color screen, and the camera view is accurate, not fisheyed, meaning you won't have to guess how far away objects are. You can actually pair up to 4 cameras to one monitor and see horses in 4 separate stalls. Best of all, the Journey kit comes with everything you need to get started: a camera, a monitor, 2 mounts, 2 chargers, and a set of 2 antennas… only $499!

Is Hyndsight Journey the ONLY Truly Wire-free Camera On The Market?
Hyndsight Journey is the only truly wire-free device on the market! The camera transmits to the monitor using a secure 2.4GHz wireless signal, and it does not need to be permanently plugged in to function. The rechargeable battery lasts at least 4-5 hours with a single charge. (Of course, Hyndsight users are busy and don't always have time to recharge the unit, so Hyndsight offers a hardwiring option as well.) Since it's battery powered, it is incredibly portable and versatile.

How Can Hyndsight Help Me When Trailering My Horses?
Hyndsight offers necessary peace of mind to anyone trailering horses. No need to guess "what your horses are up to back there"...now you can see it as it's happening. You will now know if the horses are nervous, comfortable, or even injured without having to pull over to check on the animals every single time you hear a noise or feel them move. Hyndsight Journey is an amazing tool for monitoring the condition of your horse while in the trailer.

Early detection of a potential problem with your horse could end up saving your horse's life. The Journey system can also be used on the back of the trailer to see objects beside or behind you while driving or backing up. It even makes hitching up the trailer a breeze. Journey by Hyndsight is a must-have tool for anyone who trailers one or more horses because it offers safety and peace of mind, which is priceless.

Can I Use Hyndsight In The Stall of my Barn?
Yes, you can use Hyndsight in the stall of your barn. Hyndsight can transmit signal up to 300 feet, or even further with a clear line of sight between the camera and monitor. Hyndsight Journey is a wonderful device to have during foaling or while monitoring sick animals. You can now keep an eye on the animals from the comfort of your own home—no need to miss the action or head down to the barn every hour. Many satisfied customers have used Journey during foaling this year. Some customers have purchased the Antenna Extension Cable for added signal strength and were able see the mare and foal in the far barn stall, well over 300 ft away, through the stone and tin barn. Hyndsight Journey is a no-brainer for anyone with pregnant or sick animals.

Is Hyndsight Easy To Install?
Hyndsight requires minimal installation. Both the camera and monitor are compatible with a standard 1/4"-20 thread pattern and will work with any of the mounting accessories Hyndsight offers. The Journey kit comes with two incredibly strong Flush Suction Cup Mounts. The suction cup mounts can be put up or taken down in 5 seconds. Several other mounts are ideal for use in the barn or trailer. The Vise Mount clamps onto stall doors or can be used in trailers. Another great mounting accessory is the Permanent Mount, which can be bolted onto the barn or trailer wall. You'll never have to worry about the mount falling. All you do is twist the camera onto the threaded insert then adjust the articulating arm to get the perfect viewing angle.

How Far Can I Install My Hyndsight Camera Away From Me?
The Hyndsight system will transmit signal up to 300 feet or more with a clear line of sight. That's at least the distance of a football field! We also offer an Antenna Extension Cable, an 8 meter long cable with an antenna attached to one end. The Antenna Extension Cable allows the user to get the antenna to the top of the barn, for example, creating line of sight with the monitor in the house. The Antenna Extension Cable comes with a set of 2 cables. It can also be used in large horse trailers for added signal strength. Remember, you can pair up to 4 cameras to one monitor, and each camera can be about 300 feet from the monitor, meaning you can span some serious distance with Hyndsight. When it comes down to it, Hyndsight is wire-free, versatile, rugged, and reliable.

Is It True That Hyndsight Can Help My Horse Business and Is Tax Deductible For Businesses?
Hyndsight can and certainly SHOULD be used for your horse business! Horse breeders and transporters alike would benefit from having a Hyndsight. When someone comes to you to watch their mare for foaling or to haul their horse across the country, they will love that you are a step above others and can keep an eye on their animal. Veterinarians will also benefit from the Hyndsight system… at only $499 any business can benefit from the peace of mind— and added client satisfaction— that Hyndsight will bring!

But I See Competitor Trailer/ Barn Cameras For As Little As $99?
Yes, and they know what they are worth— and so do we! There is NO COMPARISON when you see the systems side by side. Hyndsight is TRULY WIRE-FREE and can transmit a good signal up to 300 feet— or more! Remember, you can pair up to 4 cameras with one monitor, and each camera can be about 300 feet from the monitor, meaning you can span some serious distance with Hyndsight!

Can Owning Hyndsight Actually MAKE Me Money?
You bet! Clients will love knowing that you have a Hyndsight camera to help haul their horses in safety, or monitor their horses (especially mares and foals) in the barn. Why wouldn't they choose a "Hyndsight" barn or hauling company over one that does not have this great system?

Clients will love the added safety and security. You will also love the savings on vet bills as you are able to help horses in trouble— before it gets out of hand! When hauling a horse or watching a mare that may be foaling, seconds count— and Hyndsight will help you care for your horse in a way not possible with other camera systems!

Call Hyndsight Today!
Join the thousands of horse owners across the country that are deciding to make Hyndsight a part of their successful hauling, training, boarding, showing and breeding operations. We would love to tell you about all the ways that Hyndsight can help you with your horse— or horse business! Call and Talk to us TODAY!

---
Contact: Our Friendly Staff
59 Pine Street
Petersborough, New Hampshire 03458
Phone: 1-844-SEE-SAFE (733-7233)
Email:
Website: Click Here To Connect

---