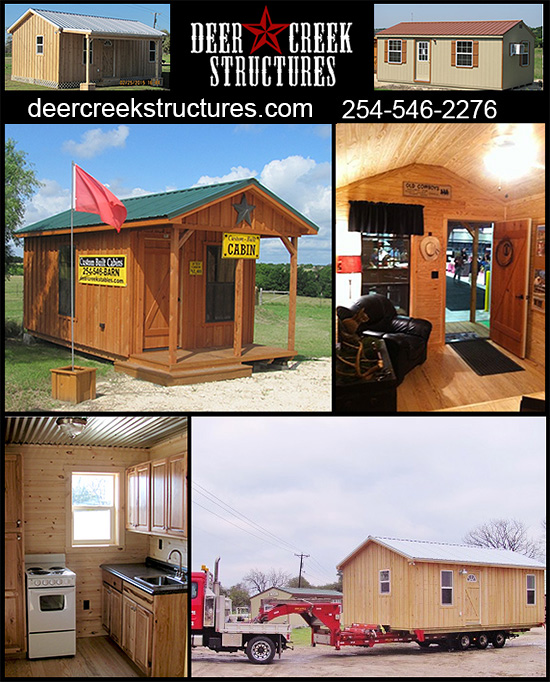 Cabins and Barn Homes by Deer Creek Structures
Our portable, rustic cabins are built using the same longlasting, durable Cypress board n batten siding that we use on our barns. This allows you to create a farmstead where the cabin and barn complement each each other.



About Deer Creek Structures
Deer Creek Structures, is a family owned and operated business that started in 2005, and our high quality portable barns and shelters offer the perfect addition to any property that houses horses. Made in the heart of Texas, these quality wooden barns and run-in sheds are perfect for all types of horses. They will allow your horses to be in a safe, secure place when they need to be. Beauty, quality, durability, and made to hold up to the rigors that horses are know for, Deer Creek Stables has the right barn for you and your property. In addition to the barns, we also offer portable cabins that can be used for a wide variety of applications.

If you are looking for small horse barns for sale online, you will find the best ones at Deer Creek Stables. These quality horse barns can be delivered to you if you are in Texas or the surrounding states. Your horses will love to use our beautiful shelters, and be kept in horse barns that are just the right size for them. Now your horses will not have to share the same barns with any other type of animal.



About Our Barn Homes (Rustic Cabins).
Have you been searching for ways to find additional space? If so, a Portable Cabin could be just what you are looking for. Deer Creek Structures specializes in building custom cabins that can fit a myriad of different needs. Whether you need a place to stay during a camping excursion or just need extra office space, a portable, custom-built cabin can serve as the auxiliary space that you have been clamoring for.

Deer Creek Structures' Rustic Cabins are aesthetically pleasing on the interior and exterior. The interior can be comprised of tongue and groove cypress, pine or cedar. Cabin owners can also choose to have a corrugated metal ceiling or a wainscot panel. Additionally, owners can decide on a standard vaulted or an 8' flat ceiling. The exterior can consist of board and batten or horizontal siding, and can be made from cedar or cypress. A metal roof is standard on our custom-built cabins. Whatever options you choose for your custom portable cabin, you can count on superior craftsmanship from experienced workers who have a keen eye for detail.

What Sized Cabins Are Available?
Our portable, rustic cabins come in 12 foot, 14 foot and 16 foot sizes. They are built using the same longlasting, durable Cypress board n batten siding that we use on our barns. This allows you to create a farmstead where the cabin and barn complement each each other. You can choose from our basic cabin models, or we will also work with you to design the floor plan that is best suited for your situation. Are you looking to combine your horse barn and living quarters? We offer our Raised Center Aisle barn to accommodate living quarters above the stalls, allowing you to "reclaim" that square footage, without having to build a complete other structure. We welcome your calls to help you plan the cabin of your dreams.

Can Deer Creek Help Create The Interior of My Cabin?
YES! Deer Creek Structures can also enhance your portable cabin with a fully finished interior that is equipped with appliances. Our portable cabins can be used as the rare apartment that has modern features and a rustic appeal. Other customers use it as a guesthouse or even a man cave that can be their place to unwind after a long day of work. Regardless of your needs, you can count on each cabin meeting the high standards that Deer Creek Structures is renowned for. Customer service is always our top priority, and we want to do whatever it takes to meet your specific needs. The cabins are made in the United States, right in the heart of Texas. Feel free to shop from anywhere in the U.S.A, as we deliver coast to coast!

DETAILS:

Metal roof
Exterior: board and batten or horizontal siding, cedar or cypress.
Interior: tongue n groove cypress, pine, or cedar. Also optional corrugated metal ceiling or wainscot.
Vaulted ceiling standard or 8′ flat ceiling.
Quality craftsmanship, combined with integrity and an eye for detail, will allow you the fine luxury that you deserve, along with years of great service that folks have come to expect from the high standards of Deer Creek Stables.
Is It True That Deer Creek Structures Will Send My Cabin Already Built and Ready To Use?
YES! This is a big difference between ourselves and many of our competitors! Our prefab cabins are built on pressure treated 6x6 skids, which are actually part of the framework. This allows us to build the barn at our shop, load it onto a trailer, and deliver it to your site fully assembled and ready to use. These cabins can also then be relocated in the future as needed.

Is It True That The Cabins Do NOT Require A Concrete Foundation?
That is true! Our standard line of rustic cabins are completely portable and require leveled ground, but not a foundation. We set these cabins on concrete blocks 12" high, to allow easy access to the plumbing.

NOTE: We also offer 6'-12' overhangs for an addition to any of our cabins. Along with our shedrow barns, these cabins with the larger overhangs will require concrete piers as a minimum foundation to set on.

But I Have a Small Property… Perhaps I Can't Fit The Delivery Truck...
Delivering a portable cabin on your property can have its challenges at times. Beings that we need a good amount of room to maneuver with our truck and trailer to set the cabin, sometimes it is necessary for us to build the cabin onsite. If you think it may be a tight fit to deliver a cabin on your property, we will work with you to determine which option of delivery is best.

What If I Want The Larger Overhang For Protection From Sun, Wind and Rain?
When building a cabin with a larger overhang, we use 4x4 posts in the front, 2x6 beams, hurricane ties, and anchors to attach the cabin to the foundation. This allows you to have the peace of mind knowing that you will be living in a well built, solid cabin.

What Do I Need To Do To Help With The Delivery?
Deer Creek Structures has its own fleet of delivery trucks, and will work with you place the cabin where you need it. Most times, all you need for the site is a flat, level area on which to set the cabin.

Call Deer Creek Structures For Your Barn Homes or Cabins!
Working together as family here at Deer Creek Structures allows us to build these cabins with quality, and ensure that you are taken care of from start to finish. We are horse people too, but most of all we are craftsmen that know what it takes to have a great, durable cabin to last for years to come. Give us a call today— we won't disappoint you!

---
Contact: Our Friendly Staff
170 CR 494 South
Chilton, Texas 76632
Phone: 254-546-2276
Email:
Website: Click Here To Connect

---