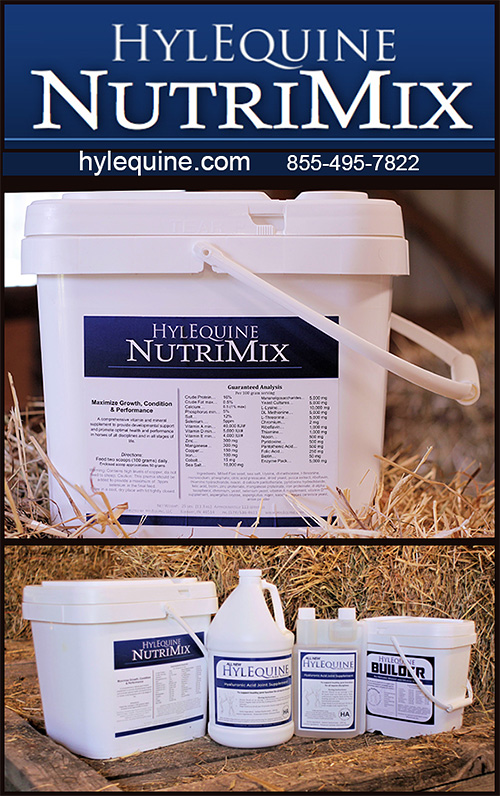 NutriMix by HylEquine
NutriMix by HylEquine is a carefully designed comprehensive complete vitamin, mineral, joint, hoof, coat, digestive supplement in all the right proportions that offers complete health support to your horse!




About HylEquine— Horse People Helping Make Healthy Horses and Happy Humans!
HylEquine was developed to serve one all-encompassing purpose: Healthy Horses and Happy Humans. From the beginning our mission has remained as simple as that; we strive to provide the highest quality products to support the horse's all around health and development, while at the same time actively working for our customers approval through unsurpassed customer service, all-natural and easy-to-use products and most importantly- results they can see!

HylEquine remains a family-run business, YOU are important to us, and while we are very confident you'll love our products and be pleased with your results, we are just as enthusiastic about making your experience as a HylEquine customer a pleasant and memorable one!

What Sets HylEquine Apart From Other Supplement Companies?
We didn't set out with the goal to build an empire or become a household name, our only desire is to create the best possible products and to make a difference in the lives of all those we come into contact with- whether they have two or four legs. It may have been a modest beginning, but our unwavering commitment to the health of the horse has allowed us to create unrivaled products that we're proud to put our name on. You'll find no fillers, by-products, chemicals, hormones or synthetics in a HylEquine product. We use optimum scientific formulations that utilize human-grade ingredients and have a stringent quality control process that ensures accurate labeling. We are so confident in our products that we invite you to compare them to your current feed program and see how we stack up!

What Sets NutriMix Apart From Other Horse Vitamin Supplements?
NutriMix offers a complete and scientific solution to the nutritional guessing game. We've taken products that have historically supplemented one thing and made them all a part of one wholly effective product, and we didn't draw the line at vitamins and minerals. NutriMix offers a variety of nutrients that enable your horse's body to use itself more efficiently, by using the highest quality all-natural ingredients you can rest assured knowing your horse is getting far more benefit than any synthetic or inorganic product could hope to offer. We look at the big picture that is nutrition, knowing that the body works as a unit we're working to take the stress off the individual components of the body to enable them to better work together, which will ultimately result in optimal health and peak performance.

So NutriMix Really Has It All-- Everything I Need To Support Health For My Horse?
Yes! NutriMix is a comprehensive vitamin and mineral supplement, which includes a full panel of B Complex Vitamins, Macro and Trace Minerals, Fat Soluble Vitamins, Digestive Aids, Antioxidants, Amino Acids and Electrolytes. It is made of the highest quality all-natural ingredients, most of which are human-grade. These are properly balanced to ensure that each nutrient can be assimilated and utilized to it's fullest potential. Every nutrient in NutriMix serves a very specific purpose. We never add an ingredient for the sake of being able to include on the label. If there isn't a sufficient amount to make a positive difference to the horse then as a customer you may rest assured knowing you are not paying for ineffective amounts of product simply for the sake of the company being able to advertise that it's included.

So... NutriMix is Really A Vitamin/ Mineral, Hoof Supplement, Digestive Aid, Electrolyte, and AntiOxidant All-In-One?
Yes it is! NutriMix includes A, D, E and B-Complex Vitamins, more than 10 Trace and Macro-Minerals, Limiting Amino Acids, and Digestive Aids. Let's break it down by category:

AntiOxidant: Many supplements use Vitamin C as an antioxidant, but in order for it to work properly there must be a significant amount in the system and with too much Vitamin C you risk displacing other vitamins and minerals, rendering them ineffective. Because of this NutriMix utilizes all-natural Vitamins A and E, and selenium as excellent antioxidants. The Vitamin E in NutriMix is natural plant-based (d-alpha-tocopherol acetate) as opposed to the synthetic Vitamin E (dl-alpha-tocopherol acetate) that most supplements use. Compared to the petroleum-based synthetic E the body is more readily able to deliver the natural Vitamin E to target areas, making it two to three times more potent than synthetic. In addition to Vitamins A and E we also incorporate a yeast-bound selenium as an antioxidant. Since the vast majority of States in our country experience some degree of a selenium deficiency it's crucial that we supplement this into our horse's diet.

Hoof Supplement: Historically hoof supplements have hung their hats on Biotin. And while Biotin is quite important it does not have nearly the effect one may hope for if the appropriate limiting amino acids requirements have not first been met. This is where NutriMix's big picture view comes into play. We include a full 100 mg of Biotin in each serving of NutriMix but we didn't stop there. Since Biotin cannot be properly synthesized without DL Methionine, which then cannot be properly synthesized without the first two limiting amino acids Lysine and Threonine, we're making sure to properly balance and satisfy each of these requirements in the appropriate order, so that the original 100 mg of Biotin is able to work to provide the most benefit to the horse. We also include a trace mineral complex, which provides support for hoof density, and if you're growing good hoof, you're growing good hair! Again with that big picture view!

Electrolyte: Electrolytes are involved in muscle contraction, nerve function and thirst regulation and are lost daily through sweat and urination. The horse relies on sweating to control body temperature during exercise and in the heat, electrolyte loss can be considerable during these times and the horse's body is not able to retain water without the presence of electrolytes. NutriMix provides a balance of trace minerals, calcium and most importantly a high quality sea salt at 10,000 mg per serving that should be supplemented daily in addition to sufficient supplies of clean water to allow the horse to perform at optimal levels and recover faster after exercise or stressful situations without risk of decreased muscle contraction, poor performance, listlessness and depression, or an increased risk of impaction colic that may result from dehydration.

Digestive Aid: One of the most heavily targeted areas with the NutriMix formula is the digestive process. If the gut is not working properly to assimilate the nutrients we're introducing then it doesn't really matter how impressive the product you're feeding is- it won't be working to it's fullest extent. NutriMix includes yeast cultures, enzymes and mananoligosaccharides to promote optimal digestive health. We are utilizing both live and static yeast cultures that include Diamond V (static yeast culture) that as a stabilized pre-biotic helps nurture hindgut microbial populations and Yea-Sacc (live yeast culture) which is a pro-biotic that helps to stabilize the gut and increase the number of beneficial bacteria. Mananoligosaccharides are sugars that the good yeast feed off of and which create a friendly environment to aid the digestive flora. Both these and the enzymes are creating a passive nutritional path that make the overall digestive process easier on the horse and provide a boost to the immune system.

What Is My Horse Getting With Each Serving Of NutriMix?
So what all are you getting within each 100 gram serving of NutriMix? Everything your equine companion or athlete needs to thrive in one container. The vitamins, minerals and amino acids in NutriMix work together to:

Supports healthy bone and muscle development
Supports healthy muscle and nerve function
Supports healthy tissue development
Provides immune support
Antioxidants to reduce damage from age and exercise
Electrolytes to aid in recovery
Optimal digestive support
Pre- and pro-biotics
Aids in the prevention of stomach ulcers
Increases energy without making a horse "hot"
Promotes hoof health
Promotes a healthy hair coat
Increases healing times with cuts and abrasions
Increases red blood cell formation
Reduces stress in body and joints
Provides calming effects
Gestation support and so much more!
What Is In NutriMix:
Crude Protein… 16%
Crude Fat max… 0.50%
Calcium… 0.50% (1% max)
Phosphorus min… 5%
Salt… 12%
Selenium… 5ppm
Vitamin A… 40,000 IU/LB
Vitamin D… 5,000 IU/LB
Vitamin E… 4,000 IU/LB
Zinc… 300 mg
Manganese… 300 mg
Copper… 150 mg
Iron… 100 mg
Cobalt… 15 mg
Sea Salt… 10,000 mg
Mananoligosaccharides… 5,000 mg
Yeast Cultures… 5,000 mg
L-Lysine… 10,000 mg
DL Methionine… 5,000 mg
L-Threonine… 5,000 mg
Chromium… 2 mg
Riboflavin… 1,000 mg
Thiamine… 1,000 mg
Niacin… 500 mg
Pyridoxine… 500 mg
Pantothenic Acid… 5000 mg
Folic Acid… 250 mg
Biotin… 100 mg
Enzyme Pack… 5,000 mg

Can I Feed NutriMix to All My Horses?
As NutriMix is safe to use in all types of horses it also serves as an excellent preventative maintenance measure, especially for horses whose systems are regularly undergoing stress through exercise, travel, stalling or growth in general. In addition to the list above if you have a horse or pony who has the ability to look at grain and get fat NutriMix is a great option to provide the nutrients your horse requires without the calories that will add excess weight!

What Is The Best Way To Feed NutriMix?
NutriMix comes in a powdered form and can be fed as a typical top-dress supplement over any existing feed program. As it is fully-fortified to provide all the nutrients that the horse requires it works best (both for the horse and your wallet!) to feed NutriMix over a high-fat or high-fiber base, or an unfortified grain. For optimal results and sustained energy we suggest feeding over a couple pounds of rice bran daily with an alfalfa or alfalfa-blend hay (or similar higher legume forage.) In performance horses, or those who need additional flesh, we suggest supplementing this program with a few pounds of oats for an additional calorie source.

But What If I Am Looking For Free Choice Alternatives?
We have that option for you! Like what you see but are unable to accommodate individual daily feedings? HylEquine has a brand new free choice option that works great for horses kept at pasture or who are being maintained on a forage diet. We now offer an all-new molasses tub that provides a full serving and all the included benefits of NutriMix for every one pound a horse licks throughout the day. With no fear of "overdosing" the molasses tub is a great alternative to daily feeding, or horses who require fortification without fuss. Weather-proof and virtually no expiration date. Minimum order required and available only through a sales representative.

What Do Horse Owners Say About NutriMix?
Nutrimix fits my program. I know all of my polo ponies need a solid foundation of vitamins, minerals and amino acids. Some need more calories and some need less. I am able to easily manage that with my rice bran and oats. You don't get that flexibility with a bagged feed. If the bagged feed says "feed 8-10 pounds" to reach minimum nutrient requirements, but my string gets 5 pounds, then I have to worry that they are getting adequate vitamins and minerals. The NutriMix removes that worry and keeps my ponies at peak performance.

We've also had much more success deep into the season where injuries start to show up for most people and I just don't get them with NutriMix. Sure the product is a little more expensive, but my overall feed program costs LESS because I am getting more out of my feed. HIGHLY RECOMMENDED— Brian, Polo Player

Don't YOUR Horses Deserve NutriMix? We Think They Do! Call and Order Today!
For as little as $2.00 a day, you can rest assured that your horses are getting every possible nutrient! Most horse owners are able to REDUCE the amount of feed, because the horses are getting the full nutrients with NutriMix! We're providing the most comprehensive supplement at a price that cannot be beat and a quality that is in a class all of it's own. Save time and money with a one-step supplement that provides the same benefits as more than 8 supplements combined, and at a fraction of the cost. With all HylEquine products blended fresh to order you may also rest assured knowing your horse is receiving fresh product that has been hand-packed to guarantee quality and accuracy. For more information, or to talk to a HylEquine representative about how NutriMix will provide the most benefit in your feed program call us today!

---
Contact: Our Friendly Staff

Elkhart, Indiana 46514
Phone: 855-495-7822 or 574-536-4611
Email:
Website: Click Here To Connect

---