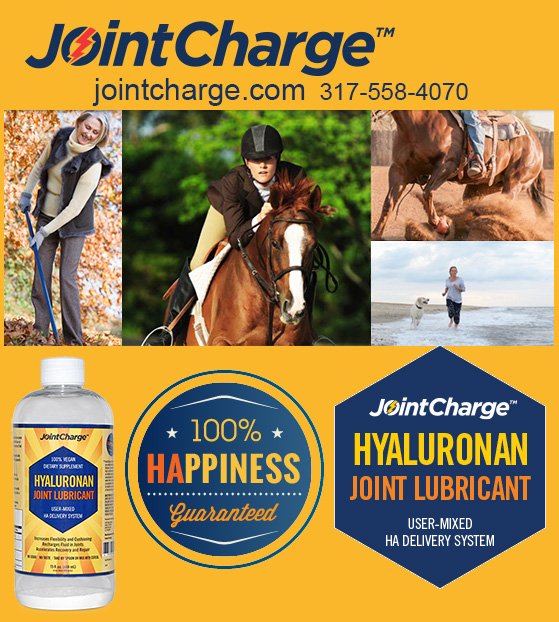 JointCharge HJL
JointCharge HJL taken daily can resupply your body with the HA it needs to hydrate cartilage and other tissues, and keep joints cushioned... since you mix it yourself, you KNOW it is fresh and optimal stregnth!



About JointCharge Founder, Dr. Roger Nix
In three decades of veterinary practice, Dr. Roger Nix has seen nearly as many treatments for joint issues as animals that have them. Over the counter solutions for arthritis and joint mobility can be effective, some more so than others. Therapeutic benefits of prescription-only therapies have to be weighed against their risks and cost. Inspired by a clinical study about the effects of HA supplementation in humans, and the discovery of enthusiastic anecdotes about HA's ability to increase joint flexibility and improve performance in equine athletes, Dr. Nix began the search for a more bioavailable, affordable form of HA. The result was JointCharge and its patent-pending user-mixed delivery system.

What Makes JointCharge HJL a Product I Can Trust?
The exclusive, patent-pending HA concentrate in JointCharge HJL is the purest, most effective form of the molecule available outside the joints. JointCharge Hyaluronan is cultured by microbial fermentation and produced in an FDA-approved lab to yield human-grade HA in the most bioavailable molecular weight.

Not only is it 100% Vegan, it's free of potential protein-based contaminants and allergens. Thanks to a molecular composition that enables rapid uptake into the bloodstream, each dose delivers pure HA for immediate distribution to joints, ligaments and other tissues— more than three times the HA concentration of pre-mixed liquid supplements.

Why Is JointCharge HJL More Effective Than Tablets or Capsules?
Simply put, you get more bang for your buck with JointCharge than tablets or capsules because of how quickly JointCharge's patent-pending HA delivery system causes it to be absorbed into the bloodstream. And it's even more cost-efficient when you choose the FREE SHIPPING option (with orders of 3 or more).

Why Is User-Mixed HA The Better Value?
Most people are unaware that the HA in pre-mixed oral solutions actually begins to degrade in transit and continues to lose potency in storage. So what's inside is already diluted before you break the package seal. The HA in JointCharge products is shipped dry and is inactive until you add water. So it's impossible to find a fresher, more potent, HA-based joint supplement. It's also the purest form of HA available outside the joints themselves.

How Does JointCharge HJL Work So Fast?
JointCharge products are based on a patent-pending delivery system that uses a molecule bioengineered to be small enough to transit the gastrointestinal barrier. This innovation allows our HA to circulate throughout the user's body to cushion joints and help restore suppleness to formerly stiff cartilage.

Which is why, unlike non-HA or HA supplements that have degraded or don't get fully absorbed, JointCharge HJL produces visible results faster. Compared to the waste of degraded or poorly absorbed products, JointCharge HJL is a more effective -- and cost effective -- way to relieve the joint pain and stiffness, improve your mobility, and increase your quality of life.

How Do I Know If I Need To Supplement My HA?
If you match one or more of the following criteria, JointCharge HJL was made for you:


I'm active and athletic, and feel stiff or sore after hard workouts or competition
I want to protect my joints and ligaments from excessive wear and injury
I work on my feet all day, do heavy lifting, or perform repetitive motion tasks that create persistent and distracting aches and pain
I used to be active but soreness and pain in my knees and hips make it difficult to enjoy former pursuits and hobbies
How Will I Know It's Working?
Every person is different but typically you should start to notice certain improvements within 14 to 21 days, assuming no conditions such as an untreated injury or osteoarthritis are present. Signs that JointCharge HJL is working may include:

Your joints feel more flexible and supple than they did before taking JointCharge HJL
Your joints don't ache after a full day's work
You find you can perform sports or household chores without experiencing the same degree of joint discomfort or tenderness you may have previously felt
You experience less stiffness and soreness post-heavy workouts or competitive events
You find you climb stairs or walk and hike without experiencing the same degree of joint pain or discomfort you may have previously felt
Do I Need To Take JointCharge HJL Every Day?
Up until middle age, your body produces the HA it needs every 36-48 hours. However, levels of usable HA decrease over time making it necessary to supplement it—ideally on a daily basis— in order to correct the deficit and maintain the health of joints and other tissues.

How Do I Take It?
Once it's mixed, JointCharge HJL has no odor or taste. You can take it with a measuring spoon according to the simple instructions on the label, which can also be downloaded from the website. You can also mix JointCharge HJL into cold cereal or yogurt.

NOTE: DO NOT mix with hot coffee or blend into a smoothie as the blades can disrupt the molecular chains. However, once your smoothie is mixed, you can stir in JointCharge HJL

How Much Do I Take?
If you're especially sore, or you've never supplemented with HA before, it is strongly recommended you begin with a loading dose before switching to the maintenance schedule.

Daily Maintenance: 1 tbsp. per day
Loading Dose: 2 tbsp. per day for first two weeks
Competition: 2 tbsp. per day x 4 days pre-event/day of event/3 days post-event

To save money and continue the benefits of JointCharge HJL, choose the free shipping option with orders of three or more.

What Do JointCharge HJL Users Say?

"I believe the product to be extremely valuable."
I started taking the pilot product for human use, JointCharge HJL, about one year after having torn my medial meniscus slipping on the ice. Within a few days the stiffness and soreness were gone and other joints that I had some discomfort with also resolved.

In my practice, I have found the product to be very useful in helping patients to overcome their joint pain and subsequent reduced range of motion. I have used JointCharge's Pet-PROPEL product in association with other common medications and did not see significant improvement until adding Pet-PROPEL.

I have also used the product by itself in chronic long-standing osteoarthritis in geriatric dogs with dramatic improvement with 7 to 10 days. Consequently, I can say from personal experience that I believe the product to be an extremely valuable tool for veterinarians to use in their patients, and also on themselves!
James R. Speiser DVM, CCRT, Beech Grove, IN

"My desire and ability to be active had diminished."
I first learned about JointCharge HJL when discussing my joint pain and discomfort with Dr Nix. Growing up I was very active in soccer, tennis, basketball, track and water skiing. Over the years these activities took a toll on my body. In turn, my desire and ability to be active had diminished. Dr Nix told me about the people version of his user-mixed Hyaluronan and gave me a sample to try.

Within 2 weeks I could feel a difference that I had not experienced with any of the other over the counter drug store joint care products I had tried. Another benefit I noticed was the shortened recovery time after an activity. From working on a major landscape project around the house to playing an afternoon pickup game with some friends, my body did not feel nearly as soar or tired as it once did. I take it on a on a daily basis and intend to continue.
— Doug Whitman, Fishers, IN

"Bad news- I forgot my hiking stick. Good news- I didn't need it."
Full disclosure, I'm the marketing director for JointCharge LLC and I'm paid to say nice things about the company. However, this is my own JointCharge story and I'm not being paid to share it. I buy my JointCharge from the site like everyone else. I started giving JointCharge to our old dog Ginger in May of 2014. You can see from the video further down the page why we've become a JointCharge family. After I mentioned in a meeting that an old ankle tendon injury was causing me a lot of discomfort while hiking, Dr. Nix suggested I try the pilot version of JointCharge HJL The effect was subtle after the first week or so but I wanted to give it 30 days. At Week 3 (I kept a journal) while camping, we decided to go for a pretty rugged hike. About a quarter mile past the trailhead I realized I'd left my hiking stick behind. I'd forgotten it because the pain in my ankle that always reminded me to bring it was gone.
—Dave Reyburn, Westerville, OH

100% Satisfaction Guaranteed— 0% Risk. Order Today!
Try JointCharge HJL for a month. A 30-day supply is just $39.50, plus orders of three are shipped free. With the JointCharge 30-day, money-back HAppiness Guarantee, you've got nothing to lose but joint issues. Order online today or give us a call!


---
Contact: Our Friendly Staff
9785 Olympia Drive
Fishers, Indiana 46060
Phone: 317-558-4070
Email:
Website: Click Here To Connect

---